Sloane Grammar School boy, if you seek your memorial,
look around you.




DON'T FORGET!! -
PLEASE CHECK THE ANNOUNCEMENTS BOARD AT THE FOOT OF THIS PAGE FOR ANYTHING IMPORTANT and, after you Log In, the CALENDAR OF EVENTS PAGE FOR DETAILS OF FORTHCOMING EVENTS.
If you're having trouble logging in because you've forgotten your Password, click on Forgot Password? inside the Classmate Login box that appears after you click Sign In and you'll be Emailed a link to reset it.

You'll find other helpful tips under REMINDERS below.


The Sloane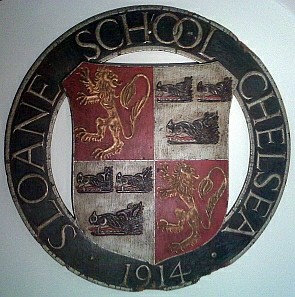 Hello and Welcome to

Mark Foulsham's

Sloane Grammar School website
If I built it I knew you would come

A School that invited loyalty
(Quote by Don Wheal)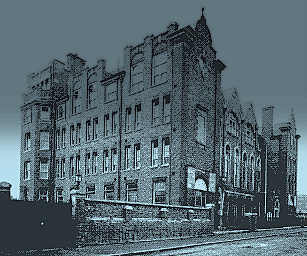 Gone But Not Forgotten
'Men are we, and must grieve when even the shade
Of that which once was great is pass'd away.'

William Wordsworth
On the Extinction of the Venetian Republic

You may think you're done with the past but the past isn't done with you!


"The merits of a school are judged as much by the men it produces as by their achievements as boys" -
(Old Cheynean D.J. Cowie, March 1929)


Register and link up with old school friends again and become part of Sloane Reunited.
If you were a pupil or member of staff at Sloane you qualify to register for the website. Click on Missing Classmates at the top of this page to see if we've been expecting you. If you see your name click on it and follow instructions. If your name's not there click on BECOME A MEMBER to learn more and then click the ADD NAME button to start the ball rolling or click Contact Us at the top of the page or the Click Here To Register! button below if you're already sure you want to join us. Read what you see then complete the box at the bottom of that page to ask me to add your name to the list.
It's Free, it's Easy, it's Secure
and
You're Never Alone As A Sloane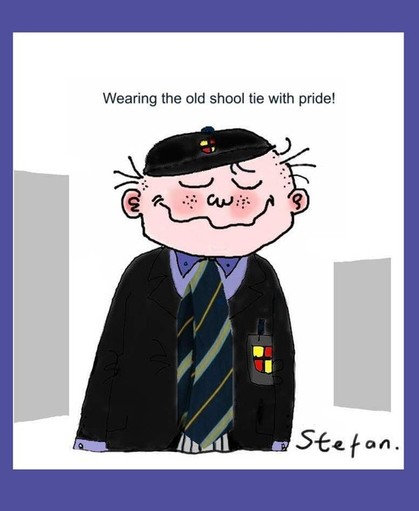 Self-portrait by Stefan Bremner-Morris
If you're a member, click on an image (


) at the top for more.

Here's what you'll find -

= Messages waiting for you. The red bubble shows how many.

= Website activity. Check for things you may have missed.
= Member functions like Profile, Contact, and Password changes.

AND -

If you're already a member please remember to keep your Email address up to date using Edit Contact Info, to be found by clicking on
the image at the top of the page.

Please don't forget to use the Notify Me page under the
image to make selections that will help you keep in touch as well as help you enjoy all the website has to offer.

You may already have the latest version of Adobe Flash Player but your browser no longer uses it automatically and it will not be supported at all after 2020. The Members Online feature uses Flashplayer (as do some animations and slideshows) so if it can't be seen clearly in the bottom right of your Home Page, click your mouse on what you can see and you'll be prompted to run Flashplayer. Agreeing will see the Members Online window re-appear. The same applies to animations and slideshows that don't show automatically. Use your Search Engine to search the web for how you allow Flash automatically in the browser you use.

Please remember to Log Out when you leave the site by using the Log Out button to be found under the
image at the top of the page.


AND FINALLY, IF AT ALL POSSIBLE, -
Please let a close relative know of your participation in the Sloane website and show them how to use the Contact Us page to notify me in the sad event of your death. Not only will this allow me to notify other members, it will also put a stop to any website generated emails finding their way to your Inbox. Thank you.
Come on in!
Don't be late!
This is one detention
You'll be pleased to take.


A WARM WELCOME

to fellow Cheyneans and passers-by, from the Official Sloane Grammar School 1919-1970 Old Cheyneans and Friends web site.
Mark Foulsham, at Sloane 1963-70, created this site in August 2008 to record for posterity all that I can, and for all those who attended Sloane or simply have a Sloane connection, to share and enjoy. Feel free just to browse or, if you feel you qualify to join us, make full use of the site by becoming a Registered Classmate. Click on the Click Here to Register button above to start the registration process. It's Free!
I'll also be happy to send a personal invitation to anyone else with a Sloane School Chelsea connection who you think might like to join us. Just enter their Email address in the MISSING CLASSMATES box to your right and click Send Invite.
We may not understand why but memories of our days at Sloane remain with us while others do not. Whether they're good or they're bad, I'd like to give all old boys the opportunity to keep those memories alive.

Aspirations and Objectives

Sloane never had a motto and although our school badge is based on the lion rampant and boar's head of the Cadogan family crest their motto, Qui Invidet Minor Est or He That Envies Is Inferior, is not really appropriate so I'll adopt the one to be found on the Coat of Arms of the Royal Borough of Kensington and Chelsea as it suits us nicely -

Quam Bonum In Unum Habitare

(What A Good Thing It Is To Dwell Together In Unity)
It is hoped, in some small way, to be able to have similar objectives to those stated for the first issue of The Cheynean in December 1926 -

"To record faithfully the major activities of the School, to promote and foster a corporate spirit in the School, to excite a greater keenness both in the games and in other phases of its social life, and to serve as a link between present members of the School and the Old Cheyneans". -

and also to bring together, once again, old friends and classmates, and those of us who have outlived the school and share a common interest in its history and its future.
Sadly, I've no memory of having ever sung or even heard a school song but apparently one was written by music Master Mr Seymour Dicker in 1928, and was first sung in July of that year by pupil J E Bush. What became of it after that first performance is a mystery but it contained the lines -
"Salve, the School and its scholars so keen,
Long may they keep its memory green."
If you've any memories of Sloane you'd like to share, use the Contact Us page to send them in and, whilst you're there, register for the site as well.

Once you've registered, you can activate the Instant Messaging feature that allows you to hold a 'real-time' online conversation with anyone else who has logged on to the website. You can also send a message to someone else on the site via the Message Centre or by using their Profile. Click on their name on the Classmate Profiles page then click on the red 'Send ? a private message' at the top of their Profile.

After you've registered, why not take a look at all the Classmate Profiles ? Even if you don't know the person involved, the information they've put on their Profile can be interesting, illuminating and fun, and often brings back memories of something you thought you'd forgotten about.
If, at any time after becoming a member, you're unsure about anything click on this Using This Site link for an explanation or contact me direct via the Contact Us page.
* * * * * * * *
Why Not Take a Look at Where your Classmates are Living?

Find out the Postcode of a Classmate from their Profile (if they've agreed to let everyone know it) then Click on the link below, enter the details where it says 'Address', then Click on 'Go'. Not every country is covered yet and those that are have limited coverage, but it's worth a try.
Here's the link. Have fun - http://www.vpike.com/

* * * * * * * *

BREAKING NEWS!!

PRE-CHRISTMAS GET-TOGETHER
Some of the 1964 Sloane intake are in the habit are in the habit of meeting for a drink a few times a year, I know beacuse they usually invite me along and I read somewhere that a few glasses of wine or beer can prolong life, so I usually go. The media and the mediacl profession being what they are, though, that is always on the lookout for news or changing their mind about what they've said a week after they've said it, I might sometimes have to revise my decision to join them for a drink. As if!
Anyway, on Friday, 6th December, from lunchtime until falling over time, some of the 1964 intake and I will be imbibing in the White Horse, Parsons Green Lane, Fulham and have asked me to throw open an invitation to all. So, if you're able, please do your best to join us for some good beer, good food and good company. I promise you you'll find it a rewarding experience. Darn it, I'll have to be on my best behaviour now.

GENERAL ELECTION CANCELLED DUE TO UNFORSEEN CIRCUMSTANCES!!!
PRIME MINISTER FOUND DEAD IN A DITCH!!!

If you're one of those ageing UK voters who were worried that a trip to the polling station on 9th December might result in pneumonia or worse, worry no more. It's been camcelled.
The body of the UK Prime Minister has been discovered in a ditch near Whitehall, this morning, according to reports.
Johnson had pledged to end his life in a shallow trench if his demands to leave the EU on Halloween were not met, and it is feared he may have carried out his threat despite no right-minded person thinking he was serious.
Forensic experts arrived at the scene in the early hours and estimated the cause of death to be asphyxiation and police have arrested a gang of four - a Mr Jeremy Corbyn, a Mrs Nicola Murrell (aka Ms Sturgeon), a Mrs Joanne Harries (aka Ms Swinson) and a Mrs Arlene Foster on suspicion of doing the nation a favour (their words, not mine). Mrs Harries and Mrs Murrell were also charged with using a false name to prove that they don't have to use their husband's name to get on in this world. Despite Police protests that no one with the first name Jeremy could really expect to become Prime Minister and also choosing to ignore the fact that a man called Boris was now running the country, Mr Corbyn was not further charged.
Mr Corbyn told reporters:
"I did what any normal patriot would do under the circumstances.
At the behest of my three co-conspiritors and a promise from them to form an alliance, I agreed to sit on the Prime Minister's face until the breath left his body and his soul departed. I did provide the Prime Minister with a last word, which was 'Brexit', but sadly I can confirm that he did not use it, though I confess to being a little deaf. It's possible he may have changed his mind at some point, although we'll never know as I never asked him again."
A Conservative Party Spokesman added,
"The end would have been peaceful. Mr Johnson would have felt himself passing down a long, dark tunnel, at the end of which there may have been a light.
"It all depends on whether Mr Corbyn was yawning at the time."

THE BREXIT SAGA
A TALE OF ONE MAN'S FIGHT AGAINST THE FEW FOR THE BENEFIT OF THE MANY

The Prime Minister continues to do the right thing but continues to be thwarted by self-serving fools and as a result the UK is as far away from leaving the EU as it has ever been.
Despite the setbacks, Boris soldiers on and in an attempt to confound the the Remainers of the Labour, Liberal Democrat, Scottish National Party and Democratic Unionist parties he did as they asked and wrote to the EU for an extension to the Brexit process but cunningly wrote it in invisible ink.
"Apparently it's a trick the PM learned at Eton," I was told.
"If you write a letter in lemon juice you can only read it if the paper is held up against something hot like a grill or a fire. So if you got one there you'd get your fag to do it whilst he was toasting your crumpet."
Number 10 insiders were confident that the EU would not be able to read the letter as they don't have juniors acting in indentured servitude to do the work, meaning they will never uncover the hidden message and Britain will still leave the EU on schedule. However, Brussels called on the Greek Prime Minister to do it as he holds a similar position in the EU hierarchy.
By now fed up to the teeth with the UK's shenanigans, the European Union have today announced that they will extend Article 50 until everyone in Britain is in favour of remaining part of it.
After MPs voted to reject Boris Johnson's timetable to rush through his Withdrawal Agreement Bill, the EU have now somewhat ironically 'taken back control' of the Brexit process.
Addressing reporters in Brussels this week, European Council president Donald Tusk explained,
"Boris Johnson's deal is even worse for Britain than Theresa's. All the forecasts suggest that any Brexit – deal or no deal – will be catastrophic for the United Kingdom, and despite them sticking two fingers up at us with the 2016 referendum, we do actually care about their well-being as a nation. That is what the EU is all about, after all."
He continued,
"So we will happily grant the UK an extension to Article 50 until all the Leave voters have died, which demographic analysis suggests won't be all that long. Then we can just forget that all this happened and go back to building a prosperous union of countries."
A misguided political commentator, apparently unaware that a large majority voted to Leave the EU, noted,
"Well that is just daft, and borderline offensive. For a start, most leave voters were misled by the government or Leave.EU propaganda, so they shouldn't be punished for this mess. Punish the liars, not those lied to. Secondly, a number of Leave voters will have changed their minds as it has become more apparent over time that Brexit won't deliver the 'brave new world' it promised.
And thirdly, you don't need ALL leave voters to die in order to get a majority in favour of remaining – just the twenty or so left that still think Brexit is a good idea."
Meanwhile, the UK has proposed a bold new initiative to solve the Northern Ireland problem that has bedevilled negotiators throughout the Brexit process.
It has suggested a time-travelling Irish border that would make all necessary customs checks in the past.
"It solves almost every problem connected with a border between Ireland and Northern Ireland," explained a member of the British negotiating team who definitely hasn't been driven insane by the whole process. There would be no delays because all customs checks will have already happened due to the multi-temporal nature of the border.
Any problems with goods or documentation would simply be sent further into the past to be dealt with by a specialist team which, although it could take a considerably long time, would have no impact on the actual person crossing the border because regardless of how long the customs checks take, they will have already happened."
The spokesperson freely admits there would be complexities to iron out but aent on,
"Well yes, several years ago we will need to have employed a number of customs officials, which could come as a surprise to them but, as it will have already happened, they'll probably be used to it by now."
However, despite enthusiasm in Westminster, the EU have proved resistant to the plan due to the fact that, like many other British border suggestions, it contains technology that may be entirely fictional.
It has been suggested in Brussels that the other 27 European countries should 'leave Britain to it and form a new, different alliance called the 'European Alliance', leaving the UK as the only member of the EU. All the internal structures and mechanisms of this new European Alliance will remain identical.
Saying that the paralysis of EU institutions caused by Brexit left the other member nations no choice, current EU Commission President and EA Commission President-designate Jean-Claude Junker explained that the new alliance would strive to maintain good working relationships with the EU and its sole remaining member,
"As the only member nation, if Britain still wishes to leave the EU then it should have little difficulty negotiating an excellent withdrawal agreement with itself," he told reporters.
"Although, then again, if the last three years are anything to go by, maybe not."
Mr Corbyn's arrest comes just weeks after the first person to stop clapping his speech at the Labour Party Conference was been sent to the salt mines.
"The Labour Party is a broad church with room for a wide range of views," I was told by a Party insider who begged me at the time not to name him for fear of reprisals. People can choose where to express their views; it can be freely and openly when they are views that Jeremy's supporters will condone, or it can be behind closed doors or not at all when they aren't.
"I love Jeremy", he quickly added, with a quick, furtive look at the door.
"That's a friendly smile, under his beard."
FRONT PAGE NEWS

NHS HOSPITAL PARKING SPACE ROW CONTINUES

A man who drove to the hospital for life-saving surgery missed his appointment because he couldn't find a parking space and subsequently died behind the wheel.
In September 2018 the sixty-eight-year-old man was diagnosed with a 90% block in his coronary artery. Because this was such a serious and potentially life-threatening condition he was fast-tracked and offered an appointment for a coronary bypass in November, 2019.
"He knew there'd be parking difficulties and that's why he left a good six weeks early," sobbed his wife, who doesn't drive due to her arthritis.
"I told him to get a taxi but he was adamant about retaining his independence. 'I'm still a young man,' he'd say. 'Sixty-eight is nothing these days'."
CCTV footage shows him driving into St Helier hospital car park at 11:37 on 31st August. Little did he know that he'd be spending the remaining months of his life there.
"He was never one to break the rules," said his wife. "He used the drop-off area to pop to the toilet or get a bite to eat but he always fully respected the 15-minute limit."
On the 22nd September he finally snapped and parked up on a double yellow line near the entrance to car park C. However, a traffic warden immediately appeared from nowhere and he was forced to drive on.
He perished on the 30th October, having spent the last three days of his life in his stationary vehicle staring at a silver Ford Focus, having decided to choose a specific space and simply wait for it to become available. It never did.
"If it's any consolation Simon would have died anyway," said a hospital spokesman.
* *

STAG HELPS POLICE WITH THEIR ENQUIRIES INTO AN ATTEMPTED SHOOTING
HOME FRONT NEWS

I get a little concerned when there's not much happening at home (well, not much that I'm prepared to share with you lot anyway). Is it a sign that all is well or is it a sign that it can't stay this way for long and something's about to happen to change everything?
Take the last few weeks for instance. I got the results of my endoscopy and apart from a small hiatus hernia they've spotted, gastritis and oesophagitis, which are all treatable, there's not too much going on down there. A discussion with the Doc means a change of diet and an increase in tablet dosage and all should improve. It was only after coming away from the surgery that I realised we hadn't discussed the x-ray I'd had so I paid them another visit. Good job I did, really, as I may never have heard that the x-ray revealed an enlarged heart. This not only came as a shock to me but also to all the friends and family who hadn't realised I even had a heart. I now have a heart scan on 9th November to confirm what they think and we'll take it from there. I'm not one to worry unduly but an Interenet trawl to look for my diagnosis (Yes, I know I shouldn't do that!) revealed that 50% of patients with an enlarged left ventricle don't make it 5 years beyond diagnosis. I'll wait for confirmation before I start to become concerned and if it is the case I'll become religious and start praying I'm one of the other 50%.
Ailments are always going to be a problem as we get older but it's memory loss that worries me more. Memory's a wonderful, if unpredictable, thing. My wife and I have noticed we're getting more forgetful. One day I can recall things I have no right to recall (and probably wished I'd kept them to myself after I had) and the next I lose the thread of what was in my head within seconds. We visited the doctor to talk about it and he said we should get into the habit of writing things down. After getting back from the Doc's my wife said she'd like a bowl of ice cream.
"You might want to write it down," she said.
I told her that wouldn't be necessary as I could easily remember what she'd said. While I was preparing it in the kitchen she called out to say that she'd like it with whipped cream.
"Write it down!" she told me.
"No!" I said. "You want a bowl of ice cream with whipped cream!"
"And a cherry on top," she cried out. "Write it down!"
"No, I won't!" I said. "You want ice cream, with whipped cream and a cherry on top. Right?!"
Half an hour later I went back in to the living room and handed her her plate of eggs and bacon. She stared at it for a while then said,
"I told you to write it down! Where's the toast!"

Mind you, I'm a little better than my wife where technology comes in. I managed to repair my printer this week. Took me a while but it saved me a few bob. My wife's lates tproblem concerns texting. She's gone upmarket with a more modern mobile phone but I'm a little worried it mat be a step too far.
My son sent her some texts to make sure she got the hang of it and after long time she worked out how to reply, saying,
"Got your texts. What does IDK, LY and TTYL mean?"
He texted her back,
"I Don't Know, Love You and Talk To You Later."
She replied,
"It's OK don't worry about it. I'll ask your sister later. Love you too."
She''l get there.

I love you all, too. Stay bright.
JOKES OF THE WEEK

Thought I'd bring a little spice into your lives this time around -

Reporter: "Excuse me, may I interview you, Sir."
Man: "Yes!"
Reporter: "Name?"
Man: "Abdul the Bulbul Ameer."
Reporter: "Sex?"
Man: "Three to five times a week."
Reporter: "No no! I mean male or female?"
Man: "Yes, male, female... sometimes camel."
Reporter: "Holy cow!"
Man: "Yes, cow, sheep... animals in general."
Reporter: "But isn't that hostile?"
Man: "Yes, horse style, dog style, any style."
Reporter: "Oh dear!"
Man: "No, no deer. Deer run too fast. Hard to catch."

*

A girl realized that she had grown hair between her legs. She got worried and asked her mom about that hair. Her mom calmly said,
"That part where the hair has grown is called your monkey. Be proud that your monkey has grown hair."
The girl smiled. At dinner, she told her sister,
"My monkey has grown hair."
Her sister smiled and said,
"That's nothing; mine is already eating bananas."

*

A family is at the dinner table. The son asks the father,
"Dad, how many kinds of boobs are there?"
The father, surprised, answers,
"Well, son, a woman goes through three phases. In her 20s, a woman's breasts are like melons, round and firm. In her 30s and 40s, they are like pears, still nice, hanging a bit. After 50, they are like onions."
"Onions?" the son asks.
"Yes. You see them and they make you cry."
This infuriated his wife and daughter. The daughter asks,
"Mum, how many different kinds of willies are there?" The mother smiles and says,
"Well, dear, a man goes through three phases also. In his 20s, his willy is like an oak tree, mighty and hard. In his 30s and 40s, it's like a birch, flexible but reliable. After his 50s, it's like a Christmas tree."
"A Christmas tree?" the daughter asks.
"Yes, dead from the root up and the balls are just for decoration."

I think I may have used that last one before but that's memory for you. Looking at boobs from a different angle -
THOUGHTS FOR THE DAY

Website member Jim Prior, who was in my year at Sloane, is a lovely bloke who hasn't let advancing years and the aches and pains that tend to accompany it get in the way of learning new skills and enjoying life in as full a way as he is able to given that he is undergoing treatment for advanced prostate cancer. He's allowed me to mention that in the hope that you'll all make sure you have a PSA blood test or get your doctor to do what he does best with his finger. If the cancer can be caught before it leaves the prostate then it's very curable. Jim tells me his tumours have now shrunk following hormone injections and he's now able to walk without the stick you'll read about below. He's also had four lots of chemotherapy with two more to come. He does, however, have to use a catheter due to a biopsy shutting his bladder down and, whilst he's not expecting to be around to receive a telegram from the Queen, he has increased his life expectancy. We wish him well.
Jim was contacted by website member and one-time Sloane Economics and History teacher Peter Pallai, who was on holiday in Devon, where Jim Lives. Peter was staying in Appledore, some way from Jim's home but by coincidence, Jim, who had taught himself to play saxophone in later life, was about to play a fundraising gig in Appledore with the soul band he plays in. After lunch together with Jim, Peter and his family went to see him play. The venue was packed, everyone was up and dancing from the off and they they raised a good few quid for local charities.
The whole evening seems to have had an effect on Peter and he wrote this piece, that should give us all food for thought, afterwards, for an online magazine -

YOU DON'T STOP DANCING BECAUSE YOU GROW OLD. YOU GROW OLD BECAUSE YOU STOP DANCING
Soul music in Appledore
Appledore is a charming one-time fishing village on the coast of the beautiful county of Devon in the South-West of England. It used to have a shipyard employing hundreds of people but nowadays it's inhabited mainly by pensioners or at least older folk with a sprinkling of escaped townies looking for peace and quiet. Tourists also come here but not in great numbers, especially not in late June or early July while English schools still torment their pupils. I am spending a fortnight here with my wife, my son and my daughter-in-law, also in search of some peace and quiet. However, a few days ago there was a warning sign that our peace and quiet might be disrupted - a poster announcing a gig by the band, Soul Intention at the Appledore Community Hall on Saturday, 6th July. Although I've never heard of them, we all thought it might be interesting to experience the sort of fun people have here, behind God's back. Then I remembered that Jim Prior a one-time baritone-sax player whom I had been form master of in the London grammar school where I taught in the sixties, also lives in Devon. Since Jim often comes up to London to check out the cream of Hungarian jazzers appearing there at the 606 Club, an establishment I have a lot of dealings with, I happened to have his phone number. I gave him a ring in case he knew something about Soul Intention.
It turned out that he lived a couple of miles away in Westward Ho! (this is not a typo, it happens to be the only town in England, probably in the whole world whose name contains an exclamation mark). As for Soul Intention, Jim had genuine inside information, since he was the alto- (no longer baritone) player of that 10 piece band. A small world indeed. He told me it was an amateur outfit made up primarily of senior citizens who play in the neighbourhood, mostly for local audiences. The Saturday gig was to be in aid of a charity to build a chemotherapy wing for a hospital nearby, so they were playing for free. He asked us to come but was apologetic about it being an amateur production and said we could leave whenever we'd had enough. I couldn't say no to an ex-pupil of mine and thought that if all four of us went, then they'll only need seven more in the audience to outnumber the players.
As it turned out we weren't needed. For a start, one musician was missing so there were only nine in the band, not to mention the fact that the house was full to the rafters.
I am sure one could crack asinine jokes about a hard swinging band with almost all its members being old-age pensioners, three of them walking with the aid of a stick including the female vocalist. Of course there was symmetry in the fact that, by and large, the audience also belonged to the same age group. Conveniently forgetting that I myself was also their contemporary, I began sharpening my tongue so that I'd be able to take the mickey out of doddering ancients and great grandmas in wheelchairs boogieing on. But as soon as the music started all my sarcastic ill intentions evaporated.
The floor filled up within a minute and the audience threw themselves into the dance with joyous abandon that was uplifting and moving at the same time. They couldn't care a hoot about the impression they were making or what they looked like, whether they were overweight or wizened, whether they were smart or had only bothered to put on shorts and flip-flops, and they cared not a bit whether they were good at dancing, whether they looked graceful or clumsy. What they did care about was having a good time and not having to feel at the age of sixty-, seventy- or eighty-something that life was over for them.
It was that same feeling that fired up the band. The music, although not original, was good and lively made up of songs by Aretha Franklin, James Brown, Otis Redding, Ray Charles, Martha Reeves, Stevie Wonder, a Chicago and similar greats of the sixties and seventies. The two lead singers, male and female, sang their hearts out. The female singer, Terry Thorpe told me during the break that she'd started singing at the age of 61 and this was the first time in her life she was doing something she really loved. Jim, my ex-pupil, himself in his late sixties, (moreover one of the future beneficiaries of the chemotherapy wing, being one of the three band members walking with a stick due to a tumorous growth) played through the first set standing and visibly enjoying himself.
This love of life, this spirit of not throwing in the towel and, above all, of not caring whether they make fools of themselves is in itself the guarantee that one will not see neither the band nor the dancers as comical or grotesque but rather as admirable and life-affirming. I would add that this attitude of trying to make the best of all situations, of not taking themselves too seriously is very British, much more typical of their character than the myth of their stuck-up, rigid formality wrongly assumed by so many Continentals. Britain won't be the only loser if it leaves Europe.

(I'll forgive Peter that last remark!)
* * * * *
The Home We Called Sloane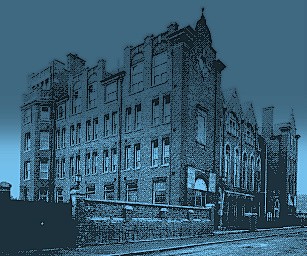 The Sloane building seen from Hortensia Road in 1908

The Sloane building was 100 years old in 2008, although it didn't actually start life as a boys' school until after the First World War, during which it served as a hospital. It still stands and many memories are, no doubt, ingrained in its walls along with the odd name and ribald comment. Who knows what the future holds, despite its Grade II listing on May 7th, 2002. Grade II listed buildings can be altered, extended, or even demolished, but only with Local Authority consent, so it may be that the building is considered historically or architecturally interesting enough for it's fabric to remain untouched. Some consideration may have been given to it having been the first purpose-built secondary school in London, and it is certainly one of only 3% of all ages of listed buildings that was built in the 20th century. Schools generally are seen as a good investment by developers because they're easy to convert. They are likely to be structurally sound because the authorities will have inspected them regularly to ensure they comply with Health and Safety requirements.

Sadly, Sloane Grammar School for Boys only lasted 51 years, from 1919-1970. John Binfield, in one of his poems writes -
... the school, with
All its past, was sucked into a huge
Turbulent sea of glass in Pimlico
And sank without trace. "full fathom five..
Sea nymphs hourly ring his knell.
Hark, now I hear them. Ding-dong bell".
Should the building survive in the form we all remember, there is still a chance that some of us will be around in 2019 to celebrate what would have been its centenary as a boys' school, had it remained in existence.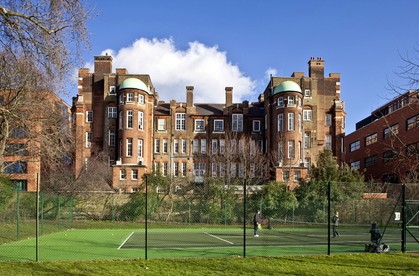 Sloane seen from the rear in 2014
* * *
Whatever our own personal reasons for it doing so, the school will still haunt most of us even if it disappears altogether. With that tenuous link, here's a poem that I came across in a copy of The Cheynean -

The Ghost of Sloane


When London's asleep and the School very quiet,
No sound of footsteps, no sound of a riot,
No sound of even the shuffle of feet,
No sound of the creak of a pupil's seat,
Out of the darkness the ghost of Sloane
Awakes from rest with a sigh and a groan.
Then up he arises to haunt the School
Climbing the stairs in the guise of a ghoul.
He shuffles and clanks down each corridor
Into the classrooms where stand desks galore.
He examines each desk and checks the boys' work,
Allots ghostly marks in the dark and the murk.

If you ever lose books from out of your desk,
And the teacher upbraids you and calls you a pest,
Just tell him my story, however tall,
Of the white shrouded phantom that haunts the School Hall.

J. Hollingshead (3C)

As for us, the boys who used to attend our Chelsea school, we probably considered ourselves 'Chelsea men' but I doubt that many of fitted the description in this poem, written when he was in the 5th year by one time Sloane Schoolboy, A R Doubledee. I get the impression he didn't particularly approve of the 'Beatniks' of the late 50s and early 60s that he found himself sharing Chelsea with or, as he called them the 'Weirdies' -

The Weirdies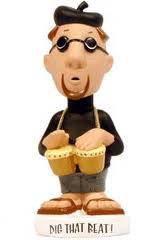 The Chelsea man is excessively queer,
He only drinks coffee and doesn't like beer.
He's always "chatting" the girls, and yet
This seems to make him "one of the set".

His unkempt chin and uncut hair
Go with his feet which are usually bare.
If he wears shoes, they've never got soles,
And he's usually found in Bohemian holes.

His outsize sweater is generally black
Contrasting well with his shorty mac.
He wears his clothing merely to show
That he can keep up with the boys of Soho.

To find a girl he doesn't look far,
But into the nearest coffee bar,
Where he's sure to meet a Bohemian "yob".
They're all from Chelsea - what a mob!

The girls with hair right down their backs
Wear irregular clothes that look like sacks.
They walk about wearing father's sweater:
I really don't see why he should let 'er.

Their gaudy clothes of reds and greens
Match up with the style of their men-friends' jeans.
Now that's how it goes with the latest style:
Girls on their faces make-up pile,
The men wear anything they can find -
I shouldn't stare, I should just act blind!

A.R. Doubledee (5b)
* * *

ANNOUNCEMENTS APPEAR BELOW
ONCE YOU'VE LOGGED IN