Sloane Grammar School boy, if you seek your memorial,
look around you.




DON'T FORGET!! -
PLEASE CHECK THE ANNOUNCEMENTS BOARD AT THE FOOT OF THIS PAGE FOR ANYTHING IMPORTANT and, after you Log In, the CALENDAR OF EVENTS PAGE FOR DETAILS OF FORTHCOMING EVENTS.
If you're having trouble logging in because you've forgotten your Password, click on Forgot Password? inside the Classmate Login box that appears after you click Sign In and you'll be Emailed a link to reset it.

You'll find other helpful tips under REMINDERS below.


The Sloane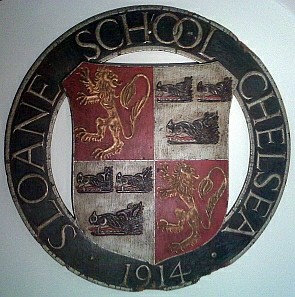 Hello and Welcome to

Mark Foulsham's

Sloane Grammar School website
If I built it I knew you would come

A School that invited loyalty
(Quote by Don Wheal)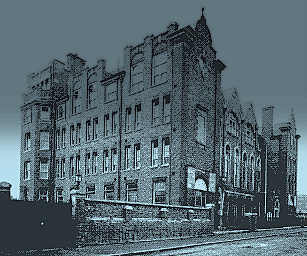 Gone But Not Forgotten
'Men are we, and must grieve when even the shade
Of that which once was great is pass'd away.'

William Wordsworth
On the Extinction of the Venetian Republic

You may think you're done with the past but the past isn't done with you!


"The merits of a school are judged as much by the men it produces as by their achievements as boys" -
(Old Cheynean D.J. Cowie, March 1929)


Register and link up with old school friends again and become part of Sloane Reunited.
If you were a pupil or member of staff at Sloane you qualify to register for the website. Click on Missing Classmates at the top of this page to see if we've been expecting you. If you see your name click on it and follow instructions. If your name's not there click on BECOME A MEMBER to learn more and then click the ADD NAME button to start the ball rolling or click Contact Us at the top of the page or the Click Here To Register! button below if you're already sure you want to join us. Read what you see then complete the box at the bottom of that page to ask me to add your name to the list.
It's Free, it's Easy, it's Secure
and
You're Never Alone As A Sloane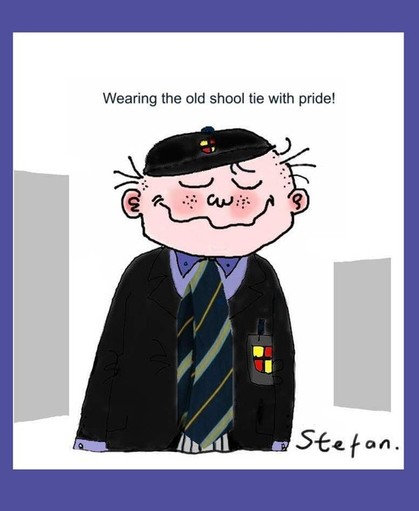 Self-portrait by Stefan Bremner-Morris
If you're a member, click on an image (


) at the top for more.

Here's what you'll find -

= Messages waiting for you. The red bubble shows how many.

= Website activity. Check for things you may have missed.
= Member functions like Profile, Contact, and Password changes.

AND -

If you're already a member please remember to keep your Email address up to date using Edit Contact Info, to be found by clicking on
the image at the top of the page.

Please don't forget to use the Notify Me page under the
image to make selections that will help you keep in touch as well as help you enjoy all the website has to offer.

You may already have the latest version of Adobe Flash Player but your browser no longer uses it automatically and it will not be supported at all after 2020. The Members Online feature uses Flashplayer (as do some animations and slideshows) so if it can't be seen clearly in the bottom right of your Home Page, click your mouse on what you can see and you'll be prompted to run Flashplayer. Agreeing will see the Members Online window re-appear. The same applies to animations and slideshows that don't show automatically. Use your Search Engine to search the web for how you allow Flash automatically in the browser you use.

Please remember to Log Out when you leave the site by using the Log Out button to be found under the
image at the top of the page.


AND FINALLY, IF AT ALL POSSIBLE, -
Please let a close relative know of your participation in the Sloane website and show them how to use the Contact Us page to notify me in the sad event of your death. Not only will this allow me to notify other members, it will also put a stop to any website generated emails finding their way to your Inbox. Thank you.
Come on in!
Don't be late!
This is one detention
You'll be pleased to take.


A WARM WELCOME

to fellow Cheyneans and passers-by, from the Official Sloane Grammar School 1919-1970 Old Cheyneans and Friends web site.
Mark Foulsham, at Sloane 1963-70, created this site in August 2008 to record for posterity all that I can, and for all those who attended Sloane or simply have a Sloane connection, to share and enjoy. Feel free just to browse or, if you feel you qualify to join us, make full use of the site by becoming a Registered Classmate. Click on the Click Here to Register button above to start the registration process. It's Free!
I'll also be happy to send a personal invitation to anyone else with a Sloane School Chelsea connection who you think might like to join us. Just enter their Email address in the MISSING CLASSMATES box to your right and click Send Invite.
We may not understand why but memories of our days at Sloane remain with us while others do not. Whether they're good or they're bad, I'd like to give all old boys the opportunity to keep those memories alive.

Aspirations and Objectives

Sloane never had a motto and although our school badge is based on the lion rampant and boar's head of the Cadogan family crest their motto, Qui Invidet Minor Est or He That Envies Is Inferior, is not really appropriate so I'll adopt the one to be found on the Coat of Arms of the Royal Borough of Kensington and Chelsea as it suits us nicely -

Quam Bonum In Unum Habitare

(What A Good Thing It Is To Dwell Together In Unity)
It is hoped, in some small way, to be able to have similar objectives to those stated for the first issue of The Cheynean in December 1926 -

"To record faithfully the major activities of the School, to promote and foster a corporate spirit in the School, to excite a greater keenness both in the games and in other phases of its social life, and to serve as a link between present members of the School and the Old Cheyneans". -

and also to bring together, once again, old friends and classmates, and those of us who have outlived the school and share a common interest in its history and its future.
Sadly, I've no memory of having ever sung or even heard a school song but apparently one was written by music Master Mr Seymour Dicker in 1928, and was first sung in July of that year by pupil J E Bush. What became of it after that first performance is a mystery but it contained the lines -
"Salve, the School and its scholars so keen,
Long may they keep its memory green."
If you've any memories of Sloane you'd like to share, use the Contact Us page to send them in and, whilst you're there, register for the site as well.

Once you've registered, you can activate the Instant Messaging feature that allows you to hold a 'real-time' online conversation with anyone else who has logged on to the website. You can also send a message to someone else on the site via the Message Centre or by using their Profile. Click on their name on the Classmate Profiles page then click on the red 'Send ? a private message' at the top of their Profile.

After you've registered, why not take a look at all the Classmate Profiles ? Even if you don't know the person involved, the information they've put on their Profile can be interesting, illuminating and fun, and often brings back memories of something you thought you'd forgotten about.
If, at any time after becoming a member, you're unsure about anything click on this Using This Site link for an explanation or contact me direct via the Contact Us page.
* * * * *
Why Not Take a Look at Where your Classmates are Living?

Find out the Postcode of a Classmate from their Profile (if they've agreed to let everyone know it) then Click on the link below, enter the details where it says 'Address', then Click on 'Go'. Not every country is covered yet and those that are have limited coverage, but it's worth a try.
Here's the link. Have fun - http://www.vpike.com/

* * * * * * * * *
* * *
New Year Thoughts

What is it about a New Year's day that causes us to make resolutions? It's only a date after all.
For most people, New Year's resolutions are something that go in one year and out the other but if you've never made New Year's resolutions before, make this year an exception and make a point of reminding yourself what they are every day.
If you do nothing else this year at least be positive - positive thoughts attract a positive life. Positive thinking is not so very different from dreaming. They both give us hope, purpose and direction even if others tell us our positivity and dreaming are unrealistic.
As J M Barrie once wrote -
"The moment you doubt whether you can fly, you cease forever to be able to do it."
Anyway, there is a beauty in dreams so dream on. My dreams have always been much the same and so have my resolutions.
I live every day as if I know it's going to be my last and I don't waste time worrying about things I have no control over. This year I've made additonal resolutions. The first is to be more optimistic by keeping my glass half-full with either whisky, gin, vodka or rum and the second is to read more; so I've put subtitles on my tv.
Meanwhile, my mate Mick has thought about the evils of drinking and has decided to give up thinking. I'll drink to that.
This New Year's Eve and New Year's Day were eventful, to say the least. We were in the pub on New Year's Eve and my neighbour's wife, Sandra, stood up and shouted that it was time to get ready. At the stroke of midnight she encouraged every husband to stand next to the one person who made his life worth living. Sad to say, I've now got a funeral to go to next week as George, the barman, was killed in the rush.
On a more realistic note, one of my neighbours, Norman Washington Giscombe, better known as 'Junior' during his time as a singer/songwriter in the 1980s, was on Jules Holland's Hootenanny on the BBC (actually recorded on the 12th December) whilst we were in the pub on New Year's Eve singing his major hit from 1982, Mama Used To Say. We recorded the programme and his voice is as good as ever. Shame about his taste in jackets though; I'll have to have a word with him about the black and silver one he wore on New Year's Eve. He's a lovely bloke so I know he'll accept my comments in the manner they were intended.
One thing I can say with positivity is that 2019 will definitely bring us another 365 days - if we're lucky.

Happy New Year everyone and remember -

"Accentuate the positive.
Eliminate the negative.
Latch on to the affirmative.
Don't mess with Mister In-Between."
* * *
BREAKING NEWS!!

TV CAMERAS REVEAL THE EFFECT OF POLICE UNDERFUNDING!!
* * *

FRONT PAGE NEWS

Parents Of The Year Award Results Just In

Judges of the 2018 Parents Of The Year Awards have sobered up very quickly and announced the result. After much deliberation they felt there was no outright winner so the following eight tied for first place. Who could disagree?! -

* * *

JOKES OF THE WEEK

A couple was invited to a swanky costume party. The Mrs. got a terrible headache and told her husband to go to the party alone.
He being a devoted husband protested, but she argued and said she was going to take some aspirin and go to bed and there was no need for his good time being spoiled by not going. So he took his costume and away he went.
The wife, after sleeping soundly for about an hour, woke up without feeling any pain and, as it was still early, decided to go the party. Since her husband did not know what her costume was, she thought she would have some fun by watching her husband to see how he acted when she was not with him.
She joined the party and soon spotted her husband cavorting around on the dance floor, dancing with every nice looking woman he could, and copping a little feel here and a little kiss there. His wife sidled up to him and being a rather seductive babe herself, he left his current partner high and dry and devoted his time to the new babe that had just arrived. She let him go as far as he wished naturally, since he was her husband.
Finally, he whispered a little proposition in her ear and she agreed. So off they went to one of the cars and had a quickie. Just before unmasking at midnight , she slipped away, went home, put the costume away and got into bed, wondering what kind of explanation he would make for his behaviour.
She was sitting up reading when he came in, and she asked what kind of a time he had.

He said,
'Oh, the same old thing. You know I never have a good time when you're not there.
'Did you dance much ?'
"I'll tell you, I never even danced one dance. When I got there, I met Pete, Bill Brown and some other blokes and we went into the shed and played poker all evening…"
"But you're not going to believe what happened to the bloke I loaned my costume to....."
* * *

* * *

THOUGHTS FOR THE DAY
When you clean out the vacuum cleaner you become a vacuum cleaner.
*
Wouldn't it be good if we could put ourselves in the dryer for ten minutes and come out wrinkle free and five sizes smaller?
*
All children should respect their parents. After all, they passed their exams without Google.
*

* * *
HOME FRONT NEWS
Last night the Internet stopped working so I spent a few hours with my family. They seemed like nice people.
What a difference a day makes! On New Year's Eve I was considering how good, in the main, 2018 had been to us. On New Year's Day I woke up to find that my computer had mysteriously become disorganised overnight and that my desktop icons, Email set-up, browser Bookmarks, music files and a number of others had disappeared. It took me 9 hours to sort it out.
The same morning, my daughter learned that the Shurgard storage centre in Purley Way had burned to the ground taking with it most of the last ten years of her life that she had been storing there since she returned home to live with us.
What a wonderful, mysterious world we live in but one at times like this that I wish wasn't!!
It'll be a while before she can recall everything that she's now lost and whether she's covered by insurance. Much of it will be very personal and irreplaceable so, on top of the break up of her realtionship with her partner she's at breaking point but at home in our loving, capable hands. A time of sadness nonetheless. Perhaps this bloke can help -
1) Relax and concentrate on the four small dots in the middle of the picture for about 40 seconds.
2) Then take a look at a wall or any smooth, single coloured surface near you.
3) You'll see a circvle of light developing.
4) Start blinking your eyes a few times and you will see a figure emerging....
5) What do you see? Moreover, what do you see? --------
Sorry I haven't been able to say much this time around but I've a lot on my mind and thought I'd better get some of it in print before the New Year had come and gone. Back soon.
* * * * *
The Home We Called Sloane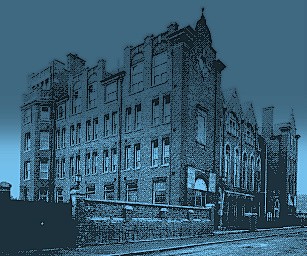 The Sloane building seen from Hortensia Road in 1908

The Sloane building was 100 years old in 2008, although it didn't actually start life as a boys' school until after the First World War, during which it served as a hospital. It still stands and many memories are, no doubt, ingrained in its walls along with the odd name and ribald comment. Who knows what the future holds, despite its Grade II listing on May 7th, 2002. Grade II listed buildings can be altered, extended, or even demolished, but only with Local Authority consent, so it may be that the building is considered historically or architecturally interesting enough for it's fabric to remain untouched. Some consideration may have been given to it having been the first purpose-built secondary school in London, and it is certainly one of only 3% of all ages of listed buildings that was built in the 20th century. Schools generally are seen as a good investment by developers because they're easy to convert. They are likely to be structurally sound because the authorities will have inspected them regularly to ensure they comply with Health and Safety requirements.

Sadly, Sloane Grammar School for Boys only lasted 51 years, from 1919-1970. John Binfield, in one of his poems writes -
... the school, with
All its past, was sucked into a huge
Turbulent sea of glass in Pimlico
And sank without trace. "full fathom five..
Sea nymphs hourly ring his knell.
Hark, now I hear them. Ding-dong bell".
Should the building survive in the form we all remember, there is still a chance that some of us will be around in 2019 to celebrate what would have been its centenary as a boys' school, had it remained in existence.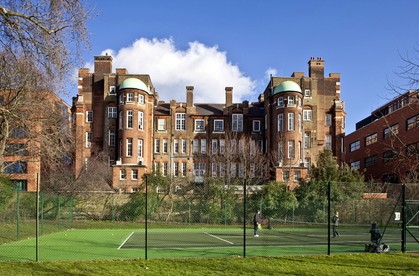 Sloane seen from the rear in 2014
* * *
Whatever our own personal reasons for it doing so, the school will still haunt most of us even if it disappears altogether. With that tenuous link, here's a poem that I came across in a copy of The Cheynean -

The Ghost of Sloane


When London's asleep and the School very quiet,
No sound of footsteps, no sound of a riot,
No sound of even the shuffle of feet,
No sound of the creak of a pupil's seat,
Out of the darkness the ghost of Sloane
Awakes from rest with a sigh and a groan.
Then up he arises to haunt the School
Climbing the stairs in the guise of a ghoul.
He shuffles and clanks down each corridor
Into the classrooms where stand desks galore.
He examines each desk and checks the boys' work,
Allots ghostly marks in the dark and the murk.

If you ever lose books from out of your desk,
And the teacher upbraids you and calls you a pest,
Just tell him my story, however tall,
Of the white shrouded phantom that haunts the School Hall.

J. Hollingshead (3C)

As for us, the boys who used to attend our Chelsea school, we probably considered ourselves 'Chelsea men' but I doubt that many of fitted the description in this poem, written when he was in the 5th year by one time Sloane Schoolboy, A R Doubledee. I get the impression he didn't particularly approve of the 'Beatniks' of the late 50s and early 60s that he found himself sharing Chelsea with or, as he called them the 'Weirdies' -

The Weirdies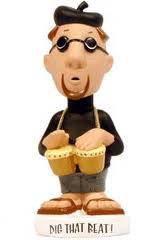 The Chelsea man is excessively queer,
He only drinks coffee and doesn't like beer.
He's always "chatting" the girls, and yet
This seems to make him "one of the set".

His unkempt chin and uncut hair
Go with his feet which are usually bare.
If he wears shoes, they've never got soles,
And he's usually found in Bohemian holes.

His outsize sweater is generally black
Contrasting well with his shorty mac.
He wears his clothing merely to show
That he can keep up with the boys of Soho.

To find a girl he doesn't look far,
But into the nearest coffee bar,
Where he's sure to meet a Bohemian "yob".
They're all from Chelsea - what a mob!

The girls with hair right down their backs
Wear irregular clothes that look like sacks.
They walk about wearing father's sweater:
I really don't see why he should let 'er.

Their gaudy clothes of reds and greens
Match up with the style of their men-friends' jeans.
Now that's how it goes with the latest style:
Girls on their faces make-up pile,
The men wear anything they can find -
I shouldn't stare, I should just act blind!

A.R. Doubledee (5b)
* * *

ANNOUNCEMENTS APPEAR BELOW
ONCE YOU'VE LOGGED IN