Sloane Grammar School boy, if you seek your memorial,
look around you.

If you're a member, click on an image (


) at the top for more.

= Messages waiting for you. The red bubble shows how many.

= Website activity. Check for things you may have missed.
= Member functions like Profile, Contact, and Password changes.


PLEASE CHECK THE ANNOUNCEMENTS BOARD AT THE FOOT OF THIS PAGE FOR ANYTHING IMPORTANT and the CALENDAR OF EVENTS PAGE FOR DETAILS OF FORTHCOMING EVENTS. ALSO, USE THE NOTIFY ME PAGE TO CHOOSE YOUR NOTIFICATION PREFERENCES. YOU'LL FIND IT, ALONG WITH OTHER USEFUL ITEMS, UNDER THE WHITE HEAD AND SHOULDERS IMAGE AT THE TOP RIGHT OF THIS PAGE.
The Sloane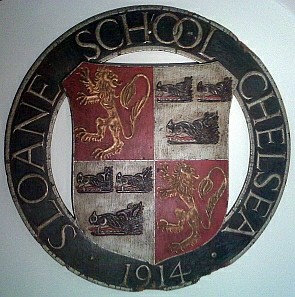 Hello and Welcome to

Mark Foulsham's

Sloane Grammar School website
If I built it I knew you would come

A School that invited loyalty
(Quote by Don Wheal)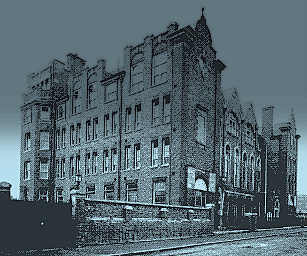 Gone But Not Forgotten
'Men are we, and must grieve when even the shade
Of that which once was great is pass'd away.'

William Wordsworth
On the Extinction of the Venetian Republic

You may think you're done with the past but the past isn't done with you!


"The merits of a school are judged as much by the men it produces as by their achievements as boys" -
(Old Cheynean D.J. Cowie, March 1929)


Register and link up with old school friends again and become part of Sloane Reunited.
If you were a pupil or member of staff at Sloane you qualify to register for the website. Click on Missing Classmates at the top of this page to see if we've been expecting you. If you see your name click on it and follow instructions. If your name's not there click on BECOME A MEMBER to learn more and then click the ADD NAME button to start the ball rolling or click Contact Us at the top of the page or the Click Here To Register! button below if you're already sure you want to join us. Read what you see then complete the box at the bottom of that page to ask me to add your name to the list.
It's Free, it's Easy, it's Secure
and
You're Never Alone As A Sloane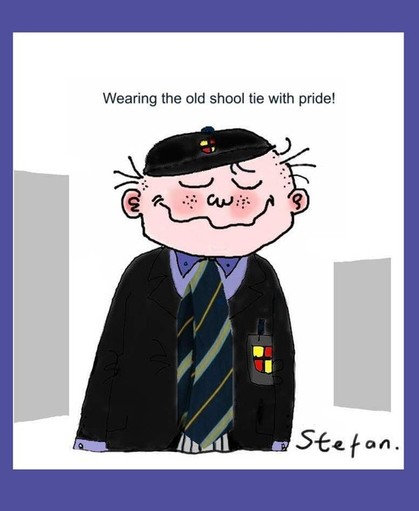 Self-portrait by Stefan Bremner-Morris

Please remember to Log Out when you leave the site by using the Log Out button to be found under the
image at the top of the page. It's as easy as falling off a log -


If you're already a member please remember to keep your Email address up to date using Edit Contact Info to be found by clicking on
the image at the top of the page.

Please don't forget to use the Notify Me page under the
image to make selections that will help you keep in touch as well as help you enjoy all the website has to offer.

AND FINALLY, IF AT ALL POSSIBLE, -
Please let a close relative know of your participation in the Sloane website and show them how to use the Contact Us page to notify me in the sad event of your death. Not only will this allow me to notify other members, it will also put a stop to any website generated emails finding their way to your Inbox. Thank you.
Come on in!
Don't be late!
This is one detention
You'll be pleased to take.


A WARM WELCOME

to fellow Cheyneans and passers-by, from the Official Sloane Grammar School 1919-1970 Old Cheyneans and Friends web site.
Mark Foulsham, at Sloane 1963-70, created this site in August 2008 to record for posterity all that I can, and for all those who attended Sloane or simply have a Sloane connection, to share and enjoy. Feel free just to browse or, if you feel you qualify to join us, make full use of the site by becoming a Registered Classmate. Click on the Click Here to Register button above to start the registration process. It's Free!
I'll also be happy to send a personal invitation to anyone else with a Sloane School Chelsea connection who you think might like to join us. Just enter their Email address in the MISSING CLASSMATES box to your right and click Send Invite.
We may not understand why but memories of our days at Sloane remain with us while others do not. Whether they're good or they're bad, I'd like to give all old boys the opportunity to keep those memories alive.

Aspirations and Objectives

Sloane never had a motto and although our school badge is based on the lion rampant and boar's head of the Cadogan family crest their motto, Qui Invidet Minor Est or He That Envies Is Inferior, is not really appropriate so I'll adopt the one to be found on the Coat of Arms of the Royal Borough of Kensington and Chelsea as it suits us nicely -

Quam Bonum In Unum Habitare

(What A Good Thing It Is To Dwell Together In Unity)
It is hoped, in some small way, to be able to have similar objectives to those stated for the first issue of The Cheynean in December 1926 -

"To record faithfully the major activities of the School, to promote and foster a corporate spirit in the School, to excite a greater keenness both in the games and in other phases of its social life, and to serve as a link between present members of the School and the Old Cheyneans". -

and also to bring together, once again, old friends and classmates, and those of us who have outlived the school and share a common interest in its history and its future.
Sadly, I've no memory of having ever sung or even heard a school song but apparently one was written by music Master Mr Seymour Dicker in 1928, and was first sung in July of that year by pupil J E Bush. What became of it after that first performance is a mystery but it contained the lines -
"Salve, the School and its scholars so keen,
Long may they keep its memory green."
If you've any memories of Sloane you'd like to share, use the Contact Us page to send them in and, whilst you're there, register for the site as well.

Once you've registered, you can activate the Instant Messaging feature that allows you to hold a 'real-time' online conversation with anyone else who has logged on to the website. You can also send a message to someone else on the site via the Message Centre or by using their Profile. Click on their name on the Classmate Profiles page then click on the red 'Send ? a private message' at the top of their Profile.

After you've registered, why not take a look at all the Classmate Profiles ? Even if you don't know the person involved, the information they've put on their Profile can be interesting, illuminating and fun, and often brings back memories of something you thought you'd forgotten about.
If, at any time after becoming a member, you're unsure about anything click on this Using This Site link for an explanation or contact me direct via the Contact Us page.
* * * * *
Why Not Take a Look at Where your Classmates are Living?

Find out the Postcode of a Classmate from their Profile (if they've agreed to let everyone know it) then Click on the link below, enter the details where it says 'Address', then Click on 'Go'. Not every country is covered yet and those that are have limited coverage, but it's worth a try.
Here's the link. Have fun - http://www.vpike.com/

* * * * * * * * *

LATE BUT BREAKING NEWS!!
THE ONLY WAY IS UP (OR DOWN)!

A power failure in a Dublin department store today left three hundred people stranded on the escalators for more than two hours.
*

LABOUR PARTY SEEKS TO RECOVER LOST VOTES

Labour Leader Jeremy Corbyn and his Shadow Chancellor John McDonnell decided they needed to win over Middle England if they are to be in with any chance of winning the next election.

Corbyn told McDonnell,

"We'll get ourselves two of those long Barbour coats, some proper Hunter wellies, a stick and a flat cap - oh and a black Labrador. Then we'll really look the part. We'll go to a nice old country pub in Much Something or other, and we'll show that we really enjoy the countryside and Middle England."

"Right comrade!" was McDonnell's response.

So, a few days later, all kitted out with requisite Labrador at heel, they set off. Eventually, they arrived in a quiet village and found a lovely pub and with the dog, went up to the bar.

"Good evening Landlord, two pints of your best ale, from the wood please." said Corbyn.

"Good evening Jeremy." said the Landlord - "Two pints of the best coming up."

Corbyn and McDonnell stood leaning on the bar contemplating taking over the country, nodding now and then to those who came in for a drink, whilst the dog lay quietly at their feet. Suddenly the door from the adjacent bar opened and in came a grizzled old shepherd complete with crook. He walked up to the Labrador, lifted its tail with his crook, looked underneath,
shrugged his shoulders and went back to the other bar.

A few moments later, in came a wizened old farmer who followed the same procedure, to the bewilderment of Corbyn and McDonnell.

People of all ages and gender followed suit over the next hour. Eventually, unable to stand it any longer, McDonnell called the landlord over.

"Tell me, my man," said McDonnell."Why do all these people come and look under the dog's tail like that? Is it an old country custom?"

"Good Lord no," said the landlord. "It's just that someone has told them that there is a Labrador in here with two arseholes."


*

NEW ALAN JOHNSON TOME
I don't know why I'm publicising his latest book (he never mentions this website on This Week or any of his speeches) but it looks a good read. Out in September, and available for pre-order on Amazon, Alan's new book is about the time he spent being transported by the sound of 'True Love' by Bing Crosby and Grace Kelly on the radio, as a small child living in condemned housing in ungentrified West London in the late 1950s, to going out to work as a postman humming 'Watching the Detectives' by Elvis Costello in 1977. Alan Johnson's life has always had a musical soundtrack. In fact music hasn't just accompanied his life, it's been an integral part of it.

In the bestselling and award-winning tradition of This Boy, In My Life vividly transports us to a world that is no longer with us - a world of Dansettes and jukeboxes, of heartfelt love songs and heart-broken ballads, of smoky coffee shops and dingy dance halls. From Bob Dylan to David Bowie, from Lonnie Donnegan to Bruce Springsteen, all of Alan's favourites are here. As are, of course, his beloved Beatles, whom he has worshipped with undying admiration since 1963.

But this isn't just a book about music. In My Life adds a fourth dimension to the story of Alan Johnson the man.
*

BREXIT LATEST!
It has been announced that post Brexit, the traffic congestion caused by border checks in Dover will be so bad that Kent will be known as 'England's Car-Park' instead of 'England's Garden.'
A new report has shown that spending as little as two minutes extra on border procedures for each vehicle through Dover will lead to five-hour, twenty-mile traffic jams. However as the current government seems incapable of implementing any new procedures at all to cope with Brexit, two minutes extra per vehicle seems staggeringly optimistic and as such, most people believe that within a month of Britain leaving the EU, literally every piece of road in the county will be occupied by a car, including that nice pedestrianised bit in Canterbury City centre.
"We're trying to make the best of it," said a spokesperson for the Kent tourist board, sadly.
"I mean – 'England's Car-Park?' – we could really start to appeal to those car-park enthusiasts out there. You know, people would come and go 'ooo wow, a whole county reduced from one of the country's most beautiful areas to a massive car-park. Isn't that just beautiful'. They'd have to take the train to get here though, so it would be perfect to car-park loving train enthusiasts."
Leading Brexiter Jacob Rees-Mogg was made aware of the situation regarding the impending issues in Kent. He told reporters,
"I'm told that things could get really rather bad in Kent once we leave the EU. I don't live there, so why should I give a toss."
Theresa May, meanwhile, has insisted that Brexit will mean more money for the NHS in a classic April Fools Day ruse, without realising it was four weeks ago.
The Prime Minister has been touring the country explaining the benefits of Brexit, and hilariously claimed one of the main benefactors would be the NHS.
However, when a journalist pointed out that it was actually the 28th April, she quickly shouted at an aide before storming off. After returning, she told reporters,
"It's the early Easter, it's very confusing for everyone. I thought today was the day we tricked people into thinking something is real when it's entirely made up.
We in the Conservative party have a long history of making promises that don't stand up, and April Fools day shouldn't be the only day we do it. I would like to think tricking the entire nation should be a 365 day a year process."
A Conservative party spokesperson defended the Prime Minister's ruse, telling us,
"Look, I get it, some of you didn't find her little joke about the NHS getting more funding particularly funny. At least we didn't tour the country with it on a bus."
However, a voter told us,
"Oh, a pro-Brexit politician is telling me that the NHS is going to get some more money after Brexit, that's nice. I suppose she's been deliberately vague about how much money, and where it's coming from? Yes, that sounds about right. I just hope that this promise becomes a noose around her neck at the next election."
*

POST-BREXIT PASSPORT FIASCO

The firm that will shortly be producing UK passports, have confirmed that they will not be offering a postal service and that UK citizens who wish to travel abroad will need to collect their passport in person from Amsterdam.
Gemalto CEO Olivier Piou told us today,
"It is true that, in order to keep the cost of the contract as low as possible, we have not included a postal option. We do, however, pride ourselves on our turnaround times and estimate that passports will be available to collect at our Amsterdam headquarters just two weeks from us receiving the application."
It is thought that many Brits will now have to use the 'transitional period' agreed by the UK and EU negotiators last week to collect their passports, prior to borders being closed in around 20 months time. Anyone wishing to travel after that date will have to have a valid passport to allow them to travel to Europe in order to collect their new passport.
Prime Minister Theresa May has confirmed that she was aware of the clause but the alternative was the possibility of people having to travel to Gateshead, which may cause more problematic language barriers. She explained,
"What people need to remember is that there are millions of illegal immigrants travelling happily across Europe at the moment, none of whom have valid travel documents and they seem to be managing quite well, thank you. All that we are asking is that people show the initiative to make a single trip to Amsterdam; it can't be that hard. It's a well-trodden path."
*

POISONING ON BRITISH SOIL!! PM'S STRONG REACTION CONTINUES!!
The British Prime Minister has threatened Russia in the strongest possible terms over the attempted assassination of a former Soviet spy on English soil.
Theresa May has used her incredibly strong and stable position to lay down the gauntlet for Vladimir Putin to give his account of why a deadly nerve agent was used against Sergei Skripal, or expect to face the terrifying consequences.
"No-one is allowed to come over here and try to assassinate someone, not on my watch," the furious vicar's daughter told reporters. "If there's one thing that I believe in, it is our right to stop foreigners coming over here, committing horrendous acts and getting away with it. Regardless of how many hundreds of thousands of pounds they have donated to the Conservative party."
Looking straight at the cameras, Mrs May added sternly, "You have until midnight to explain what's going on, Vladimir Putin. Or someone's wheat-fields are going to get a jolly good running through, you mark my words."
Sources at the Kremlin have confirmed that since seeing the news, Vladimir Putin was witnessed shaking, although reports are unclear whether this was due to fear or laughter.
Theresa May is a-OK in tackling the issue of poison as she's been dealing with Michael Gove for years.
Following criticism that the Prime Minister is not acting fast enough, her team has pointed out that she probably knows what she's doing having survived the utterly poisonous ventriloquist's dummy.
"This is a vile, potentially lethal substance that shouldn't come into contact with anybody," said Tory spokesperson, Simon Williams.
"But enough about Michael Gove. The rumoured nerve agent is pretty toxic too.
"If Theresa May can deal with that poisonous little shit then a deadly nerve agent should be a walk in the park."
Citizen, Elizabeth King, said, "I was exposed to Michael Gove once.
"A biohazard team advised me to wash myself and all of my possessions at least ten times, and to quarantine myself for a fortnight.
"I still have flashbacks of the time he shook my hand. I'm clearly lucky to be alive."
Dr Jay Cooper confirmed, "Michael Gove is absolutely toxic, and I advise all citizens not to touch him, but to call the police if they see him out in public."
As a response to Theresa May's 24-hour ultimatum regarding the Salisbury poisoning case, the Russian government has declared it had nothing to do with 'delivering fierce justice to anyone foolish enough to betray the Rodina'.
Semyov Vyliomsky, a spokesperson for the Russian foreign ministry, refuted accusations that the Salisbury attack had all the hallmarks of a FSB hit.
He told us, "We reject these slanderous lies perpetrated by the enemies of Russia. We had nothing to do with rooting out cowards who put much too much faith in their Western masters. Never have we sent our fearsome unstoppable agents to inflict gruesome vengeance on those who sell out their country. We most certainly did not do it to ensure other turncoats will be forced to live while perpetually looking over their shoulder, knowing that we neither forget nor forgive. And we wish a swift recovery to the British policeman, unfortunately injured coming to the aid of a faithless cur for whom there is no safe haven."
Mr Vyliomsky also explained that cultural differences could have given a false impression that the Russian authorities were unconcerned with the possibility of British sanctions.
"As many of you know, we Russians do not express emotions in the same way as people in the West. In Russia, a common reaction to a serious ultimatum from a strong nation is to laugh continuously, imitate the nation's leader with a whimpering voice, or to video edit the speech with the sound of someone defecating.
But it's only because you are so scary."
Following comments that Russia should both 'go away' and 'shut up,' diplomatic Svengali Gavin Williamson has told Russia that it's 'horrid' and it 'smells.'
The devastating statement sums up the outrage felt in London following the nerve agent poisoning in Salisbury.
"I hate Russia loads and loads," said Mr Williamson, expanding on his original statement.
"They did a bad thing and I hope that their Mums give them all a smack on their bum-bums with their trousers and pants down.
"They're horrid and they smell like poopy-heads."
Mr Williamson's initial comments that 'Russia should go away and shut up' marked a new level of sophisticated rhetoric from the Defence Secretary, and are said to have left Moscow officials in a spin.
"In fact, they probably all smell because they did loads of poos in their pants and they smell of poo," said Mr Williamson, channelling the oratorical mastery of greats such as Churchill and Elizabeth I.
"Pooey pants, pooey pants. Russia's just a lot of pooey pants.
I bet that smelly old Mr Putin has to wear a nappy like a baby because he does so many poos in his pants."
Although Russia has yet to respond to Williamson's 'pooey pants' allegations, they did issue the following response to Mr Williamson's initial 'go away and shut up' statement.
A Kremlin statement explained that
"Mr Williamson should grow up and treat this diplomatic crisis with the seriousness that it deserves.
Also, he's is a big willy-faced farty-pants who smells more than we do."
Kremlin diplomats have confirmed that they will provide a full response to Defence Secretary Gavin Williamson's call for Russia to 'go away and shut up' once they have all stopped laughing.
"My personal assistant came to me earlier in tears of laughter and told me I should watch this speech," says Russian Foreign Secretary Sergei Lavrov.
"At first I thought it was a funny YouTube clip where some British politician is giving a speech and the sign in the background falls over, or he has a coughing fit, or gets caught on a zip line or something. I couldn't believe this teenage kid was the Defence Secretary. And then when he told us to 'go away and shut up' I thought I was going to wet myself.
"We have been trying to write a response all day but every time we start we have another giggling fit like a bunch of your silly teenage girls. Vladimir asked me 'how are we to go away? Russia is a big country, where are we meant to go? What happens if we don't shut up? Will this Williamson boy take his ball home or run off to tell his mum?'
"Anyway, when we finally stopped laughing someone asked if we should deal directly with someone else in the British government, someone with a bit more gravitas. Vladimir said 'what like Boris Johnson?' and we all cracked up again.
"Seriously, I haven't seen Vladimir laugh so much since Donald Trump won the US election."
Labour leader Jeremy Corbyn has stated that however Theresa May chooses to respond to the Russian poisoning attack in Salisbury will be wrong because she is an awful Tory and therefore the British response should actually be the complete opposite of her plan. Mr Corbyn made the statement after Prime Minister Theresa May announced the expulsion of 23 diplomats.
"I think that the important thing with regard to this situation," said Mr Corbyn, "Is that I am seen to oppose the Government, regardless of the action they take, and as they are proposing the expulsion of diplomats, then I suggest we should respond by being really quite nice to Russia and possibly buying them a little present."
Mr Corbyn was adamant that in this diplomatic crisis, it was vital to remember that the Tory government is awful, and it was important to use the deployment of a nerve agent on British soil to remind everyone that he's best.
"I would also invest more in the NHS and nationalise the railways," he continued.
He then went on to claim that the poisoning probably wasn't Russia anyway and was, actually, the result of twenty years of neo-liberal capitalism and it was all Tony Blair's fault.
*

ANDREW LLOYD-WEBBER ALLEGEDLY RESPONSIBLE FOR SYRIA ATTACKS!!

Russians who accused the British of "staging" the recent chemical attacks in Syria have pointed the finger at Andrew Lloyd Webber, according to reports.
Sources close to the ground say the alleged "attacks" bear all the hallmarks of an Andrew Lloyd Webber production and are likely to sell out just as quickly.
And Moscow officials say it's highly significant that the opening night of the "performance" took place in Douma's West End.
Meanwhile, eagled-eyed aficionados in the pay of Vladimir Putin have been poring over hours of footage hoping to catch a glimpse of either Michael Crawford or Sarah Brightman.
Suspicions were first raised in Moscow after footage apparently showed a Syrian infant bursting into song shortly after coughing up one of its lungs.
Russia's Head of Intelligence, said,
"Of all the Western powers, the British have the necessary theatrical expertise to make it look like a chemical attack. Besides, I've seen that kid before in Grange Hill.
Another big giveaway was the fact that three of the so-called surgeons who were attending to the wounded came out for an encore at the end.
All of the leading players were really camping it up, throwing their arms in the air and staggering around like Charlotte Church after a night out in Cardiff."
The Russians insist Lloyd Webber could not have staged the chemical attacks on his own and now believe he received considerable help from the likes of Tim Ricin.
A Russian spokesman added,
"As far as stage ventures go, this has to be the worst atrocity since Love Never Dies."
*
FRONT PAGE NEWS

HEALTH NEWS

NHS CUTBACKS AFFECTING THE ELDERLY MORE THAN MOST
*

DRINKING AND HEALTH
A scientific study has concluded that excessive amounts of alcohol could negatively affect the perceived length of your day.
A new international study using millions of volunteers has revealed a link between excessive consumption of alcohol and how long your weekday feels.
One interviewed passer-by, who up until now has stuck to government health guidelines, commented,
"My Friday afternoon is normally taken up by a seemingly endless staff meeting. I know that sounds very important, but in reality, it's just men in cheap suits shouting about the hole in Chelsea's defence until it's time to go home. Anyway, I had three glasses of wine at lunchtime and the meeting just flew by in a rosy haze. I really think these scientist folks are on to something here."
There has been confusion in recent years due to conflicting advice on the amount you should drink from governments and researchers alike.
This is down to many factors including experimental methodology, the resistance levels of various genetic groups and whether the science team is sponsored by Twinings or Pilsner.
Another drinker commented,
"I did my own experiments by downing eighteen pints last Saturday, and sure enough the first half of my Sunday just completely disappeared. I'm not worried; it might takes years off your life, but that's the end of your life and those years are rubbish anyway."
As new research shows that even one drink a day can reduce life expectancy, drinkers have suggested that maybe scientists should all sit down in a room and make their bloody minds up once and for all. The research which looked at 600,000 drinkers found that an amount of drinking previously thought of as 'helpful' most certainly isn't.
A drinker told us,
"I get it, I really do – science is complicated. But one minute you're telling me a glass of red wine with my dinner will help me live longer and have a healthy heart, the next minute you're telling me my nightly glass of Merlot is actually speeding me towards an early grave. It's my one pleasure in this miserable existence of mine, and I can't believe you're trying to take it away from me. I don't think it's unreasonable to ask you all to make your bloody mind up and to stop flip-flopping like a bunch of bloody politicians. Why not book a nice hotel in the country and lock yourselves away until you've come to a consensus, that way I can stop having a heart attack every time a new headline tells me I'm going to die."
Health expert Nigel Farage told us,
"Oh I stopped listening to doctors a long time ago, they've definitely got it wrong on smoking, so they're certainly going to be wrong about this, too. I would imagine this time next week they'll be saying a nice couple of pints of bitter with your lunch is the way to increase your chances of seeing in one-hundred. And if they don't, well, what do they know, they're only bloody experts."
*

JOKES OF THE WEEK

A guy took his blonde girlfriend to her first American Football game. They had great seats right behind their team's bench. After the game, he asked her how she liked the experience.
"Oh, I really liked it," she replied, "especially the tight pants and all the big muscles, but I just couldn't understand why they were killing each other over 25 cents."
Dumbfounded, her date asked,
"What do you mean?"
"Well, they flipped a coin, one team got it, and then for the rest of the game, all they kept screaming was, 'Get the quarterback! Get the quarterback!' I'm like, hello? It's only 25 cents!"

*
A Welshman gets washed up on a desert island with just a sheep and a collie dog for company.
After a few days he starts to feel a bit frisky and starts eyeing up the sheep. The collie dog's instincts kick in and it won't let him anywhere near the sheep.
The following morning, to his delight, a beautiful young girl is washed ashore;
"You've saved my life" says the Welshman, "can you take the dog for a walk?"

*

* * *
THOUGHTS FOR THE DAY
Have you ever considered that the only reason they say "Women and children first" when a ship's sinking is to test the strength of the lifeboats?
*
The best cure for sea sickness, is to sit under a tree. - Spike Milligan
*
Having more money doesn't make you happier. I have 50 million dollars but I'm just as happy as when I had 48 million. - Arnold Schwarzenegger
*
We are here on earth to do good unto others. What the others are here for, I have no idea.
- W. H. Auden
*
Home cooking. Where many a man thinks his wife is. - Jimmy Durante
*

As I hurtled through space, one thought kept crossing my mind - every part of this rocket was supplied by the lowest bidder. -US astronaut John Glenn
*

I'm not a paranoid, deranged millionaire. Dammit, I'm a billionaire. - Howard Hughes
*
When a man opens a car door for his wife, it's either a new car or a new wife - Prince Philip (Allegedly)
*
Knowledge is knowing a tomato is a fruit. Wisdom is not putting it in a fruit salad.

*
This Be The Verse
By Philip Larkin
They fu*k you up, your mum and dad.
They may not mean to, but they do.
They fill you with the faults they had
And add some extra, just for you.
But they were fu*ked up in their turn
By fools in old-style hats and coats,
Who half the time were soppy-stern
And half at one another's throats.
Man hands on misery to man.
It deepens like a coastal shelf.
Get out as early as you can,
And don't have any kids yourself.
*

We all of us wanted babies but did we want children?
- Eda J Lesban
*
"Parents are sometimes a bit of a disappointment to their children. They don't fulfill the promise of their early years." - Anthony Powell
*
"Ah, yes, divorce, from the Latin word meaning to rip out a man's genitals through his wallet."
- Robin Williams
*

"See, the problem is that God gives men a brain and a penis, and only enough blood to run one at a time." - Robin Williams
*

"Bigamy is having one wife too many. Monogamy is the same." - Oscar Wilde

*

"It isn't premarital sex if you have no intention of getting married." - George Burns

*
To steal ideas from one person is plagiarism. To steal from many is research.(Well, it's kept me going for a while).
* * *

HOME FRONT NEWS

I like children. I never gave them a second thought when I was making them , but I like them very much. To become a father is not hard for most of us, but to be a father is. Having said that, having them follow in your footsteps can be very disconcerting, especially when you think you've covered your tracks. Parents put up with an awful lot for the love of their children but so long as you continue to give them that little bit of unconditional love you often get a lot more back in return but it's not until you come to that moment when you realise you've actually brought up a civilised human being that you know you've done right by them.
Not sure why I started off with that today but it's made me feel better just for saying it.
It's been a funny old few weeks since I last wrote this page. I had a bit of a dip in my health after a day traipsing round the Ideal Home Exhibition. I suspect all the walking tired me out and lowered my resistance to something or other and that sparked the asthma off again. I feel a bit livelier now but it only takes a little too much effort and I'm back at square one again so I'm breaking myself back in slowly.
It probably didn't help that I responded to a leaflet that came through my door. It said,
"If you are an alcoholic ring this number"
So I did. It was the local off-licence.
Those couple of drinks did put me in the mood for a party though so I went to a re-union at one of the companies I used to work for. It started off well; they played 'the twist' so I twisted. They played 'jump' so I jumped, then they played 'come on Eileen', and it was shortly after that I was asked to leave.
Not sure how I managed that but it did remind me why we stopped having kids after our third one. I was sitting reading to keep my mind off my wife's Caesarian, one hand holding hers and the other turning pages, when I read that every fourth child born in the world is Chinese.
I can also recall filling in a form for the hopital at the same time and one of the questions was,
"In case of emergency, notify........". Totally unnecessary question really but just to keep them happy I answered "Doctor".
Apart from my ongoing health problems I only have one other health issue that worries me a little. It's kleptomania, but when it gets bad, I just take something for it. My wife's always been quite healthy, touch wood, but early mornings and late nights along with advancing years are getting to her now and she's finally decided to retire in July, when her pensions kick in. She's already started spending on a new wardrobe for when the time for celebration comes. She deserves it but as I said to her, clothes don't maketh the woman and women will never be the equal of men until they can walk down the street with a bald head and a beer gut and still think they're sexy. Men never really grow up, do we. We just learn how to act in public. I still respect my elders though. It's just getting harder to find one.
Talking of elders, I was contacted by Carole Fawcitt who has been compiling her family tree and had a vague recollection that her father, Dick Curthoys, had attended Sloane in the 1920s. After a little research involving copies of The Cheynean I was pleased to be able to confirm to her that the very first copy, from 1926, shows that he joined the school that year and the 1927 copy shows that he left in that year. He also gets a mention in 1926 to say that he was in the Junior Tug-of-War team that won the competition for Howells' House at Stamford Bridge on School Sports Day. Very satisfying.
I'm off to help my mate Mick out this evening. He happened to mention that his club were looking for a Treasurer for their Christmas Fund

"Didn't you take on a new one last month?" I asked him.

"That's the one we're looking for", he replied.
So I've volunteered to keep their books in order as it'll keep my brain ticking over and take my mind off of sex. I'm not sure who she is but I think this woman knows me -


Truth is, I've always been a cleavage man so I'm looking forward to a bright Summer. Cleavage is a bit like the sun. Normally, you can only glance at it for a second but if you're wearing sunglasses you can look for longer. Beats the latest fad for 'selfies' any day and for an older generation, selfies were an altogether different thing -
I'll leave you 'old boys' with that thought and a hope that I'm able to update this page on a more regular basis very soon. "Do not forsake me, oh my darlings........"
* * * * *
The Home We Called Sloane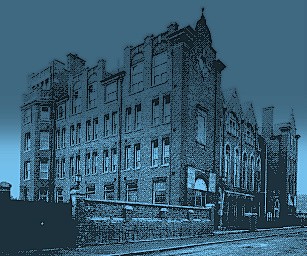 The Sloane building seen from Hortensia Road in 1908

The Sloane building was 100 years old in 2008, although it didn't actually start life as a boys' school until after the First World War, during which it served as a hospital. It still stands and many memories are, no doubt, ingrained in its walls along with the odd name and ribald comment. Who knows what the future holds, despite its Grade II listing on May 7th, 2002. Grade II listed buildings can be altered, extended, or even demolished, but only with Local Authority consent, so it may be that the building is considered historically or architecturally interesting enough for it's fabric to remain untouched. Some consideration may have been given to it having been the first purpose-built secondary school in London, and it is certainly one of only 3% of all ages of listed buildings that was built in the 20th century. Schools generally are seen as a good investment by developers because they're easy to convert. They are likely to be structurally sound because the authorities will have inspected them regularly to ensure they comply with Health and Safety requirements.

Sadly, Sloane Grammar School for Boys only lasted 51 years, from 1919-1970. John Binfield, in one of his poems writes -
... the school, with
All its past, was sucked into a huge
Turbulent sea of glass in Pimlico
And sank without trace. "full fathom five..
Sea nymphs hourly ring his knell.
Hark, now I hear them. Ding-dong bell".
Should the building survive in the form we all remember, there is still a chance that some of us will be around in 2019 to celebrate what would have been its centenary as a boys' school, had it remained in existence.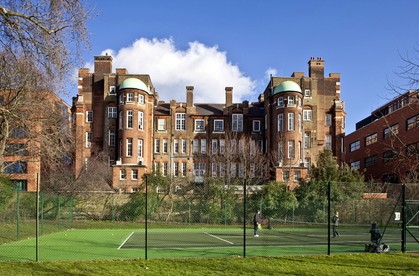 Sloane seen from the rear in 2014
* * *
Whatever our own personal reasons for it doing so, the school will still haunt most of us even if it disappears altogether. With that tenuous link, here's a poem that I came across in a copy of The Cheynean -

The Ghost of Sloane


When London's asleep and the School very quiet,
No sound of footsteps, no sound of a riot,
No sound of even the shuffle of feet,
No sound of the creak of a pupil's seat,
Out of the darkness the ghost of Sloane
Awakes from rest with a sigh and a groan.
Then up he arises to haunt the School
Climbing the stairs in the guise of a ghoul.
He shuffles and clanks down each corridor
Into the classrooms where stand desks galore.
He examines each desk and checks the boys' work,
Allots ghostly marks in the dark and the murk.

If you ever lose books from out of your desk,
And the teacher upbraids you and calls you a pest,
Just tell him my story, however tall,
Of the white shrouded phantom that haunts the School Hall.

J. Hollingshead (3C)

As for us, the boys who used to attend our Chelsea school, we probably considered ourselves 'Chelsea men' but I doubt that many of fitted the description in this poem, written when he was in the 5th year by one time Sloane Schoolboy, A R Doubledee. I get the impression he didn't particularly approve of the 'Beatniks' of the late 50s and early 60s that he found himself sharing Chelsea with or, as he called them the 'Weirdies' -

The Weirdies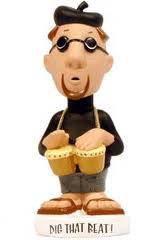 The Chelsea man is excessively queer,
He only drinks coffee and doesn't like beer.
He's always "chatting" the girls, and yet
This seems to make him "one of the set".

His unkempt chin and uncut hair
Go with his feet which are usually bare.
If he wears shoes, they've never got soles,
And he's usually found in Bohemian holes.

His outsize sweater is generally black
Contrasting well with his shorty mac.
He wears his clothing merely to show
That he can keep up with the boys of Soho.

To find a girl he doesn't look far,
But into the nearest coffee bar,
Where he's sure to meet a Bohemian "yob".
They're all from Chelsea - what a mob!

The girls with hair right down their backs
Wear irregular clothes that look like sacks.
They walk about wearing father's sweater:
I really don't see why he should let 'er.

Their gaudy clothes of reds and greens
Match up with the style of their men-friends' jeans.
Now that's how it goes with the latest style:
Girls on their faces make-up pile,
The men wear anything they can find -
I shouldn't stare, I should just act blind!

A.R. Doubledee (5b)
* * *

ANNOUNCEMENTS APPEAR BELOW
ONCE YOU'VE LOGGED IN