Sloane Grammar School boy, if you seek your memorial,
look around you.




DON'T FORGET!! -
PLEASE CHECK THE ANNOUNCEMENTS BOARD AT THE FOOT OF THIS PAGE FOR ANYTHING IMPORTANT and, after you Log In, the CALENDAR OF EVENTS PAGE FOR DETAILS OF FORTHCOMING EVENTS.
If you're having trouble logging in because you've forgotten your Password, click on Forgot Password? inside the Classmate Login box that appears after you click Sign In and you'll be Emailed a link to reset it.

You'll find other helpful tips under REMINDERS below.



The Sloane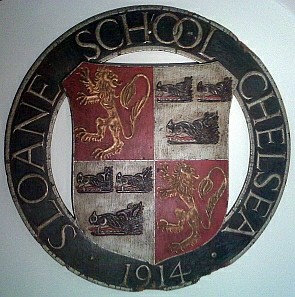 Hello and Welcome to

Mark Foulsham's

Sloane Grammar School website
If I built it I knew you would come

A School that invited loyalty
(Quote by Don Wheal)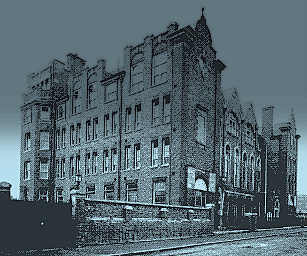 Gone But Not Forgotten
'Men are we, and must grieve when even the shade
Of that which once was great is pass'd away.'

William Wordsworth
On the Extinction of the Venetian Republic

You may think you're done with the past but the past isn't done with you!


"The merits of a school are judged as much by the men it produces as by their achievements as boys" -
(Old Cheynean D.J. Cowie, March 1929)


Register and link up with old school friends again and become part of Sloane Reunited.
If you were a pupil or member of staff at Sloane you qualify to register for the website. Click on Missing Classmates at the top of this page to see if we've been expecting you. If you see your name click on it and follow instructions. If your name's not there click on BECOME A MEMBER to learn more and then click the ADD NAME button to start the ball rolling or click Contact Us at the top of the page, read what you see then complete the box at the bottom of that page to ask me to add your name to the list.
It's Free, it's Easy, it's Secure
and
You're Never Alone As A Sloane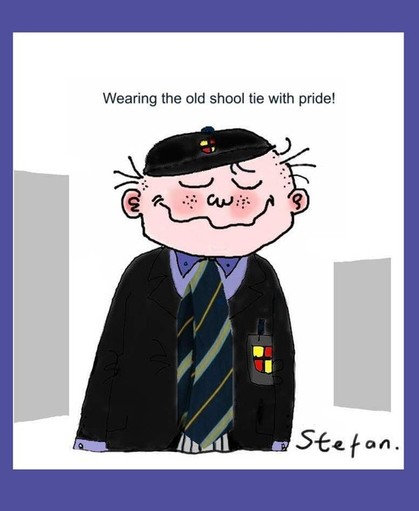 If you're a member, click on an image (


) at the top for more.

Here's what you'll find -

= Messages waiting for you. The red bubble shows how many.

= Website activity. Check for things you may have missed.
= Member functions like Profile, Contact, and Password changes.

AND -

If you're already a member please remember to keep your Email address up to date using Edit Contact Info, to be found by clicking on
the image at the top of the page.

Please don't forget to use the Notify Me page under the
image to make selections that will help you keep in touch as well as help you enjoy all the website has to offer.

You may already have the latest version of Adobe Flash Player but your browser no longer uses it automatically and it will not be supported at all after 31st December, 2020. From that date Google has confirmed it will completely block Flash from being able to run under the Chrome browser as will Mozilla for their Firefox browser and Microsoft for Internet Explorer and Edge. The Members Online feature uses Flashplayer (as do some animations and slideshows) so if it can't be seen clearly in the bottom right of your Home Page, click your mouse on what you can see and you'll be prompted to run Flashplayer. Agreeing will see the Members Online window re-appear. The same applies to animations and slideshows that don't show automatically. Use your Search Engine to search the web for how you allow Flash automatically in the browser you use but some browsers will ignore your choice anyway if you've chosen 'Allow', others, like Opera or Brave, will not. To check how this site handles Flash, click on the Padlock or Not Secure wording that precedes this website's Domain Name in your browser's Address Bar and set Flash to Allow or Ask (default). Click on Site Settings and under Permissions it also shows the same choice. HTML5 (Hypertext Markup Language) is the likely replacement for Flash and hopefully, this website will be converted to it before the deadline for the loss of Flash.

Please remember to Log Out when you leave the site by using the Log Out button to be found under the
image at the top of the page.


AND FINALLY, IF AT ALL POSSIBLE, -
Please let a close relative know of your participation in the Sloane website and show them how to use the Contact Us page to notify me in the sad event of your death. Not only will this allow me to notify other members, it will also put a stop to any website generated emails finding their way to your Inbox. Thank you.
Come on in!
Don't be late!
This is one detention
You'll be pleased to take.


A WARM WELCOME

to fellow Cheyneans and passers-by, from the Official Sloane Grammar School 1919-1970 Old Cheyneans and Friends web site.
Mark Foulsham, at Sloane 1963-70, created this site in August 2008 to record for posterity all that I can, and for all those who attended Sloane or simply have a Sloane connection, to share and enjoy. Feel free just to browse or, if you feel you qualify to join us, make full use of the site by becoming a Registered Classmate. Click on the Click Here to Register button above to start the registration process. It's Free!
I'll also be happy to send a personal invitation to anyone else with a Sloane School Chelsea connection who you think might like to join us. Just enter their Email address in the MISSING CLASSMATES box to your right and click Send Invite.
We may not understand why but memories of our days at Sloane remain with us while others do not. Whether they're good or they're bad, I'd like to give all old boys the opportunity to keep those memories alive.

Aspirations and Objectives

Sloane never had a motto and although our school badge is based on the lion rampant and boar's head of the Cadogan family crest their motto, Qui Invidet Minor Est or He That Envies Is Inferior, is not really appropriate so I'll adopt the one to be found on the Coat of Arms of the Royal Borough of Kensington and Chelsea as it suits us nicely -

Quam Bonum In Unum Habitare

(What A Good Thing It Is To Dwell Together In Unity)
It is hoped, in some small way, to be able to have similar objectives to those stated for the first issue of The Cheynean in December 1926 -

"To record faithfully the major activities of the School, to promote and foster a corporate spirit in the School, to excite a greater keenness both in the games and in other phases of its social life, and to serve as a link between present members of the School and the Old Cheyneans". -

and also to bring together, once again, old friends and classmates, and those of us who have outlived the school and share a common interest in its history and its future.
Sadly, I've no memory of having ever sung or even heard a school song but apparently one was written by music Master Mr Seymour Dicker in 1928, and was first sung in July of that year by pupil J E Bush. What became of it after that first performance is a mystery but it contained the lines -
"Salve, the School and its scholars so keen,
Long may they keep its memory green."
If you've any memories of Sloane you'd like to share, use the Contact Us page to send them in and, whilst you're there, register for the site as well.

Once you've registered, you can activate the Instant Messaging feature that allows you to hold a 'real-time' online conversation with anyone else who has logged on to the website. You can also send a message to someone else on the site via the Message Centre or by using their Profile. Click on their name on the Classmate Profiles page then click on the red 'Send ? a private message' at the top of their Profile.

After you've registered, why not take a look at all the Classmate Profiles ? Even if you don't know the person involved, the information they've put on their Profile can be interesting, illuminating and fun, and often brings back memories of something you thought you'd forgotten about.
If, at any time after becoming a member, you're unsure about anything click on this Using This Site link for an explanation or contact me direct via the Contact Us page.
* * * * * * * *
Why Not Take a Look at Where your Classmates are Living?

Find out the Postcode of a Classmate from their Profile (if they've agreed to let everyone know it) then Click on the link below, enter the details where it says 'Address', then Click on 'Go'. Not every country is covered yet and those that are have limited coverage, but it's worth a try.
Here's the link. Have fun - http://www.vpike.com/



* * * * * * * *






The Sloane News



BREAKING NEWS!!
CORONAVIRUS UPDATES!!
First Australian Death From Coronavirus!!

The first person in Melbourne has died because of the Coronavirus. In his house they found 1000 cans of food, 50 kilos of pasta, 80 kilos of rice, 300 toilet rolls and 50L of hand sanitiser which he had panic purchased from the supermarket and stockpiled "just in case".
The whole lot collapsed and buried him.

* * * * * * *

THE PRELUDE -

At a time when coronavirus is bringing the world to a halt and virtually everyone on TV has advice to offer on the subject, what better antidode than some items about coronavirus! Just in case you missed it, you understand.
Should you have been unfortunate enough to have contracted the disease or know someone who has, I offer apologies for my lighthearted approach to the subject. My approach might not be your approach but it's how I deal with anything serious. I also offer my apologies if the asterisks above resemble the Covid-19 virus.


Coronavirus Scare Leads To Panic-Buying!

Amid the ongoing alleged nationwide shortages of toilet paper, one supermarket manager admitted to me,
"We're wiped out!"
Meanwhile, hand sanitiser has become so rare it's become the second most expensive liquid on earth. Second only to printer ink. News just in confirms that Somali rebels have hijacked a tanker laden with two million barrels of the stuff.

In the early hours of this morning, a tanker loaded with three hundred million litres of hydro-alcoholic gel with a street value of six billion pounds was taken hostage while on route to the UK, with the pirates allegedly demanding fifty million pounds and fifty thousand toilet rolls as ransom.
"We have no choice but to pay," said a government spokesperson who is trying to negotiate with pirates off the coast of Somalia where the tanker was seized.

"The nation is desperate for the tanker to arrive in the UK, the entire country is on the verge of anarchy without adequate access to hand sanitiser, and this hijacked vessel could put us back weeks if we can't resolve it quickly. The money isn't a problem, we could wire that amount of cash to them this afternoon, but we simply don't know where to get our hands of fifty thousand toilet rolls. Do you? I think we'd struggle to round up fifty at this point. Do you think they'd accept old copies of the Daily Mail and a few pairs of scissors as an alternative?"
It is expected that the SAS will be sent in under the cover of darkness to recover the precious cargo, and that Tom Hanks will be playing a starring role in the Hollywood adaptation by mid-2025.


FRONT PAGE NEWS
Sanitising gel aside, After telling the nation that some of their loved ones will die after contracting Covid-19, the Prime Minister has today reassured them that they will at least be kept in patriotic body bags.
Addressing reporters in Downing Street, the Prime Minister said,
"The bulk buying of body bags shows how prepared and committed this government is to sacrificing some other people's lives in the fight against Coronavirus.
As I said in my press conference, some of you will lose loved ones. And what better way to send them off than in a lovely jolly-proud-to-be-English blue body bag, eh?"
He went on,
"In order to make any unexpected sudden increase in deaths look more patriotic to the outside world, I have demanded that the body bags be a shade of blue that will match our new passports. We'll also add the royal coat of arms for the United Kingdom and Northern Ireland.
Yes, your patriotic blue passport will take you on most of your trips, but your blue body bag will take you on your last one. Then your corpse can lie on a trolley in a crowded hospital corridor shrouded in the sovereign colour of our proud nation."
The government is also thought to be considering another Brexit vote if enough of the deceased can be proved to have been 'Leave' voters.
Coronavirus Tip Of The Day

Firstly, whilst government advice on travelling abroad has proved to be confusing - school children shouldn't travel abroad in groups and anyone above the age of 70 shouldn't go on a cruise - nothing has been said about travelling to somewhere like Spain. My advice, therefore, is that if you are intending to holiday in Spain, phone ahead and ask them to put towels on hospital beds before the Germans do.
Secondly, don't read too much about the virus as I can safely say that if Covid - 19 doesn't get you then the plethora of statistics that came with its arrival and the 'facts' that have appeared since surely will. Our Canadian correspondent, Thomas Hasek, has sent me news that recently appeared in the New York Times and the Washington Post. Reading it comes with its own risks. Remembering what you've read may implode the brain -
"This week, World Health Organization Director General Tedros Adhanom Ghebreyesus stated an undisputed fact: 3.4 percent of people with reported covid-19 infections worldwide have died. Or the fact was undisputed until misinterpretations set in, almost immediately. Some in the news media mistook the statement as meaning an alarming 3.4 percent mortality risk for coronavirus infections overall. Unsurprisingly, President Trump joined in saying of the WHO statistic,
"I think the 3.4 percent is really a false number."
Yet the WHO director general was simply describing the percentage of those with reported infections who had died. The risk of dying if you become infected is another matter.
For a variety of reasons that are common to epidemics, the covid-19 mortality rate remains elusive. My colleagues in infectious-disease epidemiology and I know the challenges of estimating fatality rates in the middle of outbreaks from almost two decades of experience, including with SARS in 2003 and H1N1 flu in 2009. To estimate risk, we need to know the infection-fatality rate, or IFR — the chances that a person who contracts the infection will die. Also useful is the so-called symptomatic case-fatality rate, or SCFR, the risk that a person who contracts the infection and becomes symptomatic will die.
Contracting an infection is one thing; showing symptoms is another. An unknown number of people — unknown, but maybe considerable — might be infected with covid-19 without becoming symptomatic.
There are two main sources of bias that make estimates of the IFR or sCFR so challenging early in an epidemic — and we are, alas, still early in the spread of covid-19.
One source of bias arises because, initially, we tend to see the most severe cases. In Wuhan, China, where the epidemic began, care and testing were prioritized for the sickest patients. In other places, such as Iran, the first covid-19 tests were administered because individuals were unexpectedly dying of pneumonia. Either way, the cases we know about are not a random sample of all cases, but a sample of the sickest — so the risk of dying is higher in the people we know about than in typical cases.
By contrast, the other source of bias can make us underestimate the risk of dying. At any moment in a growing epidemic, most cases are people who were infected recently — that's what it means for an epidemic to grow: There are more new infections this week than there were last week. Many of the people with these new infections will recover, and some will die. We don't yet know the fates of those who were infected, say, just yesterday or the day before. To count appropriately, we need to know how many of the current cases will die, not just how many have died.
Epidemiologists have devised statistical ways to estimate that number, to correct the simple calculation to reflect current and expected future deaths among the known cases. Another approach to avoid this problem is to use data from a population where the epidemic has subsided, and fatal case counts have had time to catch up with total case counts.
The coronavirus infection-fatality rate — the number everybody wants to know — is still undetermined. First, we need to figure out the proportion of infected people who show symptoms. That will ultimately require performing serologic testing (blood tests measuring antibodies) in a large cohort of an exposed population. Once we do that, the infection-fatality rate can be estimated from the symptomatic case-fatality rate times the proportion of infections that are symptomatic. This is the most useful number, because mathematical models and prior experience with flu can give us estimates of how many people might be infected — and with this number, how many are likely to die.
Serologic testing — to detect an antibody indicating whether a person is now or has been infected — is underway in some populations in China. That will help to give us a picture of the whole spectrum of covid-19 infection, from completely unrecognized, to symptomatic, to severe, to fatal.
Several estimates have suggested that the risk of dying, for those infected with covid-19 and showing its flu-like symptoms, is around 1 or 2 percent. Elderly adults have a considerably higher risk of both becoming infected and dying, as do people with compromised immune systems. The estimates might change as new data arrive, but the range of 1 to 2 percent for fatalities among the symptomatic seems to be the consensus for now. The overall fatality rate for people infected with covid-19 will be lower — possibly much lower — when we know how many people are infected but asymptomatic.
We've learned a lot about how to make these estimates from past outbreaks. The first lesson is that the estimates will change and be refined as scientists do their best to make sense of imperfect data."
And, just so you know, Covid-19 is the name of the disease. SARS-CoV-2 is the name of the virus that causes Covid-9. SARS-CoV-2 is a coronavirus--coronaviruses are a group of virus species that cause a variety of diseases such as SARS, MERS, and colds.
One fact I am sure of is that Covid-19 is a new disease so no one is immune to it. The word coronavirus has been around since the 1960s as a scientific term and coronaviruses take their name from their crown-like shape when viewed under a microscope. Classmate Thomas Hasek has also informed me that in a 2017 edition of the Asterix the Gaul books, Asterix and the Chariot Race, in which Asterix and Obelisk enter an international race in which their main rival for victory is the Roman entrant, a masked driver named Coronavirus.
Much of the above just confirms what I said a couple of weeks ago. We should not waste energy nitpicking the problems when we should be figuring out solutions. Leave it to the experts, follow guidlines and best practice and, although we 'seniors' are in a high risk group, we'll be alright. I can say this even though one of my daughter's friends was recently tested positive for the virus and is in isolation in St George's Hospital, Tooting.
I've tried and I've tried but I can't for the life of me work out how shortness of breath, a dry cough and a fever has led to a worldwide shortage of toilet paper. Nevertheless, I've never been one to miss an opportunity so I'm making available recycled toilet paper (once it's dried out) if anyone's interested. First come, first served.
Meanwhle, back in the States -

TRUMP SAYS IT'S A 'FOREIGN VIRUS'
President Trump has announced that the US is temporarily suspending travel from Europe to the US in an effort to contain the spread of coronavirus.
In a rare Oval Office address, the president said the US would bar arrivals from 26 European countries for 30 days from midnight on Friday, 13th March, accusing them of not acting quickly enough to address what he called the "foreign virus".
Details of how exactly the restrictions will work have yet to be fully clarified, and public health experts have questioned the effectiveness of the measure when the virus is already being transmitted person-to-person in the US.
According to the US Department for Homeland Security (DHS) and the President's proclamation, the ban applies to tcountries belonging to the 26-member Schengen passport-free zone as well as the UK and Ireland. Countrieswho are no doubt happy to be distancing themselves from the Pres. are:
Austria, Belgium, Czech Republic, Denmark, Estonia, Finland, France, Germany, Greece, Hungary, Iceland, Ireland, Italy, Latvia, Liechtenstein, Lithuania, Luxembourg, Malta, Netherlands, Norway, Poland, Portugal, Slovakia, Slovenia, Spain, Sweden, Switzerland and the country formerly (before Brexit, that is) known as the United Kingdom.
"The restrictions will cover "most foreign nationals" who have been in any of the named countries "at any point during the 14 days prior to their scheduled arrival to the US", the DHS says.
The ban does not apply to US citizens returning home, nor to foreign nationals who are legal permanent residents of the the US. Also exempted are foreign nationals who are:
married to US citizens or legal permanent residents

parents and guardians of US citizens or legal permanent residents aged under 21

brothers and sisters of US citizens or legal permanent residents, providing both are unmarried and under 21

children or foster children of US citizens or legal permanent residents
It also does not apply to ship and plane crews; foreign nationals invited to the US to help tackle the virus; foreign government officials and their immediate family; and foreign nationals who work for the US armed forces, international organisations including Nato and the UN, or whose entry "is deemed in the national interest".
* * *

* * * * *

The Home We Called Sloane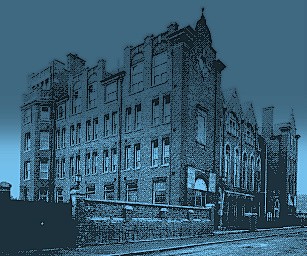 The Sloane building seen from Hortensia Road in 1908

The Sloane building was 100 years old in 2008, although it didn't actually start life as a boys' school until after the First World War, during which it served as a hospital. It still stands and many memories are, no doubt, ingrained in its walls along with the odd name and ribald comment. Who knows what the future holds, despite its Grade II listing on May 7th, 2002. Grade II listed buildings can be altered, extended, or even demolished, but only with Local Authority consent, so it may be that the building is considered historically or architecturally interesting enough for it's fabric to remain untouched. Some consideration may have been given to it having been the first purpose-built secondary school in London, and it is certainly one of only 3% of all ages of listed buildings that was built in the 20th century. Schools generally are seen as a good investment by developers because they're easy to convert. They are likely to be structurally sound because the authorities will have inspected them regularly to ensure they comply with Health and Safety requirements.

Sadly, Sloane Grammar School for Boys only lasted 51 years, from 1919-1970. John Binfield, in one of his poems writes -
... the school, with
All its past, was sucked into a huge
Turbulent sea of glass in Pimlico
And sank without trace. "full fathom five..
Sea nymphs hourly ring his knell.
Hark, now I hear them. Ding-dong bell".
Should the building survive in the form we all remember, there is still a chance that some of us will be around in 2019 to celebrate what would have been its centenary as a boys' school, had it remained in existence.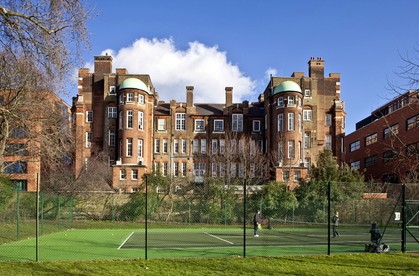 Sloane seen from the rear in 2014
* * *
Whatever our own personal reasons for it doing so, the school will still haunt most of us even if it disappears altogether. With that tenuous link, here's a poem that I came across in a copy of The Cheynean -

The Ghost of Sloane


When London's asleep and the School very quiet,
No sound of footsteps, no sound of a riot,
No sound of even the shuffle of feet,
No sound of the creak of a pupil's seat,
Out of the darkness the ghost of Sloane
Awakes from rest with a sigh and a groan.
Then up he arises to haunt the School
Climbing the stairs in the guise of a ghoul.
He shuffles and clanks down each corridor
Into the classrooms where stand desks galore.
He examines each desk and checks the boys' work,
Allots ghostly marks in the dark and the murk.

If you ever lose books from out of your desk,
And the teacher upbraids you and calls you a pest,
Just tell him my story, however tall,
Of the white shrouded phantom that haunts the School Hall.

J. Hollingshead (3C)

As for us, the boys who used to attend our Chelsea school, we probably considered ourselves 'Chelsea men' but I doubt that many of fitted the description in this poem, written when he was in the 5th year by one time Sloane Schoolboy, A R Doubledee. I get the impression he didn't particularly approve of the 'Beatniks' of the late 50s and early 60s that he found himself sharing Chelsea with or, as he called them the 'Weirdies' -

The Weirdies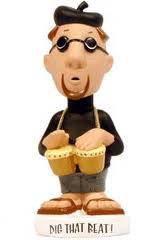 The Chelsea man is excessively queer,
He only drinks coffee and doesn't like beer.
He's always "chatting" the girls, and yet
This seems to make him "one of the set".

His unkempt chin and uncut hair
Go with his feet which are usually bare.
If he wears shoes, they've never got soles,
And he's usually found in Bohemian holes.

His outsize sweater is generally black
Contrasting well with his shorty mac.
He wears his clothing merely to show
That he can keep up with the boys of Soho.

To find a girl he doesn't look far,
But into the nearest coffee bar,
Where he's sure to meet a Bohemian "yob".
They're all from Chelsea - what a mob!

The girls with hair right down their backs
Wear irregular clothes that look like sacks.
They walk about wearing father's sweater:
I really don't see why he should let 'er.

Their gaudy clothes of reds and greens
Match up with the style of their men-friends' jeans.
Now that's how it goes with the latest style:
Girls on their faces make-up pile,
The men wear anything they can find -
I shouldn't stare, I should just act blind!

A.R. Doubledee (5b)
* * *

ANNOUNCEMENTS APPEAR BELOW
ONCE YOU'VE LOGGED IN