Sloane Grammar School boy, if you seek your memorial,
look around you.




DON'T FORGET!! -
PLEASE CHECK THE ANNOUNCEMENTS BOARD AT THE FOOT OF THIS PAGE FOR ANYTHING IMPORTANT and, after you Log In, the CALENDAR OF EVENTS PAGE FOR DETAILS OF FORTHCOMING EVENTS.
If you're having trouble logging in because you've forgotten your Password, click on Forgot Password? inside the Classmate Login box that appears after you click Sign In and you'll be Emailed a link to reset it.

You'll find other helpful tips under REMINDERS below.



The Sloane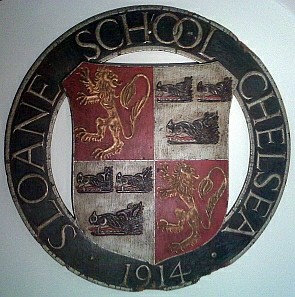 Hello and Welcome to

Mark Foulsham's

Sloane Grammar School website
If I built it I knew you would come

A School that invited loyalty
(Quote by Don Wheal)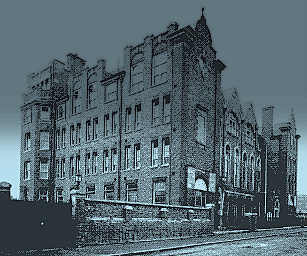 Gone But Not Forgotten
'Men are we, and must grieve when even the shade
Of that which once was great is pass'd away.'

William Wordsworth
On the Extinction of the Venetian Republic

You may think you're done with the past but the past isn't done with you!


"The merits of a school are judged as much by the men it produces as by their achievements as boys" -
(Old Cheynean D.J. Cowie, March 1929)


Register and link up with old school friends again and become part of Sloane Reunited.
If you were a pupil or member of staff at Sloane you qualify to register for the website. Click on Missing Classmates at the top of this page to see if we've been expecting you. If you see your name click on it and follow instructions. If your name's not there click on BECOME A MEMBER to learn more and then click the ADD NAME button to start the ball rolling or click Contact Us at the top of the page or the Click Here To Register! button below if you're already sure you want to join us. Read what you see then complete the box at the bottom of that page to ask me to add your name to the list.
It's Free, it's Easy, it's Secure
and
You're Never Alone As A Sloane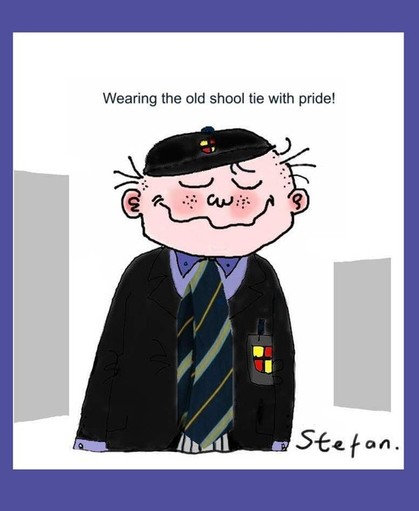 Self-portrait by Stefan Bremner-Morris
If you're a member, click on an image (


) at the top for more.

Here's what you'll find -

= Messages waiting for you. The red bubble shows how many.

= Website activity. Check for things you may have missed.
= Member functions like Profile, Contact, and Password changes.

AND -

If you're already a member please remember to keep your Email address up to date using Edit Contact Info, to be found by clicking on
the image at the top of the page.

Please don't forget to use the Notify Me page under the
image to make selections that will help you keep in touch as well as help you enjoy all the website has to offer.

You may already have the latest version of Adobe Flash Player but your browser no longer uses it automatically and it will not be supported at all after 2020. The Members Online feature uses Flashplayer (as do some animations and slideshows) so if it can't be seen clearly in the bottom right of your Home Page, click your mouse on what you can see and you'll be prompted to run Flashplayer. Agreeing will see the Members Online window re-appear. The same applies to animations and slideshows that don't show automatically. Use your Search Engine to search the web for how you allow Flash automatically in the browser you use.

Please remember to Log Out when you leave the site by using the Log Out button to be found under the
image at the top of the page.


AND FINALLY, IF AT ALL POSSIBLE, -
Please let a close relative know of your participation in the Sloane website and show them how to use the Contact Us page to notify me in the sad event of your death. Not only will this allow me to notify other members, it will also put a stop to any website generated emails finding their way to your Inbox. Thank you.
Come on in!
Don't be late!
This is one detention
You'll be pleased to take.


A WARM WELCOME

to fellow Cheyneans and passers-by, from the Official Sloane Grammar School 1919-1970 Old Cheyneans and Friends web site.
Mark Foulsham, at Sloane 1963-70, created this site in August 2008 to record for posterity all that I can, and for all those who attended Sloane or simply have a Sloane connection, to share and enjoy. Feel free just to browse or, if you feel you qualify to join us, make full use of the site by becoming a Registered Classmate. Click on the Click Here to Register button above to start the registration process. It's Free!
I'll also be happy to send a personal invitation to anyone else with a Sloane School Chelsea connection who you think might like to join us. Just enter their Email address in the MISSING CLASSMATES box to your right and click Send Invite.
We may not understand why but memories of our days at Sloane remain with us while others do not. Whether they're good or they're bad, I'd like to give all old boys the opportunity to keep those memories alive.

Aspirations and Objectives

Sloane never had a motto and although our school badge is based on the lion rampant and boar's head of the Cadogan family crest their motto, Qui Invidet Minor Est or He That Envies Is Inferior, is not really appropriate so I'll adopt the one to be found on the Coat of Arms of the Royal Borough of Kensington and Chelsea as it suits us nicely -

Quam Bonum In Unum Habitare

(What A Good Thing It Is To Dwell Together In Unity)
It is hoped, in some small way, to be able to have similar objectives to those stated for the first issue of The Cheynean in December 1926 -

"To record faithfully the major activities of the School, to promote and foster a corporate spirit in the School, to excite a greater keenness both in the games and in other phases of its social life, and to serve as a link between present members of the School and the Old Cheyneans". -

and also to bring together, once again, old friends and classmates, and those of us who have outlived the school and share a common interest in its history and its future.
Sadly, I've no memory of having ever sung or even heard a school song but apparently one was written by music Master Mr Seymour Dicker in 1928, and was first sung in July of that year by pupil J E Bush. What became of it after that first performance is a mystery but it contained the lines -
"Salve, the School and its scholars so keen,
Long may they keep its memory green."
If you've any memories of Sloane you'd like to share, use the Contact Us page to send them in and, whilst you're there, register for the site as well.

Once you've registered, you can activate the Instant Messaging feature that allows you to hold a 'real-time' online conversation with anyone else who has logged on to the website. You can also send a message to someone else on the site via the Message Centre or by using their Profile. Click on their name on the Classmate Profiles page then click on the red 'Send ? a private message' at the top of their Profile.

After you've registered, why not take a look at all the Classmate Profiles ? Even if you don't know the person involved, the information they've put on their Profile can be interesting, illuminating and fun, and often brings back memories of something you thought you'd forgotten about.
If, at any time after becoming a member, you're unsure about anything click on this Using This Site link for an explanation or contact me direct via the Contact Us page.
* * * * * * * *
Why Not Take a Look at Where your Classmates are Living?

Find out the Postcode of a Classmate from their Profile (if they've agreed to let everyone know it) then Click on the link below, enter the details where it says 'Address', then Click on 'Go'. Not every country is covered yet and those that are have limited coverage, but it's worth a try.
Here's the link. Have fun - http://www.vpike.com/



* * * * * * * *






The Sloane News



BREAKING NEWS!!

Essex town has existential crisis!!
* * *
Brexit decision reversed after delay by VAR!!

Brexit has been reversed after VAR officials overturned the decision following four days of exhaustively looking at replays.
A VAR official told me,
"There were concerns that the Brexit decision was incorrect after some serious foul play was detected earlier on in the competition. Upon examining the replays from 65,000 different angles, it is clear there was a clear infringement by Dominic Cummings meaning that the decision should not have stood. As such, it was deemed necessary to reverse the original decision, resulting in the very awkward celebrations that usually follows a lengthy delay. Though admittedly, not usually this lengthy."
Play will now be brought back to June 2016, with Remain awarded an indirect free-kick.

* *

UK safe from coronavirus as Boris Johnson orders "All is well" to be painted on red buses!!
UK safe from coronavirus! ! Boris Johnson orders "All is well" to be painted on red buses!!

In view of the growing epidemic of coronavirus in China and worldwide, the government has announced a series of measures like painting slogans on red buses, declaring that the UK is the healthiest nation on earth and training ministers to steal journalists' phones.
However, some experts believe that the lack of declared cases in Britain might be a case of palming off being unable to track people as careful planning, as explained by a leading epidemiologist at the University of Croydon.
"It's possible that the UK has three cases even though it has more flights from China and a much much worse health system than France, which has five. Or it could be that there are cases but they have not been detected due to our government's legendary incompetence. That means the virus could be here and merrily spreading and no one is doing much beyond sending Priti Patel to smirk on telly.
They still haven't set up a phone number so that people who came from infected regions can self-report. If you've got flu-like symptoms and you've just come from China, the official advice is to make an appointment with your GP. So you should be seen in a brisk 2-3 weeks in which you hopefully haven't suffered sequential organ failure."
Other government branches reacted quickly to the crisis. As the US and Japan sent planes to Wuhan to fly out their citizens, the Foreign Office immediately recommended to British nationals that they evacuate a place in complete lockdown. Then, after a couple of weeks thinking about the impossibility of doing such a thing they decided to follow other countries in flying out their own people.
* *
Brexit Party's official line on Coronavirus is 'rubber up and don't order mussels'
Patriotic Britons have nothing to fear from the Coronavirus unless they're considering unprotected sex with a foreigner, especially if they're Chinese, according to advice issued this morning by Nigel Farage's Brexit Party.
"This nasty, foreign bug would come to our shores via the EU, which is one of the reasons we are leaving," said a Brexit Party spokesman.
According to all the science available on the internet, AIDS got started when a gay man had sex with a monkey and was brought into the United States on Rock Hudson's cardigan.
"In the same way, the Coronavirus began when some drunken Chinese fishermen had sex with a lobster as part of their traditional New Year celebrations. It's lobster, hare, rat, monkey, goose – in that order," he explained.
The Brexit Party's Spokesman for Foreign Affairs believes that the holders of blue passports bear a natural immunity to the lethal germ.
"The message is clear: Durex as tough as sandpaper and avoid crustaceans," he said.

* *
Half of British workers call in sick with suspected Coronavirus


Some of your lazier colleagues are making spurious claims of having the Coronavirus, according to reports this morning.
The disease, which hit the news all of a few weeks ago, can lead to severe respiratory problems and has quickly spread across China, with the first British cases being recorded recently.
"And yet the Accounts department is a bloody ghost town," sighed one office manager.
"I've stopped being surprised to be honest. It happened with SARS, it happened with Ebola, and it will happen when Tuberculosis inevitably rears its ugly head again. I wouldn't mind but some of their excuses are just pathetic. Harry reckons he's bleeding from the eyes and can't stop twitching but he also sounded like he was trying really hard not to laugh.
Alleged Coronavirus sufferer, Albert Faker, phoned in to say,
"Yeah, it's absolutely rubbish having Coronavirus. I reckon it's the boils that are the worst. They're all over my knees which means I can't clean behind the fridge, and that's before we even get to the sudden blindness. Anyway, must dash, Homes Under The Hammer is on and then I'm down the pub."

* *
Global analogy shortage just like a something-or-other


A world shortage in analogies has proved to be like a something-or-other for the analogy industry.
The shortage in analogies was first noticed at the Oscars when an award winner described the feeling of winning an award as 'like winning an award'.
Since that moment, unease has crept through the analogy industry like a thing that creeps through other things.
"This is a real concern to everyone in the industry," said a leading figure in the analogy industry who is, to many people, like an impressive thing or person.
"An analogy industry without analogies is like an analogy industry without analogies.
"There, you see? You see the problems we've got? I sound like a man who is in unable to describe something through means of comparison to another thing. It's a real crisis. A world without analogies is like a something-or-other."
The shortage in analogies is expected to cause problems in other walks of life, with football commentators, nature programme presenters and politicians likely to be worst hit.
"I don't think people realise the extent to which they are dependent on analogies," continued the leading figure.
"In many ways, they're like a thing that exists to offer support to a different thing and if that thing wasn't there then the other thing would… I don't know, stop being a thing?
He went on to give an example.
"Imagine a football commentator going – 'he hit that ball like a man hitting a ball' – people are going to think he's an idiot. Imagine a world where people think football commentators are idiots. Dreadful."
There is now a very real concern that without analogies society could become reliant on metaphors and similes, but as no one can remember the difference between the two, people could end up looking as silly as a thing looking silly.
* * *

FRONT PAGE NEWS
NHS counting down the days of underfunding before the extra £350 million per week arrives
The NHS just has to struggle for a little longer and then everything will be fine, it has emerged.
With the extra £350 million per week that was promised by the ever truthful Boris Johnson only a matter of days away, NHS bosses across the land are relieved that soon their financial woes will be over.
The chairman of one foundation trust, told me,
"We just have to survive a little while longer, then we'll be able to breathe a lot more easily, financially speaking. This time next week, when the first cheque arrives with our share of the first payment of £350 million arrives, I intend to buy a couple more MRI machines, and possibly a new children's ward. Then the following week, perhaps I'll invest our share of that week's £350 mil on the latest chemotherapy medicines, which were previously too expensive to afford."
Wistfully, he added,
"It's just such a shame that some of our best consultants, doctors, nurses and cleaning staff have left the country and gone back to their homes in the EU.
"Still, I'm sure there are loads of Brits queuing up to work in healthcare, and with Boris reintroducing generous nursing bursaries then I'm sure we'll have no problem recruiting more."

* *

We are the authority on sex and marriage, says church that only began because Henry VIII wanted a divorce
Church of England and sex outside of marriage

Sex is only for married heterosexuals, says the organisation that was only founded because Henry VIII was tired of fruitlessly trying for a son and heir and fancied a bit of a change.
The Church of England began in 1534, shortly after the then King of England had a bit of a falling out with the Roman Catholic church over the small matter of wanting to marry his mistress, and has since then continually offered its own divine interpretation on the rules relating to sex and marriage.
"It's quite clear," explained one Bishop,
"Marriage is a lifelong commitment between a man and a woman, and thus is the only safe place for sex to occur. Unless you are Henry the Eighth, of course. If you're a King you can do what you like and it will become divinely endorsed. Six 'lifelong' marriages? Sure, go for it."
Responding to a question from a reporter he said,
"What's that? Well gay marriage is different – it's sort of, you know, yucky, and I don't like to think about it very much, thank you.
"I mean, it's nice that they're committed and all that, but God forbid they show each other physical acts of love. Eurgh."
The Church yesterday issued pastoral guidance in response to the introduction of mixed-sex civil partnerships, saying that sex within these, and in gay relationships 'falls short of God's purpose for human beings', prompting many to ask why, if God never intended any men to engage in homosexual activity, he would make some of them sexually attracted to other men.

* *
Enterprising young vicar offers to ring parish church bells for Brexit for the bargain price of fifty-grand

It's a trifle late in the day but following the confirmed failure of the fundraiser to ring Big Ben for Brexit for £500,000, one enterprising Anglican priest has offered to use the bells of his church to mark the event for the low, low price of fifty thousand pounds.
"It's time for my church to reach out to the Brexiteer community," explained Revd. Gerald Foulsham of the Church of St Nigel the Boozy, "Specifically, into their pockets."
He went on,
"I'm confident we'll reach our target in record time – the Church of England has a long record of separating insecure pensioners from their money so this should be like shooting fish in a barrel."
When asked to justify the £50,000 price tag for ringing the church bells which already operate daily, Revd. Foulsham replied,
"As I say to my congregation every Sunday at collection time, don't stop to think about it rationally, just hand over your money. It's not like the idea of spending money on stuff like this is anything particularly new to these people; if they really thought long and hard about what happens to the money in their pocket they wouldn't have voted for Brexit in the first place."
With donations already flooding into the fundraiser, the bells of St Nigel's now looking likely to ring in the Age of Brexit.

* *
Prince Andrew tells FBI that he wasn't available as he'd nipped out to Pizza Express


Prince Andrew's non-cooperation with the FBI is down to bad timing and his love for a deep pan Fiorentina, it has emerged.
The FBI has repeatedly asked 'why won't Andrew speak to us', but the answer is now clear – he had his mouth full at the time.
But the Queen's second son hit back, telling reporters,
"I wasn't ignoring them, it's just that I had a Buy One Get One Free offer at the Woking branch and only a fool with absolutely nothing to hide whatsoever would pass up an opportunity like that."
Indeed, Andrew insists he's a big fan of the FBI ever since watching Mulder and Scully investigate the disappearance of a young psychic girl at the hands of a powerful pimp during the 1990s.
Former wife, Sarah Ferguson, said,
"That was one of his favourite X-Files, though I can't think why. He'd watch it over and over again until the laser on the DVD wore out."
Andrew's appearance at a special FBI hearing now hinges on whether the date coincides with the unveiling of Pizza Express' new Guiseppe Calzone, available at selected branches, including – handily for the Prince – Woking.
Woking-born waitress, petite Fiona Bankcroft-Fernyhough-Watts, who is of legal age, today confirmed Andrew's claim that he was happily tucking into pizza at the time he should have been giving evidence to the US law enforcement agency.
"It was nine inches and thick around the edges," she beamed.
The Woking Pizza Express branch manager, now close personal friend of Andrew, said,
"He might lack empathy, but he'll never go short of black pepper."

* *
Councils to celebrate Prince Andrew's 60th birthday by flying Pizza Express menus at full mast
Prince Andrew's 60th birthday will be marked by councils across the country by flying Pizza Express menus outside their offices.

Under ordinary circumstances, the union flag would be flown to celebrate the birthday of a seior royal. However, constitutional experts insisted that not everyone would know whose birthday was being honoured.
The Woking Council leader explained,
"We wondered about the best way to show our respects for Prince Andrew's birthday, give it's the sort of thing we're expected to do.
"After careful consideration, we thought flying a Pizza Express menu would be the ideal choice. They're about the size of a small flag, and more importantly, the general public will immediately know who we are flying it for."
Local residents have welcomed the move, with one telling us,
"He's still a senior royal, unlike that Meghan, so it's right and proper we recognise his birthday.
"But be careful if you're considering flying a Pizza Express menu, it might be like the bat signal and bring him running."

* *
Donald Trump hails availability of air, light, and water under his Presidency
Donald Trump has used his annual State of the Union address to hail the availability of air, light, and water under his Presidency.
"For the first time in history, all Americans have had access to air," he said.
"Under the terrible mismanagement of Obama, of course, people had to go to certain special parts of their towns and cities to breath in and out. Under my Presidency, that air is just available to everyone. So, you're welcome, America."
The President also pointed out his achievements with light.
"Pretty much half the day, there is light everywhere, for everyone. The Do-nothing Dems would cut that to two hours, give free light to immigrant terrorists and raise your taxes to do so."
"Water", he said, was available in a variety of forms. Oceans, lakes, streams, rain. That's all water folks. That's not going anywhere under Donald Trump."
In an address that sometimes felt more like an election rally, the President listed a variety of his other achievements such as owning the libs, Twitter, and reducing his golf handicap.
Whilst the address would have gone down very well with his Republican base, Democrats took a different view.
Nancy Pelosi, the House Speaker was so incensed by the speech that she ripped up her copy.

* * *


* * *
HOME FRONT NEWS

Fat and wrinkled were not among the things I wanted to be when I grew up. OK, so the wrinkles haven't arrived yet but how long before they do?! As for the fat, well, I think my body is expanding to hold all the wisdom I've acquired. I'm afraid my hair loss is increasing and my short-term memory hasn't improved. Still, it could be worse. I could be going bald. Another sign that I'm ageing is that the memory's been slowly getting worse for years. I'm sure many of you have noticed the way your own memory's changed the way it operates. Some days you don't remember what you were just about to do or what you did five minutes ago. Yet, on a good day, we remember things we've no right to remamber; things that are obscure or go back a long way. The older I get, the more clearly I remember things that never happened.
Learning new things is not always easy either. While you are reading a book about how to use the Internet, some youngster is Googling 'How to read a book'. Right now I'm having amnesia and deja vu at the same time. I think I've forgotten this before.
We all know that the day we retire is the first day of the rest of our savings. I've been trying for years to get my kids to prepare for retirement but will they listen? No. they won't. Their share of what we're going to leave them is not going to last as long as they think it will and who knows what the State Pension, if it still exists, will bring. I'm not going to give up telling them what they should do though. I might have better luck with my grandson. I'll have a chat with him if he ever slows down long enough for me to be able to talk to him. I've realised why grandchildren are so full of energy. They suck it out of their grandparents.
When we got married and I told my wife I'd spend the rest of my life trying to make her happy, I just wasn't expecting to live this long. She's officially retired now and, when she gets her finger out, we'll be able to add her private pension to our other pension income. I figure that if I tripl my boys' rent from what they're paying now we should be close to what our income was like before the wife retired. I'll let you know how I get on. My daughter's officially moved out again although you wouldn't realise it from the amount of stuff she's left behind. When that's gone, my wife will no doubt nag me to do something about the state of the place. In other words, she'll want some decorating done. I'm in no rush.
Possible better news on the health front. My last appointment at the hospital resulted in a happier me and a happier Dr Ali. He's not unduly worried about the increase in my heart size or my slowing down. He's given me a clean bill of health, heartwise, and has discharged me from his watch. I'll be keping an eye on it nevertheless as I'm concerned he may have worked out that it's cheaper for me to die at home.
Meanwhile, my daughter has had her stone removed which has, in turn, removed the main obstruction to a normal birth came April or May. Fingers crossed.
Stay healthy!
* * *

JOKES OF THE WEEK
How many Freudian psychiatrists does it take to screw in a lightbulb?

I don't now, how many does it take?

Two. One to screw it in, and one to hold the penis … I mean ladder! One to hold the ladder!

Note: For those of you who don't know, a Freudian slip is when you say one thing and mean your mother.
* *

An immigrant came to Britain not knowing a word of English and right away began looking for a job. He became a singing teacher and learned to say, ¨Mi-mi-mi-mi-mi!¨ After that he joined the Army and learned to say, ¨Yes sir!¨ After that he worked at a restaurant and learned to say, ¨Forks and knives, forks and knives!¨ After that he worked at a sweetshop and picked up the words, ¨Goody-goody gumdrops!¨
A few weeks later, there was a murder in his area and he was the first person to be interrogated by the police. The interrogation went as follows:
Policeman: Who killed the man?
Foreign man: Mi-mi-mi-mi-mi!
Policeman: Did you kill the man?
Foreign man: Yes sir!
Policeman: What did you use to kill him:
Foreign man: Forks and knives, forks and knives!
Policeman: You´re under arrest.
Foreign man: Goody-goody gumdrops!

* *

Vladimir Putin, Donald Trump and Angela Merkel are standing on the shore and are trying to impress each other with the accomplishments of their countries. Putin brags,
"We have nuclear submarines which can stay under water for six weeks without having to resurface!"
Trump goes on,
"Six weeks? That's nothing. I have the best submarines, they're underwater for at least three months!"
Merkel is about to respond, when a giant steel colossus emerges from the sea. A hatch opens, a black uniform appears and a man says,
"Heil Hitler! We need Diesel."

* *

One day a man decides that it's time he had a pet. He goes to the pet shop, looks around and sees a beautiful parrot, sitting quietly on a stick in his cage. Yet the bird has no feet and paws.
"What is the matter with you?" the man thinks aloud.
"Well, that's how I was born, I'm actually a faulty parrot" says the bird.
"Haha," the man laughs, "it seems like that parrot understands what I'm saying and even answers!"
"I understand everything you say, I am extremely intelligent and very well educated," says the bird.
"Well, if you're so smart then tell me how you can stay on your stick without legs."
"Well," says the parrot, "it's a bit embarrassing, but okay, I wrap my little parrot penis around the stick, like a hook, but I hide that with my thick feathers."
"Wow, you really understand everything I say, do not you?"
"Yes, yes," replies the bird, "and I speak Spanish and English fluently, I can speak about almost everything, politics, religion, sport and philosophy and I specialize in bird science, you should buy me, I am also a very good friend for you. "
"Sorry, I can not afford £100", says the man.
"Psst," whispers the parrot as he beckons the man with his wing closer. "Nobody wants me because I do not have legs, just bid £10 and you can take me with you."
The man offers £10 and 5 minutes later walks out of the shop with the parrot. A few weeks pass. The parrot is sensational. He is fun and interesting, gives good advice, is sympathetic to everyone, in short; the perfect roommate and friend. One day the man comes home from work and the parrot says,
"Pssssssssssst" while he beckons his wing again.
The man comes close to the cage.
"I do not know if I should tell you this," says the parrot, "but it's about your wife and the postman."
"What!?" says the man.
"Well, the postman came to the door and your wife greeted him in a see-through nightgown and kissed him flat on the mouth."
"And then," the man hisses, "What happened then?"
"Well, the postman came in, grabbed her nightgown and started caressing her everywhere."
"My God," says the now furious man, "And what else did they do?"
"Then he took off her nightgown and started to lick her everywhere, starting at her breasts and getting further and further down."
"And then, what happened, what else did they do?" the man screams .
"No idea," says the parrot, "I got an erection and fell off my stick …"

* * *
THOUGHTS FOR THE DAY
If we're all in the departure lounge of life, is our only hope that our plane will be delayed? - Robin Day.
*
When accountants get old do they depreciate?
*
If you're, say, 55 and think you're middle-aged ask yourself how many 110-year-old men you actually know.
*
Is the point at which one generation ends and another begins somewhere around 9 or 10 at night?
* * *

* * * * *

The Home We Called Sloane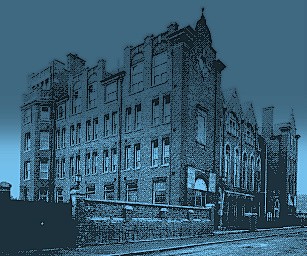 The Sloane building seen from Hortensia Road in 1908

The Sloane building was 100 years old in 2008, although it didn't actually start life as a boys' school until after the First World War, during which it served as a hospital. It still stands and many memories are, no doubt, ingrained in its walls along with the odd name and ribald comment. Who knows what the future holds, despite its Grade II listing on May 7th, 2002. Grade II listed buildings can be altered, extended, or even demolished, but only with Local Authority consent, so it may be that the building is considered historically or architecturally interesting enough for it's fabric to remain untouched. Some consideration may have been given to it having been the first purpose-built secondary school in London, and it is certainly one of only 3% of all ages of listed buildings that was built in the 20th century. Schools generally are seen as a good investment by developers because they're easy to convert. They are likely to be structurally sound because the authorities will have inspected them regularly to ensure they comply with Health and Safety requirements.

Sadly, Sloane Grammar School for Boys only lasted 51 years, from 1919-1970. John Binfield, in one of his poems writes -
... the school, with
All its past, was sucked into a huge
Turbulent sea of glass in Pimlico
And sank without trace. "full fathom five..
Sea nymphs hourly ring his knell.
Hark, now I hear them. Ding-dong bell".
Should the building survive in the form we all remember, there is still a chance that some of us will be around in 2019 to celebrate what would have been its centenary as a boys' school, had it remained in existence.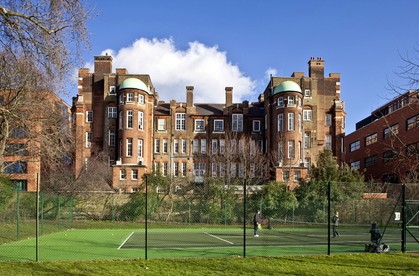 Sloane seen from the rear in 2014
* * *
Whatever our own personal reasons for it doing so, the school will still haunt most of us even if it disappears altogether. With that tenuous link, here's a poem that I came across in a copy of The Cheynean -

The Ghost of Sloane


When London's asleep and the School very quiet,
No sound of footsteps, no sound of a riot,
No sound of even the shuffle of feet,
No sound of the creak of a pupil's seat,
Out of the darkness the ghost of Sloane
Awakes from rest with a sigh and a groan.
Then up he arises to haunt the School
Climbing the stairs in the guise of a ghoul.
He shuffles and clanks down each corridor
Into the classrooms where stand desks galore.
He examines each desk and checks the boys' work,
Allots ghostly marks in the dark and the murk.

If you ever lose books from out of your desk,
And the teacher upbraids you and calls you a pest,
Just tell him my story, however tall,
Of the white shrouded phantom that haunts the School Hall.

J. Hollingshead (3C)

As for us, the boys who used to attend our Chelsea school, we probably considered ourselves 'Chelsea men' but I doubt that many of fitted the description in this poem, written when he was in the 5th year by one time Sloane Schoolboy, A R Doubledee. I get the impression he didn't particularly approve of the 'Beatniks' of the late 50s and early 60s that he found himself sharing Chelsea with or, as he called them the 'Weirdies' -

The Weirdies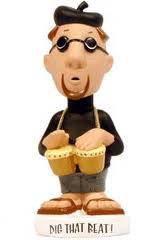 The Chelsea man is excessively queer,
He only drinks coffee and doesn't like beer.
He's always "chatting" the girls, and yet
This seems to make him "one of the set".

His unkempt chin and uncut hair
Go with his feet which are usually bare.
If he wears shoes, they've never got soles,
And he's usually found in Bohemian holes.

His outsize sweater is generally black
Contrasting well with his shorty mac.
He wears his clothing merely to show
That he can keep up with the boys of Soho.

To find a girl he doesn't look far,
But into the nearest coffee bar,
Where he's sure to meet a Bohemian "yob".
They're all from Chelsea - what a mob!

The girls with hair right down their backs
Wear irregular clothes that look like sacks.
They walk about wearing father's sweater:
I really don't see why he should let 'er.

Their gaudy clothes of reds and greens
Match up with the style of their men-friends' jeans.
Now that's how it goes with the latest style:
Girls on their faces make-up pile,
The men wear anything they can find -
I shouldn't stare, I should just act blind!

A.R. Doubledee (5b)
* * *

ANNOUNCEMENTS APPEAR BELOW
ONCE YOU'VE LOGGED IN