Sloane Grammar School boy, if you seek your memorial,
look around you.




DON'T FORGET!! -
PLEASE CHECK THE ANNOUNCEMENTS BOARD AT THE FOOT OF THIS PAGE FOR ANYTHING IMPORTANT and, after you Log In, the CALENDAR OF EVENTS PAGE FOR DETAILS OF FORTHCOMING EVENTS.
If you're having trouble logging in because you've forgotten your Password, click on Forgot Password? inside the Classmate Login box that appears after you click Sign In and you'll be Emailed a link to reset it.

You'll find other helpful tips under REMINDERS below.


The Sloane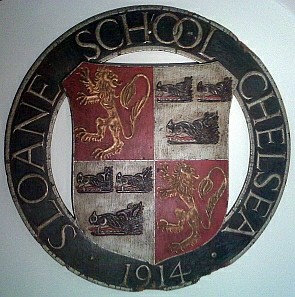 Hello and Welcome to

Mark Foulsham's

Sloane Grammar School website
If I built it I knew you would come

A School that invited loyalty
(Quote by Don Wheal)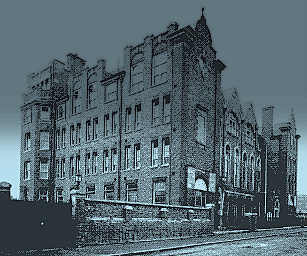 Gone But Not Forgotten
'Men are we, and must grieve when even the shade
Of that which once was great is pass'd away.'

William Wordsworth
On the Extinction of the Venetian Republic

You may think you're done with the past but the past isn't done with you!


"The merits of a school are judged as much by the men it produces as by their achievements as boys" -
(Old Cheynean D.J. Cowie, March 1929)


Register and link up with old school friends again and become part of Sloane Reunited.
If you were a pupil or member of staff at Sloane you qualify to register for the website. Click on Missing Classmates at the top of this page to see if we've been expecting you. If you see your name click on it and follow instructions. If your name's not there click on BECOME A MEMBER to learn more and then click the ADD NAME button to start the ball rolling or click Contact Us at the top of the page or the Click Here To Register! button below if you're already sure you want to join us. Read what you see then complete the box at the bottom of that page to ask me to add your name to the list.
It's Free, it's Easy, it's Secure
and
You're Never Alone As A Sloane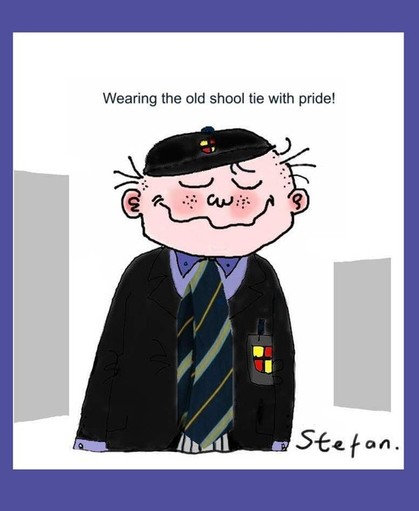 Self-portrait by Stefan Bremner-Morris
If you're a member, click on an image (


) at the top for more.

Here's what you'll find -

= Messages waiting for you. The red bubble shows how many.

= Website activity. Check for things you may have missed.
= Member functions like Profile, Contact, and Password changes.

AND -

If you're already a member please remember to keep your Email address up to date using Edit Contact Info, to be found by clicking on
the image at the top of the page.

Please don't forget to use the Notify Me page under the
image to make selections that will help you keep in touch as well as help you enjoy all the website has to offer.

You may already have the latest version of Adobe Flash Player but your browser no longer uses it automatically and it will not be supported at all after 2020. The Members Online feature uses Flashplayer (as do some animations and slideshows) so if it can't be seen clearly in the bottom right of your Home Page, click your mouse on what you can see and you'll be prompted to run Flashplayer. Agreeing will see the Members Online window re-appear. The same applies to animations and slideshows that don't show automatically. Use your Search Engine to search the web for how you allow Flash automatically in the browser you use.

Please remember to Log Out when you leave the site by using the Log Out button to be found under the
image at the top of the page.


AND FINALLY, IF AT ALL POSSIBLE, -
Please let a close relative know of your participation in the Sloane website and show them how to use the Contact Us page to notify me in the sad event of your death. Not only will this allow me to notify other members, it will also put a stop to any website generated emails finding their way to your Inbox. Thank you.
Come on in!
Don't be late!
This is one detention
You'll be pleased to take.


A WARM WELCOME

to fellow Cheyneans and passers-by, from the Official Sloane Grammar School 1919-1970 Old Cheyneans and Friends web site.
Mark Foulsham, at Sloane 1963-70, created this site in August 2008 to record for posterity all that I can, and for all those who attended Sloane or simply have a Sloane connection, to share and enjoy. Feel free just to browse or, if you feel you qualify to join us, make full use of the site by becoming a Registered Classmate. Click on the Click Here to Register button above to start the registration process. It's Free!
I'll also be happy to send a personal invitation to anyone else with a Sloane School Chelsea connection who you think might like to join us. Just enter their Email address in the MISSING CLASSMATES box to your right and click Send Invite.
We may not understand why but memories of our days at Sloane remain with us while others do not. Whether they're good or they're bad, I'd like to give all old boys the opportunity to keep those memories alive.

Aspirations and Objectives

Sloane never had a motto and although our school badge is based on the lion rampant and boar's head of the Cadogan family crest their motto, Qui Invidet Minor Est or He That Envies Is Inferior, is not really appropriate so I'll adopt the one to be found on the Coat of Arms of the Royal Borough of Kensington and Chelsea as it suits us nicely -

Quam Bonum In Unum Habitare

(What A Good Thing It Is To Dwell Together In Unity)
It is hoped, in some small way, to be able to have similar objectives to those stated for the first issue of The Cheynean in December 1926 -

"To record faithfully the major activities of the School, to promote and foster a corporate spirit in the School, to excite a greater keenness both in the games and in other phases of its social life, and to serve as a link between present members of the School and the Old Cheyneans". -

and also to bring together, once again, old friends and classmates, and those of us who have outlived the school and share a common interest in its history and its future.
Sadly, I've no memory of having ever sung or even heard a school song but apparently one was written by music Master Mr Seymour Dicker in 1928, and was first sung in July of that year by pupil J E Bush. What became of it after that first performance is a mystery but it contained the lines -
"Salve, the School and its scholars so keen,
Long may they keep its memory green."
If you've any memories of Sloane you'd like to share, use the Contact Us page to send them in and, whilst you're there, register for the site as well.

Once you've registered, you can activate the Instant Messaging feature that allows you to hold a 'real-time' online conversation with anyone else who has logged on to the website. You can also send a message to someone else on the site via the Message Centre or by using their Profile. Click on their name on the Classmate Profiles page then click on the red 'Send ? a private message' at the top of their Profile.

After you've registered, why not take a look at all the Classmate Profiles ? Even if you don't know the person involved, the information they've put on their Profile can be interesting, illuminating and fun, and often brings back memories of something you thought you'd forgotten about.
If, at any time after becoming a member, you're unsure about anything click on this Using This Site link for an explanation or contact me direct via the Contact Us page.
* * * * * * * *
Why Not Take a Look at Where your Classmates are Living?

Find out the Postcode of a Classmate from their Profile (if they've agreed to let everyone know it) then Click on the link below, enter the details where it says 'Address', then Click on 'Go'. Not every country is covered yet and those that are have limited coverage, but it's worth a try.
Here's the link. Have fun - http://www.vpike.com/

* * * * * * * *
BREAKING NEWS!!

Carlyle Girl Visits the UK

Sloane website Guest Member and former Carlyle pupil (1963-1967) Eva Sas, was back in London last week with her daughter and her daughter's fiancé to visit her old school building and the homes she lived in whilst at the school. She was unable to give me the exact time of her trip down memory lane so I was unable to let you know. She thoroughly enjoyed her trip and promises to come back. She hasn't returned to Hungary yet but will do so after spending some time in Paris.
She sent me a few photos of her time here and I'm happy to share these two with you as I know some of you remember her -
* * *
So, Boris has cycled his way through the doors of No.10 but for how long? Is he as popular and as well-kmown as he'd have us believe? -

I, for one, can only wish him well and live in the belief that he'll get us through the mess this country appears to be in. Think positively and we've got a chance. This will, of course, mean not watching another BBC news programme until we're out of the EU and flourishing again as the independent neation we once were. I'm convinced the BBC are now in the pocket of the Labour Party who have no doubt convinced them that a Labour Goverment will allow them to take control of TV Licence fees as soon as they're back in power.

* * *
Turn up your volume and click the > for
very late news just in from Iraq ....



* * *
Brexit Party lodges official complaint after all EU commission jobs given to Europe-loving foreigners
Brexit Party MEPs took some time off from tweeting pictures of office equipment in disgust, to complain that all key roles in the EU will unfairly be given to people who believe in the institution and are competent enough to fulfil their duties.
In a press release following the action, the Brexit Party explained that the nominations showed

'blatant bias towards people who are capable and willing to do the job'.
It continued,
"Once again, the EU has shamelessly nominated foreigners who know something about the institution and who plan to be around for more than 6 months.
We ask, where are the jobs for shady real estate speculators from Lincoln who can't even spell Brussels? Why do the kommissars only look at proven records of building consensus and enacting sensible policy but yet dismiss important skills like being able to rile up senescent racists with glowsticks?"
However, the EU Council denied claims that the selection criteria were manipulated to exclude British candidates, as explained by their spokesperson -
"Nominating people to become commissioners or head the ECB is a rigorous process that mainly involves getting Germany and France to decide on who should run things."
Asked why no Britons were considered, the spokesperson explained that coincidence – not conspiracy – were to blame.
"It's a different perspective on what constitutes leadership. We prefer thoughtful people who have demonstrated their competence, whereas Britain prefers to follow people who pointlessly insult minorities or look vaguely familiar because they pop up on quiz shows or at music festivals.
Also, we require all senior officials to speak three or more languages and we understand such an ability is still legally considered witchcraft in the UK."

PS: Labour has confirmed that today's stance on Brexit will be announced by breakfast tomorrow.

It is expected that they will move from yesterday's policy of supporting a second referendum back to something more like the day before's position of fresh negotiation, or even the day before that's position of pushing for a general election.
"I think that, actually, people will be surprised by today's policy on Brexit," said a spokesperson for Labour.
"It is quite a bit different to yesterday's and, to be honest, is probably closest to the Brexit stance we held last Tuesday morning for a bit. Anyway, it's a really good one and I hope that all Labour supporters will get behind it, at least until tomorrow when we change it to something completely different."
There appeared to be a measure of anticipation amongst Labour supporters for today's Brexit position.
"I'll be honest, I wasn't a huge fan of yesterday's Brexit policy," explained the president of the Jeremy Corbyn fan club, South East division.
"I prefer it when the Brexit policies that we adopt nod at least a little bit towards those who believe in respecting the referendum result. Still, if Jeremy says this is what we think now, then it must be right."
However, there are some Labour supporters who are critical of the party for not simply adopting a position on Brexit and sticking to it.
"I'll never understand that criticism," said the spokesperson.
"We've done that countless times."

Just A Reminder - For those of you still doubtful of the UK being able to survive without being tied to the EU's apron strings, just remember that it's 243 years since the USA crashed out of the British Empire without a deal. Seems to be going OK..........
And, if you're worried about the effect loss of trade will have on the country, worry no more. Some expected Michael Gove to be appointed Secretary of State for Trade but a little known sideline in his role as Chancellor of the Duchy of Lancaster includes brokering trade deals with other countries on behalf of the elected Secretary of State for Trade for International Trade, Liz Truss. Mr Gove was last seen in South America but is apparently having trouble finding his way home -

* * *
FRONT PAGE NEWS


Latest on Sir Kim Darroch's Resignation as British Amabassador to the USA

A month after Sir Kim Darroch resigned as the UK's Ambassador to the United States, sparking an urgent hunt for someone to take the job who is incapable of spotting that Donald Trump is a moron, or happy to just lie about it, we have yet to find someone that well equipped.
A government spokesperson said the hunt for a replacement is, however, already underway, telling us,
"We want the UK Ambassador to the United States to be honest – but not to the point of embarrassing the nation, so it would be great if we could find someone we could put in front of Donald Trump and not instantly recognise he's a simpleton.
That's not as easy as it sounds as Sir Kim has assured us that prolonged exposure to Trump and his regime will leave anyone even remotely competent with little doubt they are an operation guided by morons.
International diplomacy is a very specialist field, so now we need someone who might think Trump is competent, whilst also being competent enough do the job of . It's a proper catch-22. Anyone who thinks the former is most certainly incapable of the latter. Or maybe we just don't worry about them doing the job of Ambassador, and just make sure they hang around saying nice things to Donald Trump.
So we probably need someone who can spot an idiot when they see one, but who is also happy to pretend the idiot is a very stable genius purely out of self-interest.

* * *
HOME FRONT NEWS

My apologies for my inability to stay healthy long enough to bring you a regular Home Page update but the humidity of the past month or so has played havoc with my breathing again and even putting finger to keyboard has left me short of breath. Slight exagerration but I've breathed easier. All in all it's been quite an eventful time on the home front and virtually all of it health related. It's not been a fun time but what it does do is bring home (as if you didn't all ready know) that there are people worse off than you.
My sister and her husband enjoyed good health, wealth and happiness for most of their married life until their health deteriorated rapidly about 5 years ago. Both then began to experience breathing problems along with, in my sister's case, a number of tumours in her throat and in her husband's case, a thyroid problem that meant the thyroid having to be removed. My brother-in law also had to have both hips and both knees replaced. Thankfully, my sister's tumours were benign but have now multiplied. She has 15 and although they are benign they continue to grow, are causing other problems so will have to be removed.
Neither of them are now able to work so they made a decision to move into sheltered housing and did so this week. They know they have no alternative and are adapting very quickly. As quickly as life life itself changes.
Closer to home, my youngest son's psychotic episodes worsened recently but, as ever, he chooses to deal with it himself. A change in tablet dose and a period of seclusion have helped and he continues to improve but for how long we don't know. He continues to work though it all.
Finally, our loved dog, Spirit's, health suddenly went downhill a month ago and as he wasn't eating anything, hardly sleeping and struggling to stand we took him to the vet and after a failed course of treatment were told it was likely to be cancer of the spine and/or the stomach. He had to be put down last week. He was 15 years of age in doggy terms so these things will happen but it hits you surprisingly hard.
I usually end the Home Front News on a lighthearted note but you'll have to forgive me if I don't this time around.

* * *
JOKES OF THE WEEK

One day, leaning on the bar, Jack says to Mike
"My elbow hurts like hell. I suppose I'd better see a Doctor!"

"Listen, don't waste your time down at the surgery," Mike replies. "There's a new diagnostic computer at Tesco Pharmacy. Just give it a urine sample and the computer will tell you what's wrong, and what to do about it. It takes ten seconds and only costs five quid.....a lot quicker and better than a doctor and you get Club card points".

So Jack collects a urine sample in a small jar and takes it to Tesco. He deposits five pounds and the computer lights up and asks for the urine sample. He pours the sample into the slot and waits. Ten seconds later, the computer ejects a printout: "You have tennis elbow. Soak your arm in warm water and avoid heavy activity. It will improve in two weeks".

That evening while thinking how amazing this new technology was, Jack began wondering if the computer could be fooled. He mixed some tap water, a stool sample from his dog, urine samples from his wife and daughter and the cat, and masturbated into the mixture for good measure.
Jack hurried back to Tesco, eager to check what would happen. He deposited five pounds, poured in his concoction, and awaited the results.

The computer whirred for a little longer than he expected then printed the following:

1) Your tap water is too hard. Get a water softener.
2) Your cat's having kittens. Get a vet
3) Your dog has ringworm. Bathe him with anti-fungal shampoo.
4) Your daughter has a cocaine habit. Get her into rehab.
5) Your wife is pregnant with twins; they aren't yours. Get a lawyer.

6) And if you don't stop playing with yourself, your elbow will never get better...

Thank you for shopping at Tesco.
* * *

At 85 years of age, Wally married Anne, a lovely 25 year old. Since her new husband is so old, Anne decides that after their wedding she and Wally should have separate bedrooms, because she is concerned that her new but aged husband may over exert himself if they spend the entire night together.

After the wedding festivities Anne prepares herself for bed and the expected 'knock' on the door. Sure enough the knock comes, the door opens and there is Wally, her 85 year old groom, ready for action...
They unite as one. All goes well, Wally takes leave of his bride, and she prepares to go to sleep.

After a few minutes, Anne hears another knock on her bedroom door, and it's Wally. Again he is ready for more 'action.' Somewhat surprised, Anne consents for more frantic coupling. When the newlyweds are done, Wally kisses his bride, bids her a fond goodnight and leaves.

She is set to go to sleep again, but you guessed it..... Wally is back again, rapping on the door, and is as fresh as a 25-year-old, ready for more 'action.'

And, once again they enjoy each other in the way only two people in the first flush of lust can... But as Wally gets set to leave again, his young bride says to him,
"I am thoroughly impressed that at your age you can perform so well and so often. I have been with guys less than a third of your age who were only good once. You are truly a great lover, Wally."

Wally, somewhat embarrassed, turns to Anne and says:
"You mean I've been here already?"

(Senior Moments can have their advantages).
* * *

An elderly couple, who were both widowed, had been going out with each other for a long time.
Urged on by their friends, they decided it was finally time to get married. Before the wedding they went out to dinner and had a long conversation regarding how their marriage might work. They discussed finances, living arrangements, and so on. Finally, the old gentleman decided it was time to broach the subject of their physical relationship.

"How do you feel about sex?" he asked, rather tentatively.

"I would like it infrequently" she replied.

The old gentleman sat quietly for a moment, adjusted his glasses, leaned over towards her and whispered

"Is that one word or two?"
* * *

THOUGHTS FOR THE DAY

OK - if you don't know what Freecycle is, I highly recommend Googling it and discovering a world of recycling that can help your junk filing cabinet become someone else's useful office equipment, and their set of cookery books yours...as it were.

But there is a side to Freecycle that I find very amusing so I thought I'd share. This is a list of some of the items posted as offered, free of course, to those who want to email and collect...

Offered -

Dursley - Builders rubble - about 14 tonnes.

Bedford - Broken container, suit large garden plant.

Bath-Wotton - Used toothpaste tubes - collectors items.

Gloucester - Christmas Cards, all have one side unmarked.

Bussage - Lilac tree stump, dug out of my parents a week ago.

Sapperton - large rock, will not fit in estate car.

Leeds - 4 radiators, various sizes, collector to disconnect from flat.

Stroud - Black & White TV - not working.

Nottingham - Newspapers, large collection 1989-1993 plus firebrick making machine.

Chobham - Unique knitted Cardigan, made from natural Poodle wool, fit 8-12 year old.

Dorchester - Set of six 2 gallon sealable containers, need rinsing.

Godalming - medical text books and box of 1000 hypodermic syringes (sterile, sealed 1988).

Piddletrenthide - Sack full of mole skins, approx 80, cleaned and treated, ready for use.

Bristol - oversized underwear, good condition, large selection, bought as job lot.

Frampton Mansell - ladies size 7 shoes, 10 pairs, no heels missing.

Re-offered - rubble, Dursley

Cheltenham - Goose fat, for cooking or insulation purposes

Halsey - Framed, stretched Harley Davidson tattoo, 12" x 18" (real skin) unwanted heirloom...

* * *

War is God's way of teaching Americans geography.
*
It would be nice to spend billions on schools, housing and hospitals, but right now that money is desperately needed for political adverts.
*
Have you noticed that all the people in favour of birth control are already born?
*
Money won't buy happiness but you can bet your life it will pay the salaries of a large research group to study the problem.
*
Have you ever been at the house of a family at dinnertime when their kids refuse to eat what's put in front of them? When I was a kid our menu consisted of two choices. We could either eat it or starve. And while we're on the subject of food, inside of me there's a thin person struggling to get out. Fortunately, I can usually sedate him with double pie and mash.
*
American children have always been told that anyone can become President. I bet they're regretting it now.
*
Never, under any circumstances, take a laxative and a sleping pill on the same night.
* * * * *

*
The Home We Called Sloane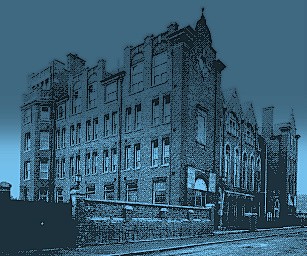 The Sloane building seen from Hortensia Road in 1908

The Sloane building was 100 years old in 2008, although it didn't actually start life as a boys' school until after the First World War, during which it served as a hospital. It still stands and many memories are, no doubt, ingrained in its walls along with the odd name and ribald comment. Who knows what the future holds, despite its Grade II listing on May 7th, 2002. Grade II listed buildings can be altered, extended, or even demolished, but only with Local Authority consent, so it may be that the building is considered historically or architecturally interesting enough for it's fabric to remain untouched. Some consideration may have been given to it having been the first purpose-built secondary school in London, and it is certainly one of only 3% of all ages of listed buildings that was built in the 20th century. Schools generally are seen as a good investment by developers because they're easy to convert. They are likely to be structurally sound because the authorities will have inspected them regularly to ensure they comply with Health and Safety requirements.

Sadly, Sloane Grammar School for Boys only lasted 51 years, from 1919-1970. John Binfield, in one of his poems writes -
... the school, with
All its past, was sucked into a huge
Turbulent sea of glass in Pimlico
And sank without trace. "full fathom five..
Sea nymphs hourly ring his knell.
Hark, now I hear them. Ding-dong bell".
Should the building survive in the form we all remember, there is still a chance that some of us will be around in 2019 to celebrate what would have been its centenary as a boys' school, had it remained in existence.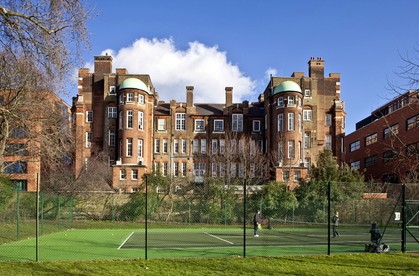 Sloane seen from the rear in 2014
* * *
Whatever our own personal reasons for it doing so, the school will still haunt most of us even if it disappears altogether. With that tenuous link, here's a poem that I came across in a copy of The Cheynean -

The Ghost of Sloane


When London's asleep and the School very quiet,
No sound of footsteps, no sound of a riot,
No sound of even the shuffle of feet,
No sound of the creak of a pupil's seat,
Out of the darkness the ghost of Sloane
Awakes from rest with a sigh and a groan.
Then up he arises to haunt the School
Climbing the stairs in the guise of a ghoul.
He shuffles and clanks down each corridor
Into the classrooms where stand desks galore.
He examines each desk and checks the boys' work,
Allots ghostly marks in the dark and the murk.

If you ever lose books from out of your desk,
And the teacher upbraids you and calls you a pest,
Just tell him my story, however tall,
Of the white shrouded phantom that haunts the School Hall.

J. Hollingshead (3C)

As for us, the boys who used to attend our Chelsea school, we probably considered ourselves 'Chelsea men' but I doubt that many of fitted the description in this poem, written when he was in the 5th year by one time Sloane Schoolboy, A R Doubledee. I get the impression he didn't particularly approve of the 'Beatniks' of the late 50s and early 60s that he found himself sharing Chelsea with or, as he called them the 'Weirdies' -

The Weirdies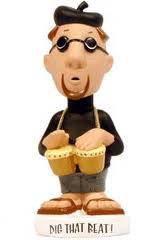 The Chelsea man is excessively queer,
He only drinks coffee and doesn't like beer.
He's always "chatting" the girls, and yet
This seems to make him "one of the set".

His unkempt chin and uncut hair
Go with his feet which are usually bare.
If he wears shoes, they've never got soles,
And he's usually found in Bohemian holes.

His outsize sweater is generally black
Contrasting well with his shorty mac.
He wears his clothing merely to show
That he can keep up with the boys of Soho.

To find a girl he doesn't look far,
But into the nearest coffee bar,
Where he's sure to meet a Bohemian "yob".
They're all from Chelsea - what a mob!

The girls with hair right down their backs
Wear irregular clothes that look like sacks.
They walk about wearing father's sweater:
I really don't see why he should let 'er.

Their gaudy clothes of reds and greens
Match up with the style of their men-friends' jeans.
Now that's how it goes with the latest style:
Girls on their faces make-up pile,
The men wear anything they can find -
I shouldn't stare, I should just act blind!

A.R. Doubledee (5b)
* * *

ANNOUNCEMENTS APPEAR BELOW
ONCE YOU'VE LOGGED IN