Sloane Grammar School boy, if you seek your memorial,
look around you.




DON'T FORGET!! -
PLEASE CHECK THE ANNOUNCEMENTS BOARD AT THE FOOT OF THIS PAGE FOR ANYTHING IMPORTANT and, after you Log In, the CALENDAR OF EVENTS PAGE FOR DETAILS OF FORTHCOMING EVENTS.
If you're having trouble logging in because you've forgotten your Password, click on Forgot Password? inside the Classmate Login box that appears after you click Sign In and you'll be Emailed a link to reset it.

You'll find other helpful tips under REMINDERS below.


The Sloane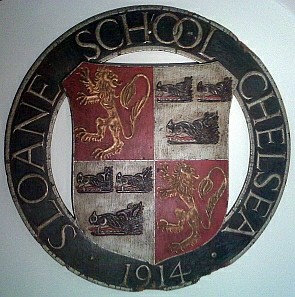 Hello and Welcome to

Mark Foulsham's

Sloane Grammar School website
If I built it I knew you would come

A School that invited loyalty
(Quote by Don Wheal)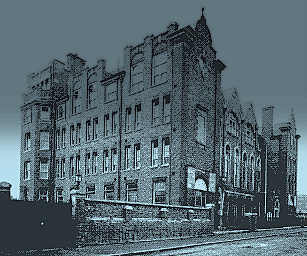 Gone But Not Forgotten
'Men are we, and must grieve when even the shade
Of that which once was great is pass'd away.'

William Wordsworth
On the Extinction of the Venetian Republic

You may think you're done with the past but the past isn't done with you!


"The merits of a school are judged as much by the men it produces as by their achievements as boys" -
(Old Cheynean D.J. Cowie, March 1929)


Register and link up with old school friends again and become part of Sloane Reunited.
If you were a pupil or member of staff at Sloane you qualify to register for the website. Click on Missing Classmates at the top of this page to see if we've been expecting you. If you see your name click on it and follow instructions. If your name's not there click on BECOME A MEMBER to learn more and then click the ADD NAME button to start the ball rolling or click Contact Us at the top of the page or the Click Here To Register! button below if you're already sure you want to join us. Read what you see then complete the box at the bottom of that page to ask me to add your name to the list.
It's Free, it's Easy, it's Secure
and
You're Never Alone As A Sloane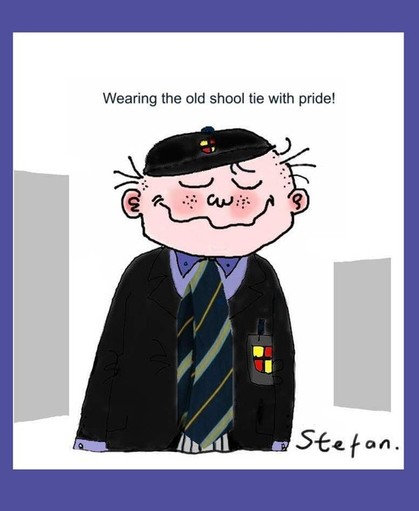 Self-portrait by Stefan Bremner-Morris
If you're a member, click on an image (


) at the top for more.

Here's what you'll find -

= Messages waiting for you. The red bubble shows how many.

= Website activity. Check for things you may have missed.
= Member functions like Profile, Contact, and Password changes.

AND -

If you're already a member please remember to keep your Email address up to date using Edit Contact Info, to be found by clicking on
the image at the top of the page.

Please don't forget to use the Notify Me page under the
image to make selections that will help you keep in touch as well as help you enjoy all the website has to offer.

You may already have the latest version of Adobe Flash Player but your browser no longer uses it automatically and it will not be supported at all after 2020. The Members Online feature uses Flashplayer (as do some animations and slideshows) so if it can't be seen clearly in the bottom right of your Home Page, click your mouse on what you can see and you'll be prompted to run Flashplayer. Agreeing will see the Members Online window re-appear. The same applies to animations and slideshows that don't show automatically. Use your Search Engine to search the web for how you allow Flash automatically in the browser you use.

Please remember to Log Out when you leave the site by using the Log Out button to be found under the
image at the top of the page.


AND FINALLY, IF AT ALL POSSIBLE, -
Please let a close relative know of your participation in the Sloane website and show them how to use the Contact Us page to notify me in the sad event of your death. Not only will this allow me to notify other members, it will also put a stop to any website generated emails finding their way to your Inbox. Thank you.
Come on in!
Don't be late!
This is one detention
You'll be pleased to take.


A WARM WELCOME

to fellow Cheyneans and passers-by, from the Official Sloane Grammar School 1919-1970 Old Cheyneans and Friends web site.
Mark Foulsham, at Sloane 1963-70, created this site in August 2008 to record for posterity all that I can, and for all those who attended Sloane or simply have a Sloane connection, to share and enjoy. Feel free just to browse or, if you feel you qualify to join us, make full use of the site by becoming a Registered Classmate. Click on the Click Here to Register button above to start the registration process. It's Free!
I'll also be happy to send a personal invitation to anyone else with a Sloane School Chelsea connection who you think might like to join us. Just enter their Email address in the MISSING CLASSMATES box to your right and click Send Invite.
We may not understand why but memories of our days at Sloane remain with us while others do not. Whether they're good or they're bad, I'd like to give all old boys the opportunity to keep those memories alive.

Aspirations and Objectives

Sloane never had a motto and although our school badge is based on the lion rampant and boar's head of the Cadogan family crest their motto, Qui Invidet Minor Est or He That Envies Is Inferior, is not really appropriate so I'll adopt the one to be found on the Coat of Arms of the Royal Borough of Kensington and Chelsea as it suits us nicely -

Quam Bonum In Unum Habitare

(What A Good Thing It Is To Dwell Together In Unity)
It is hoped, in some small way, to be able to have similar objectives to those stated for the first issue of The Cheynean in December 1926 -

"To record faithfully the major activities of the School, to promote and foster a corporate spirit in the School, to excite a greater keenness both in the games and in other phases of its social life, and to serve as a link between present members of the School and the Old Cheyneans". -

and also to bring together, once again, old friends and classmates, and those of us who have outlived the school and share a common interest in its history and its future.
Sadly, I've no memory of having ever sung or even heard a school song but apparently one was written by music Master Mr Seymour Dicker in 1928, and was first sung in July of that year by pupil J E Bush. What became of it after that first performance is a mystery but it contained the lines -
"Salve, the School and its scholars so keen,
Long may they keep its memory green."
If you've any memories of Sloane you'd like to share, use the Contact Us page to send them in and, whilst you're there, register for the site as well.

Once you've registered, you can activate the Instant Messaging feature that allows you to hold a 'real-time' online conversation with anyone else who has logged on to the website. You can also send a message to someone else on the site via the Message Centre or by using their Profile. Click on their name on the Classmate Profiles page then click on the red 'Send ? a private message' at the top of their Profile.

After you've registered, why not take a look at all the Classmate Profiles ? Even if you don't know the person involved, the information they've put on their Profile can be interesting, illuminating and fun, and often brings back memories of something you thought you'd forgotten about.
If, at any time after becoming a member, you're unsure about anything click on this Using This Site link for an explanation or contact me direct via the Contact Us page.
* * * * *
Why Not Take a Look at Where your Classmates are Living?

Find out the Postcode of a Classmate from their Profile (if they've agreed to let everyone know it) then Click on the link below, enter the details where it says 'Address', then Click on 'Go'. Not every country is covered yet and those that are have limited coverage, but it's worth a try.
Here's the link. Have fun - http://www.vpike.com/

* * * * * * * * *
* * *
BREAKING NEWS!!

Happy Birthday To Sloane!!

As many of you will be aware, had it still been around, Sloane Grammar School would be 100 years old this year. The building itself is 111 years old.
It's only a number, I know, but it gives us an opportunity to celebrate what the school meant to the majority on this website. We have an excuse, if one were needed, to get-together again in one large group or in our separate little groups that the website has given birth to.
I know the difficulties the possibility of a large gathering can bring - primarily those of time, distance, location and desire - but if anyone considers it something worth doing and has thoughts on how, where, and when we could do something, please let me know and if enough think it worthwhile I'll see what can be done.
* * *


Her Majesty Enters The Brexit Debate!!

The monarchy normally steer clear of voicing opinions on UK politics but even the Queen appears to have had enough of the whole sorry Brexit mess and seems to have found a way forward as this photo from a palace insider reveals -
And whilst we're on the subject -
BREXIT EXPLAINED.......simples innit?
David Cameron made a promise he didn't think he'd have to keep to have a referendum he didn't think he would lose. Boris Johnsona decided to back the side he didn't believe in because he didn't think it would win. Then Gove, who said he wouldn't run, did, and Boris who said he would run, said he wouldn't, and Theresa May who didn't vote for Brexit got the job of making it happen. She called the election she said she wouldn't and lost the majority David Cameron hadn't expected to win in the first place. She triggered Article 50 when we didn't need to and said we would talk about trade at the same time as the divorce deal and the EU said they wouldn't so we didn't. People thought she wouldn't get the divorce settled but she did, but only by agreeing to separate arrangements for Northern Ireland when she had promised the DUP she wouldn't. Then the Cabinet agreed a deal but they hadn't, and David Davis who was Brexit Secretary but wasn't said it wasn't what people had voted for and he couldn't support what he had just supported and left. Boris Johnson who hadn't left then wished that he had and did, but it was a bit late for that.
Dominic Raab become the new Brexit secretary. People thought Theresa May wouldn't get a withdrawal agreement negotiated, but once she had they wished that she hadn't, because hardly anybody liked it whether they wanted to leave or not. Jacob Rees-Mogg kept threatening a vote of no confidence in her but not enough people were confident enough people would not have confidence in her to confidently call a no confidence vote. Dominic Raab said he hadn't really been Brexit Secretary either and resigned, and somebody else took the job but it probably isn't worth remembering who they are as they're not really doing the job either as Olly Robbins is. Then she said she would call a vote and didn't, that she wouldn't release some legal advice but had to, that she would get some concessions but didn't, and got cross that Juncker was calling her nebulous when he wasn't but probably should have been. At some point Jacob Rees Mogg and others called a vote of no confidence in her, which she won by promising to leave, so she can stay. But they said she had really lost it and should go, at the same time as saying that people who voted Leave knew what they were voting for which they couldn't possibly have because we still don't know now, and that we should leave the vote to Leave vote alone but have no confidence in the no confidence vote which won by more. The government also argued in court against us being able to say we didn't want to leave after all but it turned out we could.
She named a date for the vote on her agreement which nobody expected to pass, while pretending that no deal which nobody wants is still possible (even though we know we can just say we are not leaving), and that we can't have a second referendum because having a democratic vote is undemocratic. And of course as expected she loses. Some people are talking about a managed no-deal which is not a deal but is not no-deal either.
Theresa's back in Brussels again this week to renegotiate something she's already been told can't be renegotiated. Thank goodness for strong and stable government.

* * *

STELLA AWARDS
It's that time of year when the annual " Stella Awards" are announced in the USA.

For those unfamiliar with these awards, they are named after 81-year-old Stella Liebeck who spilled hot coffee on herself and successfully sued the McDonald's in New Mexico, where she purchased coffee. She took the lid off the coffee and put it between her knees while she was driving. Who would ever think one could get burned doing that!?
That's right; these are awards for the most outlandish lawsuits and verdicts in the U.S. You know, the kinds of cases that make you scratch your head.
Here are the Stella's for this year:
SEVENTH PLACE
Kathleen Robertson of Austin, Texas was awarded $80,000 by a jury of her peers after breaking her ankle tripping over a toddler who was running inside a furniture store. The store owners were understandably surprised by the verdict, considering the running toddler was her own son.
Start scratching!
SIXTH PLACE
Carl Truman, 19, of Los Angeles, California won $74,000 plus medical expenses when his neighbour ran over his hand with a Honda Accord. Truman apparently didn't notice there was someone at the wheel of the car when he was trying to steal his neighbour's hubcaps.
FIFTH PLACE
Terrence Dickson, of Bristol, Pennsylvania, was leaving a house he had just burgled by way of the garage. Unfortunately for Dickson, the automatic garage door opener malfunctioned and he could not get the garage door to open. Worse, he couldn't re-enter the house because the door connecting the garage to the house locked when Dickson pulled it shut. Forced to sit for eight, days and survive on a case of Pepsi and a large bag of dry dog food, he sued the homeowner's insurance company claiming undue mental Anguish. Amazingly, the jury said the insurance company must pay Dickson $500,000 for his anguish. We should all have this kind of anguish
FOURTH PLACE
Jerry Williams, of Little Rock, Arkansas, garnered 4th Place in the Stella's when he was awarded $14,500 plus medical expenses after being bitten on the bum by his next door neighbour's beagle - even though the beagle was on a chain in its owner's fenced yard. Williams did not get as much as he asked for because the jury believed the beagle might have been provoked at the time of the bite because Williams had climbed over the fence into the yard and repeatedly shot the dog with a pellet gun.
THIRD PLACE
Amber Carson of Lancaster, Pennsylvania because a jury ordered a Philadelphia restaurant to pay her $113,500 after she slipped on a spilled soft drink and broke her coccyx. The reason the soft drink was on the floor: Ms. Carson had thrown it at her boyfriend 30 seconds earlier during an argument.
SECOND PLACE
Kara Walton, of Claymont, Delaware sued the owner of a night club in a nearby city because she fell from the bathroom window to the floor, knocking out her two front teeth. Even though Ms. Walton was trying to sneak through the ladies room window to avoid paying the $3.50 cover charge, the jury said the night club had to pay her $12,000...., plus dental expenses.
FIRST PLACE
This year's runaway First Place Stella Award winner was: Mrs Merv Grazinski of Oklahoma City, Oklahoma, Oklahoma, who purchased a new 32-foot Winnebago motor home. On her first trip home, from an football game, having driven on to the freeway, she set the cruise control at 70 mph and calmly left the driver's seat to go to the back of the Winnebago to make herself a sandwich. Not surprisingly, the motor home left the freeway, crashed and overturned. Also not surprisingly, Mrs. Grazinski sued Winnebago for not putting in the owner's manual that she couldn't actually leave the driver's seat while the cruise control was set. The Oklahoma jury awarded her $1,750,000. PLUS a new motor home. Winnebago actually changed their manuals as a result of this suit, just in case Mrs. Grazinski has any relatives who might also buy a motor home.
* * *


FRONT PAGE NEWS

Now where have we heard this before!!?
The Arctic Ocean is warming up, icebergs are growing scarcer and in some places, the seals are finding the water too hot, according to a report to the Commerce Department from the Consulate at Bergen Norway. Reports from fishermen, seal hunters and explorers all point to a radical change in climate conditions and hitherto unheard-of temperatures in the Arctic zone. Exploration expeditions report that scarcely any ice has been met as far north as 81 degrees 29 minutes. Soundings to a depth of 3,100 metres showed the gulf stream still very warm. Great masses of ice have been replaced by moraines of earth and stones, the report continued, while at many points well known glaciers have entirely disappeared. Very few seals and no white fish are found in the eastern Arctic, while vast shoals of herring and smelts which have never before ventured so far north, are being encountered in the old seal fishing grounds.
Within a few years it is predicted that due to the ice melt the sea will rise and make most coastal cities uninhabitable.

I must apologize. I neglected to mention.
This report was from November 2, 1922, and published in The Washington Post.
No doubt it was caused by the Model T Ford's emissions or possibly from horse and cattle flatulence.
* * *

Is A Poor Education A Hinderance To Employment?

There is much debate these days about the state of our education system and the knock-on effect it is having on the workplace. It would seem our fears are not shared in the USA as this job application received by a potential employer would indicate. The recipient's, no doubt, immediate response is also shown -
My Rezimay
Deer Sur,
I waunt to apply for the secritary job I seen in the paper. I can type real kwik wit one finggar and do sum Acounting 2.
I think I am good on the fone and I am a pepole person. Pepole really seam to respond goodly to me. I'm lookin for a jobb as a secritary but it Kant be 2 complikaited.
My spelling is not 2 good but find that I awfin get a job Bcuz of my persinalety.

My salerery is open so we can discus wat you want to pay me and wat you think that I am wurth, I can start imeditely.
Thank you in advanse 4 yore anser. Hopifuly I M Yore best aplicant so phar.

Sinseerly,
Peggy May McBiggins
PS : I half includeded a pickture of me B low.

Dear Peggy May,

Start on Monday, we have spell check.
signed . . .. . ..
Harvey Weinstein
* * *

JOKES OF THE WEEK
A drunken man who smelled of beer sat down in an underground train, next to a priest.
The man's tie was stained, his face was plastered with red lipstick, and a half-empty bottle of gin was sticking out of his torn coat pocket. He opened his newspaper and began reading.
After a few minutes the man turned to the priest and asked,
"Say Father, what causes arthritis?"

The priest replied,
"My Son, it's caused by loose living, being with cheap, wicked women, too much alcohol, contempt for your fellow man, sleeping around with prostitutes and lack of a bath."

The drunk muttered in response,
"Well, I'll be damned", then returned to his paper.

The priest, thinking about what he had said, nudged the man and apologised.

"I'm very sorry. I didn't mean to come on so strong. How long have you had arthritis?"
The drunk answered,
"I don't have it, Father. I was just reading here that the Pope does."
A man walked into a supermarket with his zipper down.
A checkout girl walked up to him and said,
"Your barracks door is open."

Not a phrase that men normally use, he went on his way looking a bit puzzled. When he was just about done shopping, a man came up and said,
"Your fly is open."

He zipped up and finished his shopping.

At the checkout, he intentionally got in the line where the girl was that told him about his "barracks door."

He was planning to have a little fun with her, so when he reached the counter he said,
"When you saw my barracks door open, did you see a soldier standing in there at attention?"

The girl thought for a moment and said,

"No, no I didn't....... but I saw a disgusting old man sitting on a couple of old duffle bags."
* * *

THOUGHTS FOR THE DAY

Some facts to set you thinking -
USA Internet connections in 1969 -
- 2013 Black & Gold areas have heavily restricted Internet access
Blue drive on the left, Red on the right -


- Each colour has a population of at least
1 billion people living in it

All the world's landlocked countries are
shown in Green -


- The Red area shows all the rivers that flow into the Mississippi

Shown in Red are all the countries with
McDonalds outlets -


- The countries who don't use the metric
system are shown in Red
White areas show where 98% of
Australia's population live -
- What the world would look like if all
countries with coastlines sank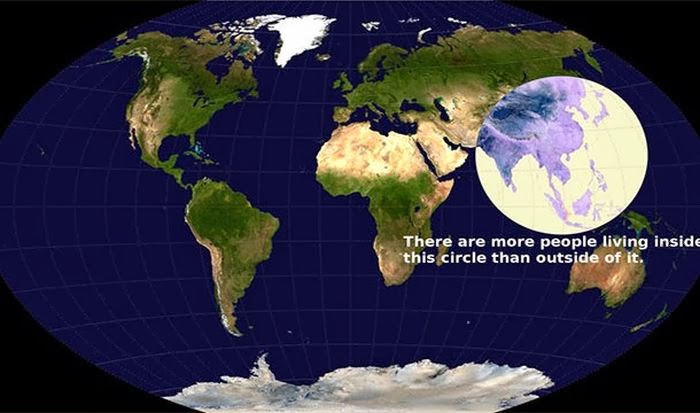 More people live inside the circle than
outside -

Map of the USA showing the highest paid public employees by State

And finally -
Shown in White are the countries England has never invaded
(and never will)
* * *
"DO NOT TOUCH!" must be one of the scariest things to read in Braille.
* * *
Ever wondered what it was like? Mount Rushmore from the Canadian side -
* * *

HOME FRONT NEWS
I've had a really bad week. First, my wife got run over by a bus then I got fired from my job as a bus driver. As I was close when the bus hit her I held her hand and to comfort her I whispered,
"Don't worry, love. You'll survive and if it's any consolation, when I die I'll be leaving everything to you."
Still in control of her faculties she whispered back,
"You already do, you lazy ba***rd."
The hospital said her recovery should be quick. I was pleased to hear that as I don't like this fending for yourself lark. Mind you, I was impressed with the new supermarket that's opened near me. It uss an automatic water mister to keep the fresh produce fresh. Just before it comes on you hear the sound of rumbling thunder and the smell of spring rain. When you approach the milk section you hear the sound of cows mooing and experience the scent of freshly cut hay. On approaching the eggs you're greeted by the sound of hens clucking and the air is filled with the pleasing aroma of bacon and eggs frying. The veg section features the smell of fresh, buttered corn. It made for a pleasant shopping experience but needless to say, I won't be buying our toilet paper in there.
In truth, it's been a pretty uneventful week apart from the arrival of some bad news. A cousin of mine, Gary Foulsham, who was 6 months younger than me, passed away after suffering several heart attacks that left him in such a vegetative state that they turned the life support off last Friday. We were close as youngsters but our lives took different paths. His Dad worked as an artist/carpenter at Shepperton studios for some years and his contacts resulted in Gary getting an audition for 'Oliver' in the West End. His audition was successful and his performances got him noticed enough to be given a part in an episode of The Saint, with Roger Moore, in an episode called The Unkind Philanthropist, made in 1964 (available for viewing on You Tube). His name on the credits is shown as Garry Fulsham. I don't know whether that was the spelling the film company made him use or whether it was just s typing error. After getting pipped at the post by Jack Wild for the part of Jimmy in H R Pufnstuf, he fell out of love with acting and spent most of the rest of his life (after leaving Fulham in his late teens) in Spain, returning to this country after the death of his Mum and Dad 14 and 13 years ago. His own health deteriorated and came to an end with his family around him.
I've mentioned him here not because he was a great actor or maybe never would ever have been, but because his death affected me in a way I never expected considering we'd been apart so long and I'll miss him.
Onwards and upwards. The Grandson has just arrived home from school and will no doubt be expecting me to don my Indian headdress whilst he attacks me on horseback and eventually scalps me - again. Good, clean fun that brings back many memories. How!
* * *
* * * * *
The Home We Called Sloane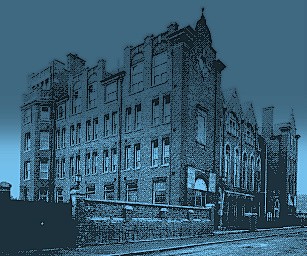 The Sloane building seen from Hortensia Road in 1908

The Sloane building was 100 years old in 2008, although it didn't actually start life as a boys' school until after the First World War, during which it served as a hospital. It still stands and many memories are, no doubt, ingrained in its walls along with the odd name and ribald comment. Who knows what the future holds, despite its Grade II listing on May 7th, 2002. Grade II listed buildings can be altered, extended, or even demolished, but only with Local Authority consent, so it may be that the building is considered historically or architecturally interesting enough for it's fabric to remain untouched. Some consideration may have been given to it having been the first purpose-built secondary school in London, and it is certainly one of only 3% of all ages of listed buildings that was built in the 20th century. Schools generally are seen as a good investment by developers because they're easy to convert. They are likely to be structurally sound because the authorities will have inspected them regularly to ensure they comply with Health and Safety requirements.

Sadly, Sloane Grammar School for Boys only lasted 51 years, from 1919-1970. John Binfield, in one of his poems writes -
... the school, with
All its past, was sucked into a huge
Turbulent sea of glass in Pimlico
And sank without trace. "full fathom five..
Sea nymphs hourly ring his knell.
Hark, now I hear them. Ding-dong bell".
Should the building survive in the form we all remember, there is still a chance that some of us will be around in 2019 to celebrate what would have been its centenary as a boys' school, had it remained in existence.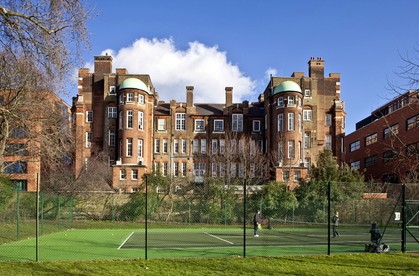 Sloane seen from the rear in 2014
* * *
Whatever our own personal reasons for it doing so, the school will still haunt most of us even if it disappears altogether. With that tenuous link, here's a poem that I came across in a copy of The Cheynean -

The Ghost of Sloane


When London's asleep and the School very quiet,
No sound of footsteps, no sound of a riot,
No sound of even the shuffle of feet,
No sound of the creak of a pupil's seat,
Out of the darkness the ghost of Sloane
Awakes from rest with a sigh and a groan.
Then up he arises to haunt the School
Climbing the stairs in the guise of a ghoul.
He shuffles and clanks down each corridor
Into the classrooms where stand desks galore.
He examines each desk and checks the boys' work,
Allots ghostly marks in the dark and the murk.

If you ever lose books from out of your desk,
And the teacher upbraids you and calls you a pest,
Just tell him my story, however tall,
Of the white shrouded phantom that haunts the School Hall.

J. Hollingshead (3C)

As for us, the boys who used to attend our Chelsea school, we probably considered ourselves 'Chelsea men' but I doubt that many of fitted the description in this poem, written when he was in the 5th year by one time Sloane Schoolboy, A R Doubledee. I get the impression he didn't particularly approve of the 'Beatniks' of the late 50s and early 60s that he found himself sharing Chelsea with or, as he called them the 'Weirdies' -

The Weirdies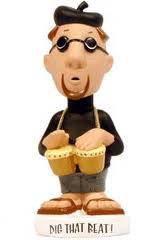 The Chelsea man is excessively queer,
He only drinks coffee and doesn't like beer.
He's always "chatting" the girls, and yet
This seems to make him "one of the set".

His unkempt chin and uncut hair
Go with his feet which are usually bare.
If he wears shoes, they've never got soles,
And he's usually found in Bohemian holes.

His outsize sweater is generally black
Contrasting well with his shorty mac.
He wears his clothing merely to show
That he can keep up with the boys of Soho.

To find a girl he doesn't look far,
But into the nearest coffee bar,
Where he's sure to meet a Bohemian "yob".
They're all from Chelsea - what a mob!

The girls with hair right down their backs
Wear irregular clothes that look like sacks.
They walk about wearing father's sweater:
I really don't see why he should let 'er.

Their gaudy clothes of reds and greens
Match up with the style of their men-friends' jeans.
Now that's how it goes with the latest style:
Girls on their faces make-up pile,
The men wear anything they can find -
I shouldn't stare, I should just act blind!

A.R. Doubledee (5b)
* * *

ANNOUNCEMENTS APPEAR BELOW
ONCE YOU'VE LOGGED IN