Sloane Grammar School boy, if you seek your memorial,
look around you.




DON'T FORGET!! -
PLEASE CHECK THE ANNOUNCEMENTS BOARD AT THE FOOT OF THIS PAGE FOR ANYTHING IMPORTANT and, after you Log In, the CALENDAR OF EVENTS PAGE FOR DETAILS OF FORTHCOMING EVENTS.
If you're having trouble logging in because you've forgotten your Password, click on Forgot Password? inside the Classmate Login box that appears after you click Sign In and you'll be Emailed a link to reset it.

You'll find other helpful tips under REMINDERS below.



The Sloane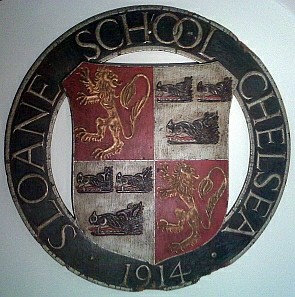 Hello and Welcome to

Mark Foulsham's

Sloane Grammar School website
If I built it I knew you would come

A School that invited loyalty
(Quote by Don Wheal)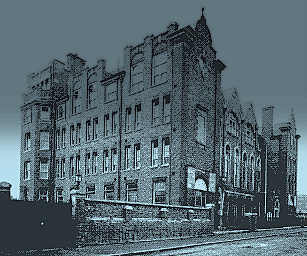 Gone But Not Forgotten
'Men are we, and must grieve when even the shade
Of that which once was great is pass'd away.'

William Wordsworth
On the Extinction of the Venetian Republic

You may think you're done with the past but the past isn't done with you!


"The merits of a school are judged as much by the men it produces as by their achievements as boys" -
(Old Cheynean D.J. Cowie, March 1929)


Register and link up with old school friends again and become part of Sloane Reunited.
If you were a pupil or member of staff at Sloane you qualify to register for the website. Click on Missing Classmates at the top of this page to see if we've been expecting you. If you see your name click on it and follow instructions. If your name's not there click on BECOME A MEMBER to learn more and then click the ADD NAME button to start the ball rolling or click Contact Us at the top of the page, read what you see then complete the box at the bottom of that page to ask me to add your name to the list.
It's Free, it's Easy, it's Secure
and
You're Never Alone As A Sloane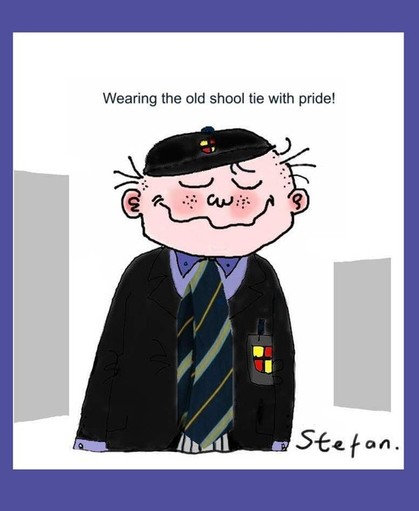 If you're a member, click on an image (


) at the top for more.

Here's what you'll find -

= Messages waiting for you. The red bubble shows how many.

= Website activity. Check for things you may have missed.
= Member functions like Profile, Contact, and Password changes.

AND -

If you're already a member please remember to keep your Email address up to date using Edit Contact Info, to be found by clicking on
the image at the top of the page.

Please don't forget to use the Notify Me page under the
image to make selections that will help you keep in touch as well as help you enjoy all the website has to offer.

You may already have the latest version of Adobe Flash Player but your browser no longer uses it automatically and it will not be supported at all after 31st December, 2020. From that date Google has confirmed it will completely block Flash from being able to run under the Chrome browser as will Mozilla for their Firefox browser and Microsoft for Internet Explorer and Edge. The Members Online feature uses Flashplayer (as do some animations and slideshows) so if it can't be seen clearly in the bottom right of your Home Page, click your mouse on what you can see and you'll be prompted to run Flashplayer. Agreeing will see the Members Online window re-appear. The same applies to animations and slideshows that don't show automatically. Use your Search Engine to search the web for how you allow Flash automatically in the browser you use but some browsers will ignore your choice anyway if you've chosen 'Allow', others, like Opera or Brave, will not. To check how this site handles Flash, click on the Padlock or Not Secure wording that precedes this website's Domain Name in your browser's Address Bar and set Flash to Allow or Ask (default). Click on Site Settings and under Permissions it also shows the same choice. HTML5 (Hypertext Markup Language) is the likely replacement for Flash and hopefully, this website will be converted to it before the deadline for the loss of Flash.

Please remember to Log Out when you leave the site by using the Log Out button to be found under the
image at the top of the page.


AND FINALLY, IF AT ALL POSSIBLE, -
Please let a close relative know of your participation in the Sloane website and show them how to use the Contact Us page to notify me in the sad event of your death. Not only will this allow me to notify other members, it will also put a stop to any website generated emails finding their way to your Inbox. Thank you.
Come on in!
Don't be late!
This is one detention
You'll be pleased to take.


A WARM WELCOME

to fellow Cheyneans and passers-by, from the Official Sloane Grammar School 1919-1970 Old Cheyneans and Friends web site.
Mark Foulsham, at Sloane 1963-70, created this site in August 2008 to record for posterity all that I can, and for all those who attended Sloane or simply have a Sloane connection, to share and enjoy. Feel free just to browse or, if you feel you qualify to join us, make full use of the site by becoming a Registered Classmate. Click on the Click Here to Register button above to start the registration process. It's Free!
I'll also be happy to send a personal invitation to anyone else with a Sloane School Chelsea connection who you think might like to join us. Just enter their Email address in the MISSING CLASSMATES box to your right and click Send Invite.
We may not understand why but memories of our days at Sloane remain with us while others do not. Whether they're good or they're bad, I'd like to give all old boys the opportunity to keep those memories alive.

Aspirations and Objectives

Sloane never had a motto and although our school badge is based on the lion rampant and boar's head of the Cadogan family crest their motto, Qui Invidet Minor Est or He That Envies Is Inferior, is not really appropriate so I'll adopt the one to be found on the Coat of Arms of the Royal Borough of Kensington and Chelsea as it suits us nicely -

Quam Bonum In Unum Habitare

(What A Good Thing It Is To Dwell Together In Unity)
It is hoped, in some small way, to be able to have similar objectives to those stated for the first issue of The Cheynean in December 1926 -

"To record faithfully the major activities of the School, to promote and foster a corporate spirit in the School, to excite a greater keenness both in the games and in other phases of its social life, and to serve as a link between present members of the School and the Old Cheyneans". -

and also to bring together, once again, old friends and classmates, and those of us who have outlived the school and share a common interest in its history and its future.
Sadly, I've no memory of having ever sung or even heard a school song but apparently one was written by music Master Mr Seymour Dicker in 1928, and was first sung in July of that year by pupil J E Bush. What became of it after that first performance is a mystery but it contained the lines -
"Salve, the School and its scholars so keen,
Long may they keep its memory green."
If you've any memories of Sloane you'd like to share, use the Contact Us page to send them in and, whilst you're there, register for the site as well.

Once you've registered, you can activate the Instant Messaging feature that allows you to hold a 'real-time' online conversation with anyone else who has logged on to the website. You can also send a message to someone else on the site via the Message Centre or by using their Profile. Click on their name on the Classmate Profiles page then click on the red 'Send ? a private message' at the top of their Profile.

After you've registered, why not take a look at all the Classmate Profiles ? Even if you don't know the person involved, the information they've put on their Profile can be interesting, illuminating and fun, and often brings back memories of something you thought you'd forgotten about.
If, at any time after becoming a member, you're unsure about anything click on this Using This Site link for an explanation or contact me direct via the Contact Us page.
* * * * * * * *
Why Not Take a Look at Where your Classmates are Living?

Find out the Postcode of a Classmate from their Profile (if they've agreed to let everyone know it) then Click on the link below, enter the details where it says 'Address', then Click on 'Go'. Not every country is covered yet and those that are have limited coverage, but it's worth a try.
Here's the link. Have fun - http://www.vpike.com/



* * * * * * * *






The Sloane News
Breaking News!
A man has claimed victory in the US election, whilst simultaneously claiming that it is so rigged that the other side is stealing it from him.
Donald Trump, a failed businessman and successful racist, has this morning claimed both that he has won the election and also that he will be going to the Supreme Court as he suspects his opponents have stolen it from him.
"I won yesterday's election bigly fair and square," he slurred to reporters, waiting for the latest hit of Adderall to take effect.
"I won it, but it looks like I haven't, because the communist Joe Biden has pulled the sneaky trick of cheating democracy by convincing more people to vote for him. SAD."
He went on, "I won and I should be staying in the White House with my wife Ivanka – I mean, Melania – and I'm gonna call the cops on anyone who tries to force me out, even if they use a so-called democratic election to do it."
Asked for comment, Democratic nominee Joe Biden responded, "The best thing about America is that it is a democracy, where an election is won by whoever gets the most votes.
"Unless that person is Hillary, of course. It's a bit confusing, thinking about it.
"Still, we won't know who has won until we hold the election. It's next week, isn't it?"
A man has claimed victory in the US election, whilst simultaneously claiming that it is so rigged that the other side is stealing it from him.
Donald Trump, a failed businessman and successful racist, has this morning claimed both that he has won the election and also that he will be going to the Supreme Court as he suspects his opponents have stolen it from him.
"I won yesterday's election bigly fair and square," he slurred to reporters, waiting for the latest hit of Adderall to take effect.
"I won it, but it looks like I haven't, because the communist Joe Biden has pulled the sneaky trick of cheating democracy by convincing more people to vote for him. SAD."
He went on,
"I won and I should be staying in the White House with my wife Ivanka – I mean, Melania – and I'm gonna call the cops on anyone who tries to force me out, even if they use a so-called democratic election to do it."
Sort-of President Trump made his latest attempt to hang on to high office this morning by pledging to build a wall that will keep unpleasant realities out of America.
Trump, who used his speech to declare war on facts, told a group of supporters – his two sons and a woman in big sunglasses who isn't his wife – that he was going to build a 'big beautiful wall' around the White House so he wouldn't have to leave.
"There are some people saying I've lost the election. I don't know but they're saying it," said Trump.
"But I'm gonna build a wall – bigger and higher than the first one I didn't build – and the Democrats are going to pay for it."
When asked how he would compel his opponents to pay, Trump called anyone who disagreed 'low-IQ' and said they'd just have to believe him.
When asked, Democratic candidate Joe Biden said that he'd already donated to the wall by throwing a brick through the Oval Office window.
"It had a note on it saying 'get out of my chair," he added.
Asked for comment, Democratic nominee Joe Biden responded,
"The best thing about America is that it is a democracy, where an election is won by whoever gets the most votes. Unless that person is Hillary, of course. It's a bit confusing, thinking about it.
Still, we won't know who has won until we hold the election. It's next week, isn't it?"

Meanwhile, back at home, Boris Johnson woke up believing he was now US President.
Today's the day for a bonfire of the vanities.

*

First day back at school after lockdown

Some older pupils say the continual changes in Government advice regarding Coronavirus lockdowns have led to confusion and some have become anxious they may never sit their GCEs. Nevertheless, they are happy to have returned to school at last but say the Coronavirus pandemic has lasted much longer than they thought -


It's not only the elderly who are confused though. Even Greta Thunberg is in a quandry -



The Government's latest U-turn also means workers have once again been advised to work from home if they can. Whilst it might be easy for stay-at-home gynaecologists to keep their hand in, some lifeguards are having to improvise -

Even sheepdogs have heard the call and are doing their bit by working from home -


Personally, I think Covid-19 has turned most of us into dogs. We roam the house all day looking for food, we're told "No!" if we get too close to strangers and we get really excited about car rides.


* * *

Breaking Covid-19 Update!!

American President Indicted!

A US vicar has died after injecting himself with Domestos. Ex-President Donald Trump has been charged with a bleach of the priest.
It might be Trump's last act as President - with any luck. Good job really, I've run out of adjectives to describe him - none of them good. If he gets in again you've got to question the mentality of those who voted for him. My apologies to any members who vote in the USA and voted for Donald, but I just can't (along with the majority of sensible, right-thinking people) understand what the American people see in him. Why did they ever elect him into office in the first place?!
For all that, I'm going to miss him when he goes as he's been good Home Page material on here. I can't see Joe Biden's term being full of controversy and his lack of personality is going to make life difficult for me and for cartoonists, impersonators, satirists and the like, the world over. Could this finger be the Fickle Finger of Fate? -


Will it be worse that Trump's Mask of Incredulity? While he mocked the wearing of a mask during this pandemic, it would surely have been better if he had - always. I'm sure we'd have seen what he was really like even with it on.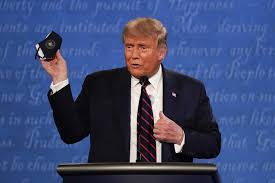 * * *

FRONT PAGE NEWS

Covid-19 Developments

We've seen the response to the Coronavirus restrictions in this country but don't always hear what's going on close to home. Most of us like a drink but the Irish and the Scots seem to have gained a reputation for not being able to go without for long.
The bodies that represent publicans on both sides of the Irish border say tighter Covid-19 restrictions are fuelling an illicit alcohol industry. Pubs are shut across Ireland as part of measures to curb the spread of coronavirus.
Alcohol cannot be sold by supermarkets and off-licences after 20:00 in NI.
Both Hospitality Ulster and the Vintners' Federation of Ireland (VFI) warn drinking in "uncontrolled environments" is on the rise, but not unexpected.
In the Republic of Ireland, four shebeens - illegal, unlicensed pubs - have been raided by Gardaí (Irish police) since the start of October. On 10 October Gardaí searched premises in in counties Laois, Meath and Westmeath. Substantial quantities of alcohol were seized along with beer taps, coolers, kegs, spirit dispensers and other items.
Last week a shebeen was shut down in County Kildare. Gardaí said it was fitted with a bar, stools, tables, chairs, a 70-inch flat-screen television and a pool table.
"There is no doubt this is only the tip of the iceberg," Padraig Cribben, VFI's chief executive, told BBC News NI.
"You can guarantee there is one operating at the very least in every county in Ireland.
"We know of one electoral ward where there are nine operating , we've informed the guards of as much," he said.
Mr Cribben is not surprised by the level of sophistication to the premises searched by police.
"When there is a vacuum there will always be dubious characters trying to fill it. You can be sure there is plenty more out there, plenty more that are a lot more basic," he said.
Anyone drinking in a shebeen is "exposing themselves to an uncontrolled environment, to a serious risk of Covid-19", he added.
Earlier this month Garda Deputy Commissioner John Twomey said: "The operation of any unlicensed premises puts at risk individuals and communities."
He said officers "will continue to take appropriate actions".
Police in Northern Ireland said it has not had "a serious issue" with illegal drinking dens during the pandemic.
"However, where we become aware of their existence people should be assured that we will take action against those who flout the law," a PSNI spokesman said.
Of particular concern he said, is the proliferation on social media "of dial-a-drink merchants who are effectively selling alcohol out of the boot of a car to anyone who calls them up".
He added: "This is doing nothing to discourage house parties and is promoting a dangerous game as people take the chance and flout the existing rules."
Mr Neill said closing pubs and curbing off-sales was meant "to curtail the spread of the virus".
Instead, he said, more people are "drinking easily accessible alcohol in uncontrolled environments".
"This is clearly a very dangerous development," he added.
He's right, of course, and it would be no surprise to find out that a lot of it goes on over here too.
*
For those of us who celebrate Christmas, this is going to be a tough year. Whatever you do, don't try to cheat the Covid-19 restrictions. They have spies everywhere -


* * *
HOME FRONT NEWS
Who's up for this?

Is anyone interested in a free helicopter flight for 4 people? I'm looking for 2 people to join us this Saturday 7th November. Plan is to fly early from Heathrow to Poole where we'll have breakfast. We then transfer to a yacht for lunch before flying to Jersey for a bit, before returning to Poole for evening meal. We'll then fly back to Heathrow landing about 10.30pm.
If anyone is interested please let me know...
Preferably someone with a helicopter and a yacht otherwise we can't go......My helicopter and yacht are both in for servicing.

My mate's is still getting married as planned , it should be a great day, lots of food and drink , but as things have worked out it is on the same day that we are supposed to be going away for that lads' weekend, so he has told me to ask around to see if anyone would like to take his place.
Let me know if you're interested.
He said she will be the one in the white dress.
Last night, the wife and I ordered a meal to be delivered from the local Chinese. A short time later I saw a little Chines bloke coming down our path so I walked out to meet him. He started shouting,
"Isolate! Isolate!"
I told him,
"Mate, you're not that late. I only ordered it 20 minutes ago."
Unfortunately, the Chinese wasn't as good as what I cooked the night before. There wasn't much on the supermarket shelves so I diecided to improvise. I made a risotto with some mushrooms I'd foraged locally. Not only was it delicious, soon after a Welsh male voice choir of purple elephants arrived and sang the whole of Queen's Bohemian Rhapsody accompanied by a light show.
After eating together, my wife and I went our separate ways again. She started hoovering while I sat at the computer to write this piece. This annoyed her so much she said that if I didn't get off the computer and help her tidy the place up, she'd slam my head on the keyboard. I thought she was joking but JNGAHTF28543HDY-)(@bHIsa8512375HILOSPRDWEx _

My local pub finally had a new delivery when Boris turned round and decided to close them all down again. I just hope this lot doesn't go to waste -

I finally had my hair cut last week and what a result! You might recall me telling you he'd put his prices up by £3 the last time I went, to compensate for what he'd been losing and the cost of all the sanitising equipment he'd had to buy in. I think he must have felt guilty after the way I reacted and this time charged me what I was paying before he put the price up. Some do say that the hairdressing industry is not expected to recover as during isolation most people have been cutting their own. Like my neighbour, Quentin -


I've noticed that more and more people, some even older than me, are throwing caution to the wind and doing more and more daring things. Some are wing-walking, some climb mountains and some go skydiving. It's not for me. I feel I've achieved something when I get my leg through my underwear without losing my balance. Even so, I still remain positive. For example, yesterday I fell down the stairs. Instead of getting upset about it, I just thought,
"Blimey, that's the fastest I've moved in years!"
My wife says I never listen to her. Or something like that. I did listen when I pointed out a spider on the curtains and she told me not too kill it but to take it out. Glad I listened to her. I took it to the pub and we shared a few beers. Turns out he's a nice bloke and he's a web designer. Like most people, we haven't been out much this year and I've finally plucked up the courage to tell my suitcases there would be no holiday this year. Now I'm having to deal with the emotional baggage.
If the worst comes to the worst and Covid-19 gets me my wife has told me I'll be taken good care of. So that's what she meant.....
Anyhow, I've decided I'm not going to die until I'm 99 and then only by my own hand and after using one of those creams that claim to make you look 100 years younger.
Strangely enough, whilst all the world's been worrying about Covid-19 my health has been generally good. I've had a few operations in the past and the anaesthetist always asked me whether I wanted to be knocked out with gas or a boat paddle. It's was always an ether/oar situation. No operation will save us from Coronavirus so I'm not losing any sleep over it. I'm just longing for the day when normality returns, and it will. Mind you they probably said the same about the Black Death. Anyway, at our age we should worry more about memory loss than Coronavirus -
I know I've been banging on about 'racism' recently but I've just experienced another example of the confusion over what is and isn't racism. I was in a shop when a customer asked the assistant where he could find the Irish sausages. Her response was,
"Are you Irish?"
The bloke was clearly offended by what she said and replied,
"Yes I am but let me ask you something. If I'd asked you about Greek sausages would you have asked me if I was Greek? If I'd asked you about Bratwurst would you have asked me if I was German? If I'd asked you about Kielbasa sausages would you have asked if I was Polish? If I'd asked you where the Kosher hot dogs were would you have asked me if I was Jewish?"
"No I probably wouldn't have!", the assistant retorted.
"Well," said the customer, "Why did you ask me if I was Irish just because I asked where I could find the Irish sausages?"
"Because you're in Halfords", came the reply.
Always look on the bright side of everything, I say. Covid-19 may be killing us off but we do have record low interest rates. Sad to say though, my grief counsellor died the other day and he was so good at his job I didn't even care.
So long until the next time and remember, now is perhaps not the right time to surround yourself with positive people.
Stay bright!
* * *


JOKES OF THE DAY


Two prawns were swimming around in the sea.
One called Justin and the other called Kristian.
The prawns were constantly being harassed and threatened by sharks that inhabited the area:
Finally one day Justin said to Kristian,
"I'm fed up with being a prawn. I wish I was a shark and then I wouldn't have any worries about being eaten."
A large mysterious cod appeared and said,
"Your wish is granted"
Low and behold, Justin turned into a shark.
Horrified, Kristian immediately swam away, afraid of being eaten by his old mate.
Time passed (as it does) and Justin found life as a shark boring and lonely. All his old mates simply swam away whenever he came close to them and he didn't realise that his new menacing appearance was the cause of his sad plight.
While swimming alone one day he saw the mysterious cod again and he thought perhaps the mysterious fish could change him back into a prawn..
He approached the cod and begged to be changed back, and, lo and behold, he found himself turned back into a prawn.
With tears of joy in his tiny little eyes Justin swam to Kristian's home. As he opened the coral gate, memories came flooding back.
He banged on the door and shouted,
"It's me, Justin, your old friend, come out and see me again."
Kristian replied,
"No way man, you'll eat me. You're now a shark, the enemy and I'll not be tricked into being your dinner."
Justin cried back,
"No, I'm not. That was the old me. I've changed.......
I've found Cod. I'm a Prawn again Kristian!!.."
*

During a concert in Belfast by the group U2, lead singer Bono asked the audience for total silence.
Then, in the silence, he started to clap his hands once every few seconds as he said into the microphone,
"Every time I clap my hands, a child in Africa dies."
From the front of the crowd a broad Irish accent broke the silence,
"Well, fecking stop doing it, ya evil bastard!"
*

A German bloke called Helmut approaches a lady of the night in London .

"I vish to buy sex viz you."

"Okay," says the girl, "I charge £50 an hour."

"Ist goot, but I must varn you, I am a little kinky."

"No problem," she replies cautiously, "I can do a little kinky for an extra £10."

Helmut agrees.

So off they go the girl's flat, where the German produces four large bedsprings and a duck caller.

"I vant zat you tie zese springs to each of your hans und knees."

The girl finds this odd, but complies, fastening the springs as requested.

"Now you vill get down on your hans und knees."

This she duly does, balancing precariously on the springs.

"You vill please to blow zis kwacker as I make love to you."

She thinks this even odder, but figures it's harmless (and the bloke is paying).

But the sex is fantastic: honking away on the duck caller, she is bounced all over the room by the energetic German. The climax is the most sensational she has ever experienced, and it is several minutes before she has enough breath to say,
"That was totally amazing! What do you call that position?"

"Zat," replies the German, "is ze Four-sprung Duck Technique.
*

Paddy died. His will provided £40,000 for an elaborate funeral.

As the last guests departed the affair, his wife Colleen turned to her oldest and dearest friend.
"Ah well, Paddy would be pleased," she said.

"You're right," replied Mary, who lowered her voice and leaned in close.

"So go on, how much did this really cost?'"

"All of it," said Colleen. "Forty thousand."

"Aw No!" Mary exclaimed, "I mean, it was very grand, but £40,000?!!!"

Colleen answered,

"The funeral was £6,500. I donated £500 to church. The whiskey, wine and snacks were another £500. The rest went for the Memorial Stone."

Mary computed quickly.

"For the love of God Colleen, £32,500 for a Memorial Stone? How big is it?"
*

* * *


Thoughts For The Day
Glass takes one million years to decompose, which means it never wears out and can be recycled an infinite amount of times.

Gold is the only metal that doesn't rust, even if it's buried in the ground for thousands of years.

Your tongue is the only muscle in your body that is attached at only one end.

Zero is the only number that cannot be represented by Roman numerals.

Peanut oil is used for cooking in submarines because it doesn't smoke unless it's heated above 450F.

Nine out of every 10 living things live in the ocean.

The banana cannot reproduce itself. It can be propagated only by the hand of man.

The University of Alaska spans four time zones.

The tooth is the only part of the human body that cannot heal itself.

In ancient Greece, tossing an apple to a girl was a traditional proposal of marriage. Catching it meant she accepted.

Warner Communications paid 28 million for the copyright to the song Happy Birthday, which was written in 1935.

Intelligent people have more zinc and copper in their hair.

The military salute is a motion that evolved from medieval times, when knights in armour raised their visors to reveal their identity.

If you get into the bottom of a well or a tall chimney and look up, you can see stars, even in the middle of the day.

When a person dies, hearing is the last sense to go. The first sense lost is sight.

The moon moves about two inches away from the Earth each year.

The Earth gets 100 tons heavier every day due to falling space dust.

Due to earth's gravity it is impossible for mountains to be higher than 15,000 meters.

Everything weighs one percent less at the equator.

The letter J does not appear anywhere on the periodic table of the elements.

What happens if you get scared half to death twice?

Did astronomers finally get tired of watching the moon go round the earth for 24 hours and decide to call it a day?


* * *

* * * * *

The Home We Called Sloane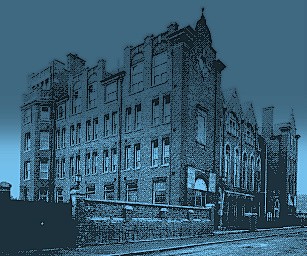 The Sloane building seen from Hortensia Road in 1908

The Sloane building was 100 years old in 2008, although it didn't actually start life as a boys' school until after the First World War, during which it served as a hospital. It still stands and many memories are, no doubt, ingrained in its walls along with the odd name and ribald comment. Who knows what the future holds, despite its Grade II listing on May 7th, 2002. Grade II listed buildings can be altered, extended, or even demolished, but only with Local Authority consent, so it may be that the building is considered historically or architecturally interesting enough for it's fabric to remain untouched. Some consideration may have been given to it having been the first purpose-built secondary school in London, and it is certainly one of only 3% of all ages of listed buildings that was built in the 20th century. Schools generally are seen as a good investment by developers because they're easy to convert. They are likely to be structurally sound because the authorities will have inspected them regularly to ensure they comply with Health and Safety requirements.

Sadly, Sloane Grammar School for Boys only lasted 51 years, from 1919-1970. Sloane old-boy John Binfield, in one of his poems, writes -
... the school, with
All its past, was sucked into a huge
Turbulent sea of glass in Pimlico
And sank without trace. "full fathom five..
Sea nymphs hourly ring his knell.
Hark, now I hear them. Ding-dong bell".
Should the building survive in the form we all remember, there is still a chance that some of us will be around in 2019 to celebrate what would have been its centenary as a boys' school, had it remained in existence.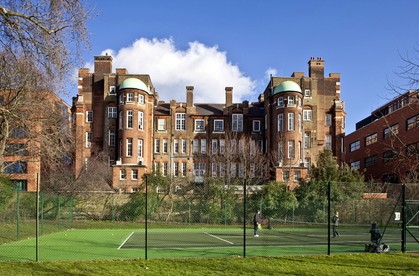 Sloane seen from the rear in 2014
* * *


This Website And The British Library's Web Archive

Please Note: - The school building still remains but not as a school. I've tried to preserve as much of its history and old boys' memories of it as I can, on this website. You might like to know that once I'm no longer around and have shuffled off to that classroom in the sky, this website will remain intact. Once my monthly payments to the Class Creator programmers cease the site will continue but to compensate them for their loss it will display adverts. If you're still around, you'll still be able to Log In to the site and carry on much as you did when I was alive. Naturally, the site will look exactly as it did (apart from the adverts) on the day I died. What will not be possible are any new members, unlikely as that is, as I won't be here to verify they are who they say they are.
In addition, in 2013 , just before the Legal Deposit regulations came into force, I asked to register the website with the British Library's UK Web Archive as one of historical interest and they agreed. So, when none of us are unable to Log In anymore or the Class Creator business ceases to operate, it will still be available for access by our children and grandchildren etc., as well as future historians, at this address -

Web Archiving
The British Library
96 Euston Road
London NW1 2DB
United Kingdom
Tel: +44 (0)20 7412 7184
E-mail: web-archivist@bl.uk
Since 2013, publishers need to give a copy of every UK publication they make to the British Library. Five other major UK libraries may also ask to be given a copy. This system is called legal deposit and it's been a part of English law since 1662.
Print publications for legal deposit can be books, journals, sheet music, maps, plans, charts or tables. Now legal deposit also covers material published digitally such as websites, blogs, e-journals and CD-ROMs.
Legal deposit has many benefits for publishers and authors. The deposited publications can be read inside the British Library and will be preserved for future generations. Their works become part of the nation's heritage, providing inspiration for new books and other publications.
Unfortunately, in the case of websites, the British Library say that much of the information contained in them cannot be archived for technical reasons. In addition, as almost all this website's pages are Password Protected, it will be impossible for them to be accessed unless I remove that restriction. At some point I will give the British Library's 'web crawler' access to our Password Protected pages to allow it to take a 'snapshot' of the site on a daily, weekly, monthly, quarterly or 6-monthly basis. At the time of writing this, 2020, their system doesn't have the capability to crawl and archive private content that sits behind a Log In procedure. They will noever be allowed access to members' Profiles and the personal information they contain.
The current generation of web crawlers cannot capture:
Interactive, dynamically generated content

Content that is only available via a search engine on the website, or some other form submission method

Some types of JavaScript-driven menus

YouTube videos, Flash movies and similar streaming audio or video (some audio and video files can be captured, e.g. those embedded via the standard

HTML5

<video> or <audio> tags).
Unlike static HTML, which is relatively easy to capture, script code is very hard for traditional web crawlers to analyse, which is why the Library runs web browsers for a limited part of their crawls. Even that cannot capture very interactive web sites, like single-page web applications, or any site feature that needs a remote server to function. In practical terms this means that entering queries into the search box of an archived version of a website will not work. Standard links on the website, however, will work as normal.
Some JavaScript driven menus do not function well once archived. YouTube videos, Flash movies, and similar streaming audio or video are also beyond the capability of web crawlers. However, as members of the International Internet Preservation Consortium, contributors to the UK Web Archive are developing tools which will help capture this content in the future.
Attempts are made to gather all of the objects associated with a website including html, images, PDF documents, audio and video files and other objects such as programming scripts. However, the crawler software cannot automatically gather any material that is protected behind a password, without the owner's collaboration. Web site owners may however choose to divulge confidentially a user ID and password to allow archiving of these areas. So, as I said, I'll collaborate with the British Library to allow them to gather only non-invasive non-personal information behind the password protection if and when their archiving system becomes capable of it .
Should you wish to visit the UK Web Archive to see what it makes available for viewing or if you know of a website that you think deserves preservation, use this link -

www.webarchive.org.uk
* * *
Whatever our own personal reasons for it doing so, the school will still haunt most of us even if it disappears altogether. With that tenuous link, here's a poem that I came across in a copy of The Cheynean -

The Ghost of Sloane


When London's asleep and the School very quiet,
No sound of footsteps, no sound of a riot,
No sound of even the shuffle of feet,
No sound of the creak of a pupil's seat,
Out of the darkness the ghost of Sloane
Awakes from rest with a sigh and a groan.
Then up he arises to haunt the School
Climbing the stairs in the guise of a ghoul.
He shuffles and clanks down each corridor
Into the classrooms where stand desks galore.
He examines each desk and checks the boys' work,
Allots ghostly marks in the dark and the murk.

If you ever lose books from out of your desk,
And the teacher upbraids you and calls you a pest,
Just tell him my story, however tall,
Of the white shrouded phantom that haunts the School Hall.

J. Hollingshead (3C)

As for us, the boys who used to attend our Chelsea school, we probably considered ourselves 'Chelsea men' but I doubt that many of fitted the description in this poem, written when he was in the 5th year by one time Sloane Schoolboy, A R Doubledee. I get the impression he didn't particularly approve of the 'Beatniks' of the late 50s and early 60s that he found himself sharing Chelsea with or, as he called them the 'Weirdies' -

The Weirdies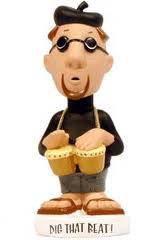 The Chelsea man is excessively queer,
He only drinks coffee and doesn't like beer.
He's always "chatting" the girls, and yet
This seems to make him "one of the set".

His unkempt chin and uncut hair
Go with his feet which are usually bare.
If he wears shoes, they've never got soles,
And he's usually found in Bohemian holes.

His outsize sweater is generally black
Contrasting well with his shorty mac.
He wears his clothing merely to show
That he can keep up with the boys of Soho.

To find a girl he doesn't look far,
But into the nearest coffee bar,
Where he's sure to meet a Bohemian "yob".
They're all from Chelsea - what a mob!

The girls with hair right down their backs
Wear irregular clothes that look like sacks.
They walk about wearing father's sweater:
I really don't see why he should let 'er.

Their gaudy clothes of reds and greens
Match up with the style of their men-friends' jeans.
Now that's how it goes with the latest style:
Girls on their faces make-up pile,
The men wear anything they can find -
I shouldn't stare, I should just act blind!

A.R. Doubledee (5b)
* * *

ANNOUNCEMENTS APPEAR BELOW
ONCE YOU'VE LOGGED IN