Sloane Grammar School boy, if you seek your memorial,
look around you.




DON'T FORGET!! -
PLEASE CHECK THE ANNOUNCEMENTS BOARD AT THE FOOT OF THIS PAGE FOR ANYTHING IMPORTANT and, after you Log In, the CALENDAR OF EVENTS PAGE FOR DETAILS OF FORTHCOMING EVENTS.
If you're having trouble logging in because you've forgotten your Password, click on Forgot Password? inside the Classmate Login box that appears after you click Sign In and you'll be Emailed a link to reset it.

You'll find other helpful tips under REMINDERS below.



The Sloane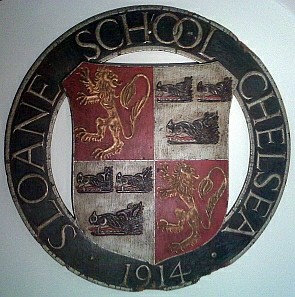 Hello and Welcome to

Mark Foulsham's

Sloane Grammar School website
If I built it I knew you would come

A School that invited loyalty
(Quote by Don Wheal)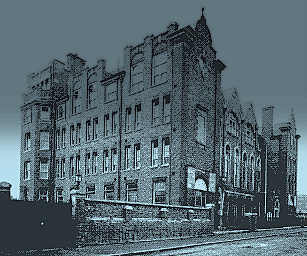 Gone But Not Forgotten
'Men are we, and must grieve when even the shade
Of that which once was great is pass'd away.'

William Wordsworth
On the Extinction of the Venetian Republic

You may think you're done with the past but the past isn't done with you!


"The merits of a school are judged as much by the men it produces as by their achievements as boys" -
(Old Cheynean D.J. Cowie, March 1929)


Register and link up with old school friends again and become part of Sloane Reunited.
If you were a pupil or member of staff at Sloane you qualify to register for the website. Click on Missing Classmates at the top of this page to see if we've been expecting you. If you see your name click on it and follow instructions. If your name's not there click on BECOME A MEMBER to learn more and then click the ADD NAME button to start the ball rolling or click Contact Us at the top of the page, read what you see then complete the box at the bottom of that page to ask me to add your name to the list.
It's Free, it's Easy, it's Secure
and
You're Never Alone As A Sloane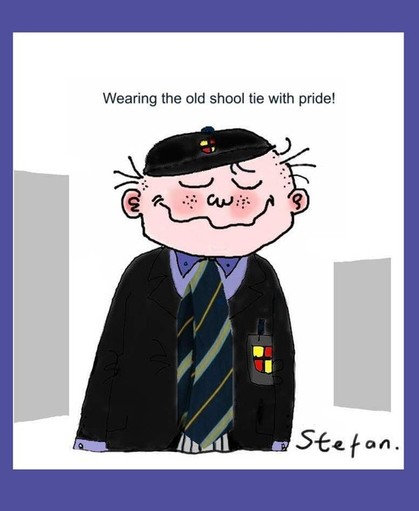 If you're a member, click on an image (


) at the top for more.

Here's what you'll find -

= Messages waiting for you. The red bubble shows how many.

= Website activity. Check for things you may have missed.
= Member functions like Profile, Contact, and Password changes.

AND -

If you're already a member please remember to keep your Email address up to date using Edit Contact Info, to be found by clicking on
the image at the top of the page.

Please don't forget to use the Notify Me page under the
image to make selections that will help you keep in touch as well as help you enjoy all the website has to offer.

You may already have the latest version of Adobe Flash Player but your browser no longer uses it automatically and it will not be supported at all after 31st December, 2020. From that date Google has confirmed it will completely block Flash from being able to run under the Chrome browser as will Mozilla for their Firefox browser and Microsoft for Internet Explorer and Edge. The Members Online feature uses Flashplayer (as do some animations and slideshows) so if it can't be seen clearly in the bottom right of your Home Page, click your mouse on what you can see and you'll be prompted to run Flashplayer. Agreeing will see the Members Online window re-appear. The same applies to animations and slideshows that don't show automatically. Use your Search Engine to search the web for how you allow Flash automatically in the browser you use but some browsers will ignore your choice anyway if you've chosen 'Allow', others, like Opera or Brave, will not. To check how this site handles Flash, click on the Padlock or Not Secure wording that precedes this website's Domain Name in your browser's Address Bar and set Flash to Allow or Ask (default). Click on Site Settings and under Permissions it also shows the same choice. HTML5 (Hypertext Markup Language) is the likely replacement for Flash and hopefully, this website will be converted to it before the deadline for the loss of Flash.

Please remember to Log Out when you leave the site by using the Log Out button to be found under the
image at the top of the page.


AND FINALLY, IF AT ALL POSSIBLE, -
Please let a close relative know of your participation in the Sloane website and show them how to use the Contact Us page to notify me in the sad event of your death. Not only will this allow me to notify other members, it will also put a stop to any website generated emails finding their way to your Inbox. Thank you.
Come on in!
Don't be late!
This is one detention
You'll be pleased to take.


A WARM WELCOME

to fellow Cheyneans and passers-by, from the Official Sloane Grammar School 1919-1970 Old Cheyneans and Friends web site.
Mark Foulsham, at Sloane 1963-70, created this site in August 2008 to record for posterity all that I can, and for all those who attended Sloane or simply have a Sloane connection, to share and enjoy. Feel free just to browse or, if you feel you qualify to join us, make full use of the site by becoming a Registered Classmate. Click on the Click Here to Register button above to start the registration process. It's Free!
I'll also be happy to send a personal invitation to anyone else with a Sloane School Chelsea connection who you think might like to join us. Just enter their Email address in the MISSING CLASSMATES box to your right and click Send Invite.
We may not understand why but memories of our days at Sloane remain with us while others do not. Whether they're good or they're bad, I'd like to give all old boys the opportunity to keep those memories alive.

Aspirations and Objectives

Sloane never had a motto and although our school badge is based on the lion rampant and boar's head of the Cadogan family crest their motto, Qui Invidet Minor Est or He That Envies Is Inferior, is not really appropriate so I'll adopt the one to be found on the Coat of Arms of the Royal Borough of Kensington and Chelsea as it suits us nicely -

Quam Bonum In Unum Habitare

(What A Good Thing It Is To Dwell Together In Unity)
It is hoped, in some small way, to be able to have similar objectives to those stated for the first issue of The Cheynean in December 1926 -

"To record faithfully the major activities of the School, to promote and foster a corporate spirit in the School, to excite a greater keenness both in the games and in other phases of its social life, and to serve as a link between present members of the School and the Old Cheyneans". -

and also to bring together, once again, old friends and classmates, and those of us who have outlived the school and share a common interest in its history and its future.
Sadly, I've no memory of having ever sung or even heard a school song but apparently one was written by music Master Mr Seymour Dicker in 1928, and was first sung in July of that year by pupil J E Bush. What became of it after that first performance is a mystery but it contained the lines -
"Salve, the School and its scholars so keen,
Long may they keep its memory green."
If you've any memories of Sloane you'd like to share, use the Contact Us page to send them in and, whilst you're there, register for the site as well.

Once you've registered, you can activate the Instant Messaging feature that allows you to hold a 'real-time' online conversation with anyone else who has logged on to the website. You can also send a message to someone else on the site via the Message Centre or by using their Profile. Click on their name on the Classmate Profiles page then click on the red 'Send ? a private message' at the top of their Profile.

After you've registered, why not take a look at all the Classmate Profiles ? Even if you don't know the person involved, the information they've put on their Profile can be interesting, illuminating and fun, and often brings back memories of something you thought you'd forgotten about.
If, at any time after becoming a member, you're unsure about anything click on this Using This Site link for an explanation or contact me direct via the Contact Us page.
* * * * * * * *

Why Not Take a Look at Where your Classmates are Living?

Find out the Postcode of a Classmate from their Profile (if they've agreed to let everyone know it) then Click on the link below, enter the details where it says 'Address', then Click on 'Go'. Not every country is covered yet and those that are have limited coverage, but it's worth a try.
Here's the link. Have fun - http://www.vpike.com/



* * * * * * * *






The Sloane News
BREAKING NEWS!
America is now officially great again!

Following the storming of the capitol building by Trump supporters, and in consideration of the last four years of racial tension, diplomatic embarrassment and poor pandemic planning, the USA has now been rubber-stamped as "great".
"We did it, folks," beamed Trump, a mere 24-hours after ignoring all the democratic process of free and fair elections.
"As the lawmakers of Congress emerge from behind their desks, shaking in fear, and as the battered and bloody protestors and police officers limp away from the Capitol building, and as I survey the 361,000 deaths from coronavirus in the most advanced nation on earth, I can say with confidence that America is truly great again."
"Well done, me," concluded Trump, before applauding himself and walking off.
"I mean this doesn't FEEL great," queried one un-named Senator, looking on as cleaners mopped the last of the protestor-urine from his desk in the Capitol building.
"It feels like a bunch of protestors just ran through and ransacked the corridors of power while waving a confederate flag, spurred on by the very man sworn in to preserve, protect and defend the constitution of the United States.
"It also feels like the country is more divided than ever thanks to a man who was elected on a ticket dedicated to division.
"I'm an old man, but I'm sure the definition of 'great' hasn't changed, and we're not great right now, we're limping – some of us quite literally."

*

68 Arrests Made After Capitol Invasion as Mexico And Canada React In Their Own Way
One Trump supporter arrested after being filmed stealing a lectern from the Capitol building during the recent protests insists: "I was only taking a stand".
Mexico has immediately reacted to the Capitol building goings-on by saying it now agress with Donald Trump's thoughts on building a wall between them and the USA. Infact, it now says it will pay for it. Canada says it will follow suit.
I may be wrong but the best wall for America's safety may be the one Trump ends up behind after impeachment.

*
Trump Buys New Trolley After Coming Off His Old One
After confirming that he won't be attending Joe Biden's inauguration, Donald Trump defied the Covid ban and flew to Scotland to spend the last weeks of his term of office at his Turnberry golf course. Critics have noted that he won't be the last megalomaniac despot to end his days in a bunker.
Further bad news arrived for Donald after the Royal and Ancient confirmed theTrump-owned Turnberry golf course in Scotland won't be hosting the Open Championship again until the R&A is "convinced that the focus will be on the championship" and not the course's owner.. The Ayrshire venue has never been considered as host for the championship since Trump bought it in 2014 and host venues have already been chosen up until 2024. This follows hot on the heels of the organisers' decision to strip the Trump National course in Bedminster, New Jersey of its planned hosting of next year's US PGA Championship, saying use of the course would be 'detrimental' to its brand.
*
Covid-19 Latest!

Vaccinations Have Begun!

Whilst the NHS rolls out its Covid-19 vaccination programme, the problem of having to store one of the vaccines at -80° to -60° has now been solved -

*

FRONT PAGE NEWS

Tony Blair Offers Advice on Fighting Covid-19
Tony Blair has today proposed a quick, effective way to get the nation vaccinated based on his tried and tested methods, it has emerged.
The former Prime Minister gave an interview on Sky News the other day in which he criticised the current vaccination programme, saying the only way to achieve your aims is with the illegal use of the military.
"Throw everything at it," he shrugged.
"Just like some Iraqis didn't want us meddling in their affairs, some of the British public don't want to be vaccinated, and to them, I say, well tough."
Winking, he carried on,
"This Coronavairus is truly a 'Virus of Mass Destruction' – geddit? – and I am the best person to offer advice on getting rid of it.
Start off with a few little drone strikes on every house, as a warning shot to enforce compliance among those demonstrating reluctance to toe the line. If they don't come out with their arms outstretched to receive the vaccine then we have to put boots on the ground. And by 'on the ground' I mean kick their door in and get in their houses. Yes, it may be illegal, but in good conscience, I can justify it, and will continue to do so for years afterwards, despite the utter chaos caused by my proposed actions."
Tony Blair is understood to have reached out to his old friend George W. Bush for assistance with the scheme, but the calls kept going to voicemail for some reason.

*
Army Still Unsure Of Its Role In Operation Vaccination


Chaos reigns as the Army starts helping with the UK's vaccination programme and one new recruit misunderstands the order to "deliver the shots".
* * *


FRONT PAGE NEWS
Boris Johnson unveils solution to avoid the impending English Channel gunboat wars of 2021.

With the UK rapidly heading towards January 1st with an Iraqi-style trade deal with the EU and the tabloids screaming about sending gunboats to protect our waters, the Prime Minister has come up with a solution that unsurprisingly involves blue passports.
"I'm a genius," declared a hungover Boris Johnson to reporters this morning.
"You see, due to the sheer childishness of the EU negotiators not giving me exactly what I want in return for nothing, it is looking like we will have no trade deal – I mean, a brilliant Australian-style trade deal with the EU, and as such we need to prepare for war over fish, or something. I don't know exactly, I never read my Prime Ministerial briefs."
He went on,
"It's a matter of sovereignty – British fish for British people! All fish in our waters will be given a tiny blue passport, which John Redwood MP will personally staple to their sides, so that if any nasty Frenchman pulls them out of the water they will be obliged to throw them back in.
They must respect the blue passports of our fish, as nations around the world respect our new blue passports!"
One French fisherman, responded by laughing and saying,
"Hang on, let me get this straight – any fish that goes into British waters is suddenly a British fish to be protected at all costs, but any refugees who goes into British waters is left to drown or is chased away?
It's almost as if Boris Johnson has absolutely no clue about anything."

*
Amazon Expansion Latest

Online retailer Amazon has taken delivery of a new fleet of aircraft for its cargo delivery business. As there were no executives in to take the delivery, the courier just left them behind a bin.
* * *


HOME FRONT NEWS
Another pleasant Christmas is over and my wife's confined the decorations to the shed for another 12 months. Happy New Year to you all. You won't be surprised to hear that my big resolution for this New Year is to stay alive! I only made three others. The first is to lose the 1 stone 5lb I've gained during lockdown last year. Only another 2 stone to go! The second is to stop procrastinating in 2021 but I'll probably wait a week or two before I start. My final resolution for this year is a thoughtful one with my wife in mind. I've resolved not to keep telling her what to do all the time. Tat should please her but I won't tell her about it until she's read through the list of resolutions I wrote down for her.
2021 is to be the year of the vaccination. No sign of mine yet but a couple of my elderly neighbours, both above the age of 80, have had their first one but it did still mean them having to take a bus to one of our local hospitals. It can't be right that people of that age should be expected to do that. I see that some of the more unlucky ones have been queueing only to find they haven't enough vaccines to accommodate them when they get near the front of the queue.
Of all those I've heard about who have contracted Covid-19, including my own daughter and her children, they've all pulled through, eventually. I've barely left the house in the past ten months and I've no intention of doing so unless it's absolutely necessary and can't be avoided. I've come too far and won't be letting the Covidiots spoil it for me.
One of the points surrounding Covid that the people in power keep harping on about is the effect it's going to have on the education of our youngsters. Poppycock! It's a short period in their lives from which they'll recover very quickly and the effect on their formal education will be negligible. In the meantime, they'll learn in other ways and more often than not what they learn will be more important than what they can glean from school. I wish them well but I don't fear for them.
Here's a thought. In 20 years time the country's going to be run by kids who were home-schooled by alcoholics. My Grandson swears he smelt cheap vodka on his teacher's breath and that it was affecting her brain enough to make her sound as if she knew little about her subjects anyway. He's calmed down a bit now we've pointed out to him that it's his mother he's talking about and she's doing her best. Besides which, my Nan used to swear it was the occasional drink that kept her going. She used to say she drank beer for better digestion, white wine to stave off appetite loss, red wine to prevent low blood pressure and scotch when her blood pressure was high. When she had a cold, she used to drink brandy. I asked her once if she ever drank water and she told me she'd never been that sick.
I had a telephone consultation with my doctor last week and did think my own health was improving when he kept avoiding the obvious whilst saying I should touch myself whenever I felt like it. Turned out it was a problem with my hearing aid again when my wife explained to me that what he'd actually said was that I could have a stroke at any time. She's not been too well herself and was complaining about having blisters on her hands from using the broom. Apparently, telling her to take the car nect time wasn't the response she was expecting.

* * *
THOUGHTS OF THE DAY

If you ever feel like your brain is inadequate, spare a thought for this bloke -
*
Thoughts that are unlikely to have ever entered the head of Confucious -

Man who wants pretty nurse must be patient. (A New Year wish for Brian Haynes).

Passionate kiss, like spider web, leads to undoing of fly.

Lady who goes camping with man must beware of evil in tent.

Man who leaps off cliff jumps to conclusion.

Man who runs in front of car gets tired, but man who runs behind car gets exhausted.

Man who eats many prunes get good run for money.

War does not determine who is right; it determines who is left.

It takes many nails to build a crib, but only one screw to fill it.

Wise man does not keep sledge hammer and slow computer in same room.

Man who lives in glass house should change clothes in basement.
* * *
JOKES OF THE DAY
An Irish priest is driving along a country road when a policeman pulls him over. He immediately smells alcohol on the priest's breath and notices an empty wine bottle in the car.
He says: "Have you been drinking?"
"Just water," says the priest.
The cop replies: "Then why do I smell wine?"
The priest looks at the bottle and says: "Good Lord! He's done it again!"
*
A sobbing Ms Murphy approaches Father O'Grady after mass.
He says: "So what's bothering you?"
She replies: "Oh, Father, I've terrible news. My husband passed away last night."
The priest says: "Oh, Mary, that's terrible. Did he have any last requests?"
"Certainly father," she replied. "He said: "Please Mary, put the gun down."
*
Dr O'Mahony tells his patient: "I have bad news and worse news, John."
"Oh dear," John replies. "What's the bad news?"
The doctor replies: "You only have 24 hours to live."
"That's terrible," says the patient. "How can the news possibly be worse?"
Dr O'Mahony replies: "I've been trying to contact you since yesterday."
*
Two Irishmen were working in the public works department. One would dig a hole and the other would follow behind him and fill the hole in.
After a while, one amazed onlooker said: "Why do you dig a hole, only to have your partner follow behind and fill it up again?"
The hole digger wiped his brow and sighed, "Well, I suppose it probably looks odd because we're normally a three-person team. But today the lad who plants the trees called in sick."
*
Billy stops Paddy in Dublin and asks for the quickest way to Cork.
Paddy says: "Are you on foot or in the car?"
Billy replies: "In the car."
"Well that's the quickest way," says Paddy.
*

A man decides to leave his wife so writes her a letter -
Dear Wife,
I'm writing you this letter to tell you that I'm leaving you for good. I've been a good man to you for seven years and I have nothing to show for it. These last two weeks have been hell. Your boss called to tell me that you had quit your job today and that was the last straw. Last week, you came home and didn't even notice that I'd had a new hair cut, cooked your favourite meal, and even wore a brand new pair of silk boxers later that night. You came home, nibbled at your food for two minutes, and went straight to sleep after watching all of your soaps. You don't tell me you love me anymore, You don't want sex anymore or anything. Either you're cheating on me or you don't love me. Whichever is the case,… I'm gone.
Signed, Your EX-Husband
P.S. Don't try to find me. Your sister and I are moving away to Birmingham together. Have a great life!
His wife writes back -
Dear Ex-Husband,
Nothing has made my day more enjoyable than receiving your letter. It's true that you and I have been married for seven years, although a 'good man' is a long way from what you've been. I watch my soaps so much because they drown out your constant whining and griping. It's just too bad it doesn't work. Yes, I did notice when you got a hair cut last week, and actually the first thing that came to my mind was "You look just like a girl" but my mother raised me not to say anything at all if you can't say anything nice. And when you cooked my favourite meal, you must have got me confused with my SISTER, because I stopped eating pork seven years ago. I turned away from you when you had those new silk boxers on because the price tag was still on them. I prayed that it was just a coincidence that my sister had just borrowed fifty dollars from me that morning and your silk boxers were $49.99… After all of this, I still loved you and felt that we could work it out. So when I discovered that I had won the Lotto for twenty million pounds, I quit my job and bought us two tickets to Hawaii. But when I got home you were gone. Everything happens for a reason I guess. I hope you have the fulfilling life you've always wanted. My solicitor said that after the letter that you wrote, you won't get a penny from me. So take care.
Signed: Rich As Hell and Freeeeeeeeeeee!
P.S. I don't know if I ever told you this but my sister 'Carla' was born Carl. I hope that's not a problem for you.
* * *

* * * * *

The Home We Called Sloane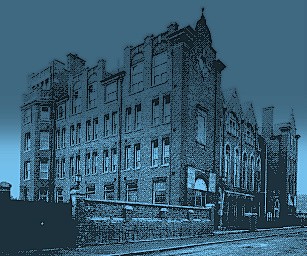 The Sloane building seen from Hortensia Road in 1908

The Sloane building was 100 years old in 2008, although it didn't actually start life as a boys' school until after the First World War, during which it served as a hospital. It still stands and many memories are, no doubt, ingrained in its walls along with the odd name and ribald comment. Who knows what the future holds, despite its Grade II listing on May 7th, 2002. Grade II listed buildings can be altered, extended, or even demolished, but only with Local Authority consent, so it may be that the building is considered historically or architecturally interesting enough for it's fabric to remain untouched. Some consideration may have been given to it having been the first purpose-built secondary school in London, and it is certainly one of only 3% of all ages of listed buildings that was built in the 20th century. Schools generally are seen as a good investment by developers because they're easy to convert. They are likely to be structurally sound because the authorities will have inspected them regularly to ensure they comply with Health and Safety requirements.

Sadly, Sloane Grammar School for Boys only lasted 51 years, from 1919-1970. Sloane old-boy John Binfield, in one of his poems, writes -
... the school, with
All its past, was sucked into a huge
Turbulent sea of glass in Pimlico
And sank without trace. "full fathom five..
Sea nymphs hourly ring his knell.
Hark, now I hear them. Ding-dong bell".
The exterior of the building still survives in the form we all remember even if the interior doesn't. It would have been wonderful to have been able to celebrate, in 2019, what would have been its centenary as a boys' school, had it remained in existence as such. Unfortunately, for us, it wasn't to be, and the Covid-19 pandemic that gripped the world in 2020 and beyond didn't allow for a late celebration either . Maybe one day......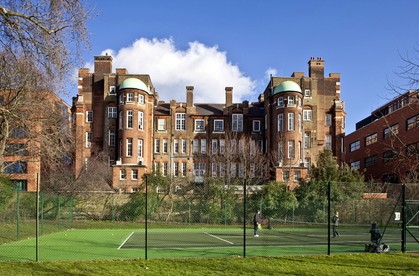 Sloane seen from the rear in 2014
* * *


This Website And The British Library's Web Archive

Please Note: - The school building still remains but not as a school. I've tried to preserve as much of its history and old boys' memories of it as I can, on this website. You might like to know that once I'm no longer around and have shuffled off to that classroom in the sky, this website will remain intact. Once my monthly payments to the Class Creator programmers cease the site will continue but to compensate them for their loss it will display adverts. If you're still around, you'll still be able to Log In to the site and carry on much as you did when I was alive. Naturally, the site will look exactly as it did (apart from the adverts) on the day I died. What will not be possible are any new members, unlikely as that is, as I won't be here to verify they are who they say they are.
In addition, in 2013 , just before the Legal Deposit regulations came into force, I asked to register the website with the British Library's UK Web Archive as one of historical interest and they agreed. So, when none of us are unable to Log In anymore or the Class Creator business ceases to operate, it will still be available for access by our children and grandchildren etc., as well as future historians, at this address -

Web Archiving
The British Library
96 Euston Road
London NW1 2DB
United Kingdom
Tel: +44 (0)20 7412 7184
E-mail: web-archivist@bl.uk
Since 2013, publishers need to give a copy of every UK publication they make to the British Library. Five other major UK libraries may also ask to be given a copy. This system is called legal deposit and it's been a part of English law since 1662.
Print publications for legal deposit can be books, journals, sheet music, maps, plans, charts or tables. Now legal deposit also covers material published digitally such as websites, blogs, e-journals and CD-ROMs.
Legal deposit has many benefits for publishers and authors. The deposited publications can be read inside the British Library and will be preserved for future generations. Their works become part of the nation's heritage, providing inspiration for new books and other publications.
Unfortunately, in the case of websites, the British Library say that much of the information contained in them cannot be archived for technical reasons. In addition, as almost all this website's pages are Password Protected, it will be impossible for them to be accessed unless I remove that restriction. At some point I will give the British Library's 'web crawler' access to our Password Protected pages to allow it to take a 'snapshot' of the site on a daily, weekly, monthly, quarterly or 6-monthly basis. At the time of writing this, 2020, their system doesn't have the capability to crawl and archive private content that sits behind a Log In procedure. They will noever be allowed access to members' Profiles and the personal information they contain.
The current generation of web crawlers cannot capture:
Interactive, dynamically generated content

Content that is only available via a search engine on the website, or some other form submission method

Some types of JavaScript-driven menus

YouTube videos, Flash movies and similar streaming audio or video (some audio and video files can be captured, e.g. those embedded via the standard

HTML5

<video> or <audio> tags).
Unlike static HTML, which is relatively easy to capture, script code is very hard for traditional web crawlers to analyse, which is why the Library runs web browsers for a limited part of their crawls. Even that cannot capture very interactive web sites, like single-page web applications, or any site feature that needs a remote server to function. In practical terms this means that entering queries into the search box of an archived version of a website will not work. Standard links on the website, however, will work as normal.
Some JavaScript driven menus do not function well once archived. YouTube videos, Flash movies, and similar streaming audio or video are also beyond the capability of web crawlers. However, as members of the International Internet Preservation Consortium, contributors to the UK Web Archive are developing tools which will help capture this content in the future.
Attempts are made to gather all of the objects associated with a website including html, images, PDF documents, audio and video files and other objects such as programming scripts. However, the crawler software cannot automatically gather any material that is protected behind a password, without the owner's collaboration. Web site owners may however choose to divulge confidentially a user ID and password to allow archiving of these areas. So, as I said, I'll collaborate with the British Library to allow them to gather only non-invasive non-personal information behind the password protection if and when their archiving system becomes capable of it .
Should you wish to visit the UK Web Archive to see what it makes available for viewing or if you know of a website that you think deserves preservation, use this link -

www.webarchive.org.uk
* * *
Whatever our own personal reasons for it doing so, the school will still haunt most of us even if it disappears altogether. With that tenuous link, here's a poem that I came across in a copy of The Cheynean -

The Ghost of Sloane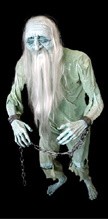 When London's asleep and the School very quiet,
No sound of footsteps, no sound of a riot,
No sound of even the shuffle of feet,
No sound of the creak of a pupil's seat,
Out of the darkness the ghost of Sloane
Awakes from rest with a sigh and a groan.
Then up he arises to haunt the School
Climbing the stairs in the guise of a ghoul.
He shuffles and clanks down each corridor
Into the classrooms where stand desks galore.
He examines each desk and checks the boys' work,
Allots ghostly marks in the dark and the murk.

If you ever lose books from out of your desk,
And the teacher upbraids you and calls you a pest,
Just tell him my story, however tall,
Of the white shrouded phantom that haunts the School Hall.

J. Hollingshead (3C)

As for us, the boys who used to attend our Chelsea school, we probably considered ourselves 'Chelsea men' but I doubt that many of fitted the description in this poem, written when he was in the 5th year by one time Sloane Schoolboy, A R Doubledee. I get the impression he didn't particularly approve of the 'Beatniks' of the late 50s and early 60s that he found himself sharing Chelsea with or, as he called them the 'Weirdies' -

The Weirdies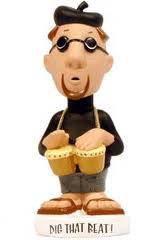 The Chelsea man is excessively queer,
He only drinks coffee and doesn't like beer.
He's always "chatting" the girls, and yet
This seems to make him "one of the set".

His unkempt chin and uncut hair
Go with his feet which are usually bare.
If he wears shoes, they've never got soles,
And he's usually found in Bohemian holes.

His outsize sweater is generally black
Contrasting well with his shorty mac.
He wears his clothing merely to show
That he can keep up with the boys of Soho.

To find a girl he doesn't look far,
But into the nearest coffee bar,
Where he's sure to meet a Bohemian "yob".
They're all from Chelsea - what a mob!

The girls with hair right down their backs
Wear irregular clothes that look like sacks.
They walk about wearing father's sweater:
I really don't see why he should let 'er.

Their gaudy clothes of reds and greens
Match up with the style of their men-friends' jeans.
Now that's how it goes with the latest style:
Girls on their faces make-up pile,
The men wear anything they can find -
I shouldn't stare, I should just act blind!

A.R. Doubledee (5b)
* * *

ANNOUNCEMENTS APPEAR BELOW
ONCE YOU'VE LOGGED IN