Sloane Grammar School boy, if you seek your memorial,
look around you.




DON'T FORGET!! -
PLEASE CHECK THE ANNOUNCEMENTS BOARD AT THE FOOT OF THIS PAGE FOR ANYTHING IMPORTANT and, after you Log In, the CALENDAR OF EVENTS PAGE FOR DETAILS OF FORTHCOMING EVENTS.
If you're having trouble logging in because you've forgotten your Password, click on Forgot Password? inside the Classmate Login box that appears after you click Sign In and you'll be Emailed a link to reset it.

You'll find other helpful tips under REMINDERS below.



The Sloane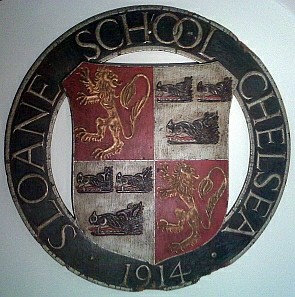 Hello and Welcome to

Mark Foulsham's

Sloane Grammar School website
If I built it I knew you would come

A School that invited loyalty
(Quote by Don Wheal)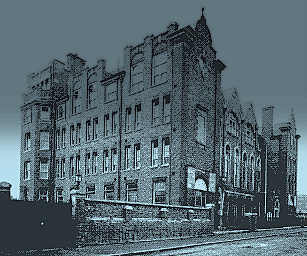 Gone But Not Forgotten
'Men are we, and must grieve when even the shade
Of that which once was great is pass'd away.'

William Wordsworth
On the Extinction of the Venetian Republic

You may think you're done with the past but the past isn't done with you!


"The merits of a school are judged as much by the men it produces as by their achievements as boys" -
(Old Cheynean D.J. Cowie, March 1929)


Register and link up with old school friends again and become part of Sloane Reunited.
If you were a pupil or member of staff at Sloane you qualify to register for the website. Click on Missing Classmates at the top of this page to see if we've been expecting you. If you see your name click on it and follow instructions. If your name's not there click on BECOME A MEMBER to learn more and then click the ADD NAME button to start the ball rolling or click Contact Us at the top of the page, read what you see then complete the box at the bottom of that page to ask me to add your name to the list.
It's Free, it's Easy, it's Secure
and
You're Never Alone As A Sloane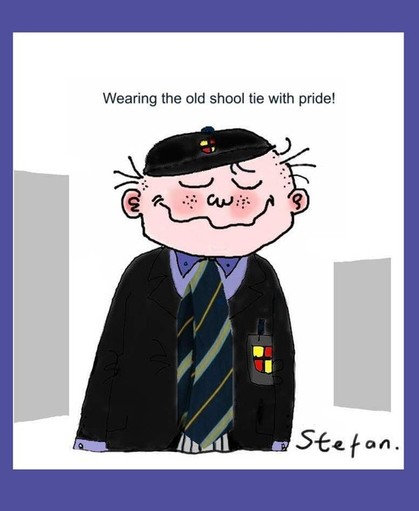 If you're a member, click on an image (


) at the top for more.

Here's what you'll find -

= Messages waiting for you. The red bubble shows how many.

= Website activity. Check for things you may have missed.
= Member functions like Profile, Contact, and Password changes.

AND -

If you're already a member please remember to keep your Email address up to date using Edit Contact Info, to be found by clicking on
the image at the top of the page.

Please don't forget to use the Notify Me page under the
image to make selections that will help you keep in touch as well as help you enjoy all the website has to offer.

You may already have the latest version of Adobe Flash Player but your browser no longer uses it automatically and it will not be supported at all after 31st December, 2020. From that date Google has confirmed it will completely block Flash from being able to run under the Chrome browser as will Mozilla for their Firefox browser and Microsoft for Internet Explorer and Edge. The Members Online feature uses Flashplayer (as do some animations and slideshows) so if it can't be seen clearly in the bottom right of your Home Page, click your mouse on what you can see and you'll be prompted to run Flashplayer. Agreeing will see the Members Online window re-appear. The same applies to animations and slideshows that don't show automatically. Use your Search Engine to search the web for how you allow Flash automatically in the browser you use but some browsers will ignore your choice anyway if you've chosen 'Allow', others, like Opera or Brave, will not. To check how this site handles Flash, click on the Padlock or Not Secure wording that precedes this website's Domain Name in your browser's Address Bar and set Flash to Allow or Ask (default). Click on Site Settings and under Permissions it also shows the same choice. HTML5 (Hypertext Markup Language) is the likely replacement for Flash and hopefully, this website will be converted to it before the deadline for the loss of Flash.

Please remember to Log Out when you leave the site by using the Log Out button to be found under the
image at the top of the page.


AND FINALLY, IF AT ALL POSSIBLE, -
Please let a close relative know of your participation in the Sloane website and show them how to use the Contact Us page to notify me in the sad event of your death. Not only will this allow me to notify other members, it will also put a stop to any website generated emails finding their way to your Inbox. Thank you.
Come on in!
Don't be late!
This is one detention
You'll be pleased to take.


A WARM WELCOME

to fellow Cheyneans and passers-by, from the Official Sloane Grammar School 1919-1970 Old Cheyneans and Friends web site.
Mark Foulsham, at Sloane 1963-70, created this site in August 2008 to record for posterity all that I can, and for all those who attended Sloane or simply have a Sloane connection, to share and enjoy. Feel free just to browse or, if you feel you qualify to join us, make full use of the site by becoming a Registered Classmate. Click on the Click Here to Register button above to start the registration process. It's Free!
I'll also be happy to send a personal invitation to anyone else with a Sloane School Chelsea connection who you think might like to join us. Just enter their Email address in the MISSING CLASSMATES box to your right and click Send Invite.
We may not understand why but memories of our days at Sloane remain with us while others do not. Whether they're good or they're bad, I'd like to give all old boys the opportunity to keep those memories alive.

Aspirations and Objectives

Sloane never had a motto and although our school badge is based on the lion rampant and boar's head of the Cadogan family crest their motto, Qui Invidet Minor Est or He That Envies Is Inferior, is not really appropriate so I'll adopt the one to be found on the Coat of Arms of the Royal Borough of Kensington and Chelsea as it suits us nicely -

Quam Bonum In Unum Habitare

(What A Good Thing It Is To Dwell Together In Unity)
It is hoped, in some small way, to be able to have similar objectives to those stated for the first issue of The Cheynean in December 1926 -

"To record faithfully the major activities of the School, to promote and foster a corporate spirit in the School, to excite a greater keenness both in the games and in other phases of its social life, and to serve as a link between present members of the School and the Old Cheyneans". -

and also to bring together, once again, old friends and classmates, and those of us who have outlived the school and share a common interest in its history and its future.
Sadly, I've no memory of having ever sung or even heard a school song but apparently one was written by music Master Mr Seymour Dicker in 1928, and was first sung in July of that year by pupil J E Bush. What became of it after that first performance is a mystery but it contained the lines -
"Salve, the School and its scholars so keen,
Long may they keep its memory green."
If you've any memories of Sloane you'd like to share, use the Contact Us page to send them in and, whilst you're there, register for the site as well.

Once you've registered, you can activate the Instant Messaging feature that allows you to hold a 'real-time' online conversation with anyone else who has logged on to the website. You can also send a message to someone else on the site via the Message Centre or by using their Profile. Click on their name on the Classmate Profiles page then click on the red 'Send ? a private message' at the top of their Profile.

After you've registered, why not take a look at all the Classmate Profiles ? Even if you don't know the person involved, the information they've put on their Profile can be interesting, illuminating and fun, and often brings back memories of something you thought you'd forgotten about.
If, at any time after becoming a member, you're unsure about anything click on this Using This Site link for an explanation or contact me direct via the Contact Us page.
* * * * * * * *
Why Not Take a Look at Where your Classmates are Living?

Find out the Postcode of a Classmate from their Profile (if they've agreed to let everyone know it) then Click on the link below, enter the details where it says 'Address', then Click on 'Go'. Not every country is covered yet and those that are have limited coverage, but it's worth a try.
Here's the link. Have fun - http://www.vpike.com/



* * * * * * * *






The Sloane News
Breaking News!
Government Confirms Decision Regarding Delay In Next Year's Exams To Be Delayed Until Next Year's Exams



The Government has confirmed today that the decision regarding a delay in next year's exams for millions of GSCE and A-level students is to be delayed until just before next year's exams.
With millions of students returning to full-time education this week for the first time since March, Secretary of State for Education Gavin Williamson, who has faced urgent calls for clarification over exam timetables next year, moved to reassure teachers that a decision will now be made, probably next year.
Speaking earlier today he told me,
"We can categorically confirm that there will indeed be a delay, until next year's exams when we will look to provide teachers and students with urgent clarification surrounding the timing of exams with potentially days to spare.
In line with my traditional approach around such life-changing issues affecting millions of students, I will, of course, provide little or no guidance to deal with the matter, and then look to shift the blame entirely closer to the time, providing I'm still in a job by then, obviously.
Whilst the news may be disappointing for some people looking for a more urgent decision on the matter, they can take comfort in the fact that there will not be another humiliating u- turn, I don't think. Probably."
One Headteacher welcomed the news this morning,
"Well this is great. Now we can begin planning for exams which we don't know will even happen, at a future time yet to be decided, and with a continued lack of funding and resourses with which to prepare."

*

Another One Bites The Dust!

Sympathy calls have been trickling in after desperately unlucky Russian President Vladimir Putin loses yet another opponent to poisoning.
As world leaders across the globe manage to do political battle with numerous foes without any of them succumbing to unknown poisons, the unfortunate Putin appears to have yet another one fall to poisoning while on a flight to Moscow.
A Russian government spokesperson told me,
"Vladimir was looking forward to the ongoing debate with Alexei Navalny on the political battlefield, but unfortunately the cruel hand of fate has deprived him of that victory. It is so desperately unlucky that these political opponents and critics keep falling in mysterious circumstances before Vladimir can defeat them in the court of public opinion of our homeland.
Each time one of them dies, another opportunity is lost for Vladimir to demonstrate what a great political leader he is. Vladimir is truly the most unlucky leader in the world.
You know, it would be nice if one of them could live for more than a few months and face Vladimir at the ballot box. I guess we should all keep our fingers crossed for whoever decides to challenge him next.
Anyone?"
*
God Bless America!!

In these troubled times can we please spare a thought for the USA. What with riots, tornadoes, floods, fires and an idiot for a President, it's having so much bad luck it's almost as if it was built on an ancient Indian burial ground.

*

God Bless Her Majesty!!

With so much unprecedented time on her hands due to Covid-19 and her enforced isolation, Her Majesty the Queen has been looking to liven up the next State Opening of Parliament and, in case she's no longer around when the time comes, she invited Prince Charles along to accompany her in her preparations -
*


Adele accused of cultural appropriation by Brummies for the dour miserabilism of her songs
Social media has once again exploded in acrimonious debate after Birmingham residents have accused pop singer Adele of using their well known glum joyless approach to life in her music but without giving proper credit to the culture it stemmed from.
Adele's anthems to hopelessness and despair are seen by many Brummies as direct theft of the city's famous despondency. As explained one sunken-faced resident,
"Don't get me wrong. We want Brummie culture to spread far and wide and have people worldwide know about our many canals that we stare at with sullen faces for hours on end. But Adele's songs don't even mention the Bull Ring without bulls or Cadburys, yet they make you see life as grey drudgery that slowly chokes the human spirit. That's the Birmingham spirit right there, and we're tired of seeing people stealing it from us.
We're not gatekeeping. We don't want Adele to be happy or welcome the future. We just want her to give credit to her musical inspiration. Maybe after singing Hello she could get into an argument with someone who refuses to believe we're Britain's second city because it feels odd even after you google it.
Or maybe she could make a video highlighting our world-famous poorly designed motorway junction and how eugenics is a Brummie invention."
This is not the first time Brummies have been outraged at the lack of respect for their traditions. The star of the hit TV series Peaky Blinders, Irish heartthrob Cillian Murphy, was famously taken to task for adopting a Birmingham accent but forgetting to come across like a constantly startled dimwit.

*
BBC hampered in attempts to introduce more right-wing comedy as Cabinet Ministers continue to refuse to be interviewed
The BBC has admitted it is hamstrung in its attempts to broadcast more right-wing comedy due to the continued refusal of Cabinet ministers to appear on their news channels.
As calls continue for less left-wing comedy to appear on the national broadcaster's airwaves, and for more humour to come from right-wing sources, the BBC has admitted it has tried. It has really tried.
A BBC spokesperson told me,
"We have heard the calls for more right-wing comedy, and not a day goes by when we don't try to get one of the hilarious Tory Cabinet Ministers in front of our viewers. We recognise that the combination of Tory ministers facing pointed questions about their ineptitude has long been a comedy staple for our viewers, but we can only apologise that we've not been able to bring them more of that content recently.
Who could forget our hilarious coverage of a flag-waving Boris Johnson dangling from a zipwire, or Boris Johnson hiding in a fridge to avoid difficult questions. We would dearly love to bring our viewer more right-wing comedy of this type, but unfortunately the stars of the show would prefer to work with other broadcasters. We've tried, we promise!"
Meanwhile, viewers have insisted that the BBC licence fee is worth it even if they only get to see right-wing comedy during TV specials such as 'The Election' and 'Coronavirus Daily Updates'.
"The Tory ministers are my absolute favourite TV entertainers," explained one comedy fan.
"Chris Grayling is the best TV funnyman since Frank Spencer."
* * *

Covid-19 Update

Government Finally Realises Working From Home Is Not Always Practical

The Government has announced that it is shelving plans to allow members of the Armed Forces to work from home during the pandemic as they've received a tip-off that the Navy are using it as an excuse to play games -
However, they have joined forces with one well known toy manufacturer to give everyone advice on what to do if should a Covid-19 spike ever occur -
*

Travelling Light On Expectation



It has been revealed that UK citizens are having to travel so far for coronavirus tests, they are having to quarantine upon their return.
Prioritising testing in high-risk areas has led to shortages in other places, leading to some people with symptoms being asked to drive hundreds of miles for a swab.
One has told me said,
"I had a bit of a temperature and started coughing, so I thought I'd go get tested as I definitely want the kids back in school as I can't take any more Roblox music in the background of my life.
So I looked up my nearest testing centre: Prague, and we all packed everything up and drove straight there, not even stopping at a service station. Unfortunately, it turns out Prague has recently been added to the UK quarantine list.
So now we're back, completely free of Covid-19 it turns out, thanks to the test results, but also having to isolate for 14 days solely because we went so far to the testing centre.
So now I've got to put up with the kids for longer than expected.
Once this isolation is over, I'm going to need a holiday.
Portugal looks nice."

*
New Covid-19 Advice!

Government Unveil Plan To Help School Leavers Find Work

The Government has admitted the effect of Covid-19 on the economy and jobs will be disastrous. In an attempt to make life a little easier for school leavers the Secretary of State for Work and Pensions has been touring the country looking for towns that are too small to have their own drunk and villages that are too small to have their own idiot and have written to schools advertising the vacancies.
Those pupils who leave school this year with grades too low to get them into university or find employment, are being invited to apply. To encourage applicants, accommodation is to be included in the package but availability will depend on other inhabitants losing their homes once eviction is back on the agenda or a surge in deaths from coronavirus.
A Government spokesperson said,
"Someone has to suffer but we firmly believe this country's children are our future and we will continue to do all we can to give them the start in life we know they deserve."
*

Think Positively!

A government think tank has advised us all to think positively during these unprecedented times. If quarantine gets you down, just remember that if it hadn't been for quarantine Rapunzel would never have met her future husband.


FRONT PAGE NEWS

Covid-19 Latest!

Are Spanish Government To Blame?

Spanish actor Antonio Banderas has tested positive for Coronavirus. He blames the poor choice of masks advised by his goverment -
It may turn out not to be the fault of the Spanish government but I also have difficulty coming to terms with the fact that the chances of me surviving the pandemic seem to be linked to the commonsense of others. I can't say I'm confident.

*
Don't Give Up On The Dream

Just because your holiday's had to be cancelled because of the coronavirus, it doesn't mean you have to give up on the dream -
*


Elderly Grandmother Arrested For Being Drunk In Charge Of A Bike
90-year-old Daisy Thomas was arrested yesterday after Police received reports of an elderly woman riding a bicycle unsteadily and cycling through a few red lights. When questioned, she said in her defence,
"I cycled to the shop to buy a bottle of gin but then I thought, what if I fall off my bike and the bottle gets broken? So, cleverly, I drank it all outside the shop. Good thing I did too, I fell off my bike seven times on my way home."

*
Council Agrees With Wife's Coice Of Bench Plaque In Husband's Memory

Oswaldtwiststle Council have agreed to allow a bereaved woman to place a plaque in her husband's memory on one of their park benches. It was only agreed after much council deliberation and a show of hands to see how many of their members he'd slept with -
HOME FRONT NEWS


Just when you thought nothing else could go wrong this year..........

I started out by seeing the coronavirus quarantine as an opportunity to improve my health but by Day two, due to personal reasons, I was eating lasagne in my shower.
One friend of mine was quite excited about the thought of working from home but his excitement soon subsided when he looked in the mirror a day later -
I ventured out to the pub for the first time in months and almost immediately regretted it as the situation I found myself in could have turned nasty. I was standing at the bar when a little Chinese bloke came in and stood a little too close for comfort and social distancing values. He picked up a beer and started drinking. I said to him,
"Do you know any martial arts like Kung Fu, Ju-Jitsu, Judo or Karate?"
"No. Why you ask me that?" he said. "Is it coz I Chinese?"
"No", I said. "It's because you're drinking my bloody pint!"
On the final day of the Government's 'Eat To Help Out' scheme the wife and I ventured out to the same Wetherspoon's pub at the top of our road and after half an hour's queuing were shown to our table. I must say, the organisation and work put in by their staff was a joy to behold and the staffing level was high. Less of a joy, initially, was the skill of the people manning their restaurant but they were brave enough to tell us that, after waiting 20 minutes for the food to arrive, there'd been an accident and the person carrying our dinner out had slipped and the lot had gone up into the air. When it finally did arrive we had to assume it was a freshly cooked meal and the original hadn't been scooped up from the floor and neatly arranged on the plate. That was probably impossible with my wife's lasagne but not so my large mixed grill. Whatever the case, the food was lovely and such good value. All credit to Wetherspoon's and others like them who have decided to carry on with discounted meals even though the scheme has officially come to an end.
During lockdown I've begun writing a novel for the post-coronavirus market. I've not written much yet but you'll get the idea -
Hands glistening with sanitizer, he reached out and gently removed her mask. As he pressed closer against her, she felt a certain stiffness near his trouser pocket.
"Is that what I think it is?" she asked, breathlessly.
"Yes", he replied. "I brought along my digital thermometer in case I need to take your temperature."
"You're not going to get the chance", she whispered. "At least not until social distancing rules are relaxed."
We've had my son's teacher girlfriend staying with us until she restarts work, and she's started a trend in our house by labeling all the food she buys before putting it in the fridge. I find it confusing. I went to the fridge looking for something to eat and ended up with a tuna sandwich called Julie.
Going to the fridge reminded me how much I miss our late dog. You see, I'd trained him to fetch beer. Now, that may not sound too impressive but he used to get them from my neighbour's fridge.
I've felt as if old age has crept up on me somewhat during lockdown as I've become a little accident prone but I believe it takes real skill to fall up stairs, to choke on air and to trip over absolutely nothing. I have this skill!

* * *


JOKES OF THE DAY

A man escapes from the prison he's been locked up in for 15 years. He breaks into a house to steal anything that might aid his escape. Inside, he finds a young couple in bed. He orders the man to get out of bed and ties him to a chair. He then ties the woman to the bed and gets on top of her, kisses her neck then gets up and goes into the en suite bathroom.
While he's in there, the husband whispers over to his wife,
"Listen, this bloke is an escaped convict. Look at his clothes! He's probably spent a lot of time inside and hasn't seen a woman in years. I saw how he kissed your neck. If he wants sex, don't resist, just do whatever he tells you. Satisfy him no matter how much it really nauseates you. He's obviously very dangerous and if he gets angry he'll probably kill us both. Be strong, darling. I love you!"
His wife whispers back,
"He wasn't kissing my neck. He was whispering in my ear. He said he's gay, thinks you're cute and asked me if we had any vaseline. I told him it was in the bathroom. Be strong, darling. I love you too!"

*
*

Little Sue wasn't the best student in Sunday school and usually slept through the class. One day the teacher called her name while she was napping and said,
"Tell me Sue, who created the universe?"
Sue didn't stir so little Johnny, sitting behind her, took a pin and jabbed it in her backside.
"God Almighty!" shouted Sue.
"Very good", said the teacher as Sue was falling back to sleep. A while later she called on Sue again and asked,
"Who is our Lord and Saviour?"
Seeing she wasn't going to wake up, little Johnny once again jabbed her with his pin.
"Jesus Christ!" cried Sue.
"Very good", the teacher said once again, and Sue fell back to sleep.
A short while later, the teacher asked Sue a third question,
"What did Eve say to Adam after she'd had her twenty-third child?"
Again, Johnny stuck the pin in her. She jumped up and said,
"If you stick that bloody thing in me once more, I'll break it in half and stick it up your arse!"

*

A young kid from the west countrygoes to a big "everything under one roof" department store in London looking for a job.
The Manager says,
"Do you have any sales experience?"
The kid says,
"Yeah. I sold vacuum cleaners for a while."
Well, the boss was unsure but he liked the kid so he gave him the job.
"You start tomorrow. I'll come down after we close and see how you did."
His first day on the job was rough, but he got through it. After the store was locked up, the boss came down to the sales floor and asked,
"How many customers bought something from you today?"
The kid frowns and looks at the floor and mutters,
"One".
The boss says,
"Just one?!!? Our sales people average sales to 20 to 30 customers a day. That will have to change, and very quickly, if you'd like to continue your employment here. We have very strict standards for our sales people here. One sale a day might have been acceptable out in the country, but you're not on the farm anymore, son."
The kid took his talking-to, but continued to look at his shoes, so the boss felt he'd been a little harsh on him on his first day. He asked (semi-sarcastically),
"So, how much was your one sale for?"
The kid looks up at his boss and says "£101,237.65".
The boss, astonished, says £101,237.65?!? What the heck did you sell?"
The kid says,
"Well, first, I sold him some new fish hooks. Then I sold him a new fishing rod to go with his new hooks. Then I asked him where he was going fishing and he said down to Littlehampton. I told him he was going to need a boat, so we went down to the boat department and I sold him a twin engine Chris Craft. Then he said he didn't think his Honda Civic would pull it, so I took him down to the car department and sold him that 4x4 Range Rover."
The boss said,
"A guy came in here to buy a fish hook and you sold him a boat and a Range Rover!?"
The kid said,
"No, the guy came in here to buy tampons for his wife, and I said, 'Mate, your weekend's shot, you should go fishing.."

* * *
THOUGHTS FOR THE DAY
*

"Hope is the thing with feathers that perches in the soul - and sings the tunes without the words - and never stops at all." - Emily Dickinson, Poet

*
*

When you are dead, you do not know that you are dead. All of the pain is felt by others. The same thing happens when you are thoughtless.

*
*
*

If you are desperate for someone to share your life with and people tell you "there are plenty of fish in the sea", just console yourself with the fact that not everyone's a good fisherman. Keep telling yourself you matter. Unless you multiply yourself by the speed of light squared..... then you energy.

*

A Pal Must Be A Pal Forever - Issy Bonn


* * *

* * * * *

The Home We Called Sloane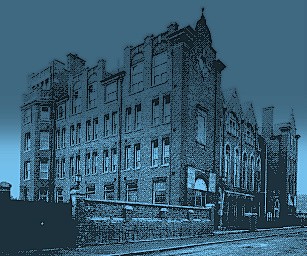 The Sloane building seen from Hortensia Road in 1908

The Sloane building was 100 years old in 2008, although it didn't actually start life as a boys' school until after the First World War, during which it served as a hospital. It still stands and many memories are, no doubt, ingrained in its walls along with the odd name and ribald comment. Who knows what the future holds, despite its Grade II listing on May 7th, 2002. Grade II listed buildings can be altered, extended, or even demolished, but only with Local Authority consent, so it may be that the building is considered historically or architecturally interesting enough for it's fabric to remain untouched. Some consideration may have been given to it having been the first purpose-built secondary school in London, and it is certainly one of only 3% of all ages of listed buildings that was built in the 20th century. Schools generally are seen as a good investment by developers because they're easy to convert. They are likely to be structurally sound because the authorities will have inspected them regularly to ensure they comply with Health and Safety requirements.

Sadly, Sloane Grammar School for Boys only lasted 51 years, from 1919-1970. John Binfield, in one of his poems writes -
... the school, with
All its past, was sucked into a huge
Turbulent sea of glass in Pimlico
And sank without trace. "full fathom five..
Sea nymphs hourly ring his knell.
Hark, now I hear them. Ding-dong bell".
Should the building survive in the form we all remember, there is still a chance that some of us will be around in 2019 to celebrate what would have been its centenary as a boys' school, had it remained in existence.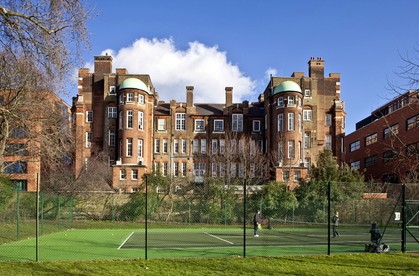 Sloane seen from the rear in 2014
* * *
Whatever our own personal reasons for it doing so, the school will still haunt most of us even if it disappears altogether. With that tenuous link, here's a poem that I came across in a copy of The Cheynean -

The Ghost of Sloane


When London's asleep and the School very quiet,
No sound of footsteps, no sound of a riot,
No sound of even the shuffle of feet,
No sound of the creak of a pupil's seat,
Out of the darkness the ghost of Sloane
Awakes from rest with a sigh and a groan.
Then up he arises to haunt the School
Climbing the stairs in the guise of a ghoul.
He shuffles and clanks down each corridor
Into the classrooms where stand desks galore.
He examines each desk and checks the boys' work,
Allots ghostly marks in the dark and the murk.

If you ever lose books from out of your desk,
And the teacher upbraids you and calls you a pest,
Just tell him my story, however tall,
Of the white shrouded phantom that haunts the School Hall.

J. Hollingshead (3C)

As for us, the boys who used to attend our Chelsea school, we probably considered ourselves 'Chelsea men' but I doubt that many of fitted the description in this poem, written when he was in the 5th year by one time Sloane Schoolboy, A R Doubledee. I get the impression he didn't particularly approve of the 'Beatniks' of the late 50s and early 60s that he found himself sharing Chelsea with or, as he called them the 'Weirdies' -

The Weirdies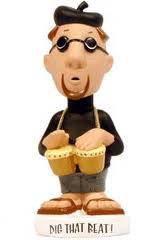 The Chelsea man is excessively queer,
He only drinks coffee and doesn't like beer.
He's always "chatting" the girls, and yet
This seems to make him "one of the set".

His unkempt chin and uncut hair
Go with his feet which are usually bare.
If he wears shoes, they've never got soles,
And he's usually found in Bohemian holes.

His outsize sweater is generally black
Contrasting well with his shorty mac.
He wears his clothing merely to show
That he can keep up with the boys of Soho.

To find a girl he doesn't look far,
But into the nearest coffee bar,
Where he's sure to meet a Bohemian "yob".
They're all from Chelsea - what a mob!

The girls with hair right down their backs
Wear irregular clothes that look like sacks.
They walk about wearing father's sweater:
I really don't see why he should let 'er.

Their gaudy clothes of reds and greens
Match up with the style of their men-friends' jeans.
Now that's how it goes with the latest style:
Girls on their faces make-up pile,
The men wear anything they can find -
I shouldn't stare, I should just act blind!

A.R. Doubledee (5b)
* * *

ANNOUNCEMENTS APPEAR BELOW
ONCE YOU'VE LOGGED IN